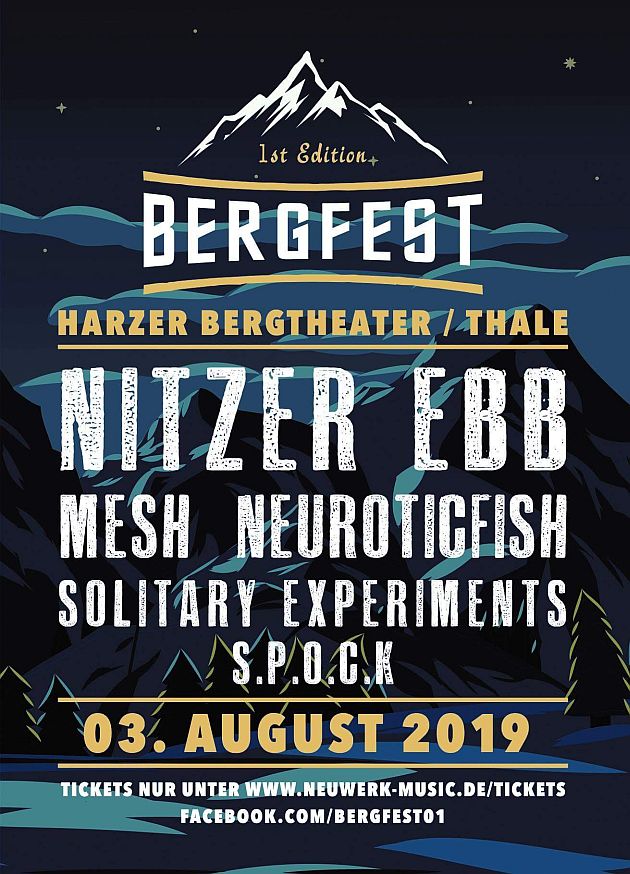 Bergtheater, Thale, Germany
3rd August 2019
Bergfest 2019 with Nitzer Ebb, Mesh, Neuroticfish, Solitary Experiments and S.P.O.C.K

There is a new festival in the 2019 season and brings the news of the year! NITZER EBB at the Bergfest at the Bergtheater in Thale! One of the scene greats and co-founder of a musical movement will give a concert of extra class, and that in the original cast (+1). But as if the event would not be classy enough, the organizers invited more bands who alone would be sufficient as a headliner. So we have the awesome location of the Bergtheater, five headliners and the chance to visit one of the beautiful nature reserves in the world. Furthermore, there will be an after-show party after the concerts. Why cannot it be summer now?
The location is not really big, so you should get your tickets fast! Tickets are available only through
https://www.deinetickets.de/shop/neuwerk/de/start/?g=752
for 58.50 euros.
Facebook Event:
https://www.facebook.com/events/229484004426068/