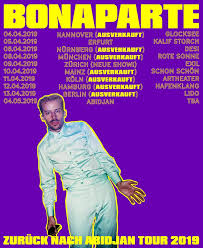 ARTheater, Cologne, Germany
11th April 2019
Bonaparte - "Back to Abidjan" Tour 2019

On 13 July 2018 the new BONAPARTE single 'The Song of Death' was released. In search of musical passion and new experiences, BONAPARTE found the solution in the African Ivory Coast. In Abidjan, a feverish amalgam of Western and African influences was created. In addition to these sounds, something else immediately stands out: Tobias Jundt aka BONAPARTE sings in German for the first time.
"Over the years, I've always written in German," he says, "but none of these songs fitted on one of my records so far." But now the German lyrics have literally intrude themselves into a new album to be out in early 2019, which was half produced in Abidjan and Berlin. With new and old songs as well as a new show he tours under the motto "Back to Abidjan" in April 2019 through Germany, Austria and Switzerland. The last concert will take place where it all began: in Abidjan.
Additional Concert Info

Doors: 19:00
Start: 20:00
Tickets: are not available anymore. The show is sold-out!
Info: https://prime-entertainment.de/index.php?id=34&eventid=5246
More on
Bonaparte