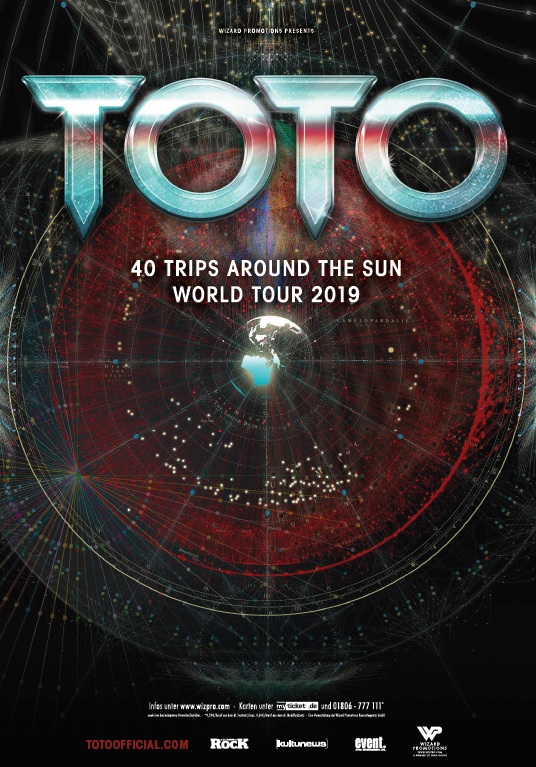 Amphitheater, Gelsenkirchen, Germany
14th July 2019
Toto - "40 Trips Around The Sun" World Tour 2019
After the sensational success of the first concert dates to celebrate their 40th anniversary this year, TOTO have expanded their "40 Trips Around The Sun" World Tour to include more dates in 2019. The German fans can look forward to five open air concerts in June / July in outstanding venues. Only a few groups in music history, individually or in total, had a greater impact on Pop culture than the members of TOTO. As individuals, members can be heard on an overwhelming 5,000 albums, totalling a sale of half a billion albums, of which more than 200 records have been nominated for a Grammy by the National Academy of Arts and Sciences.
Even after nearly 40 years together and literally thousands of honours (including Michael Jackson's thriller the best-selling album of all time) and awards, TOTO are still on tour and in the studio still among the top-selling bands worldwide. They are the yardstick by which many artists align their sound and production, surpass the standards set by the music community and are simply synonymous with musical credibility. Their repertoire is omnipresent on television and on the radio. TOTO are Pop culture and one of the few 1970s bands to have survived the changing trends and styles, and to make happy generations of fans worldwide.
There is no question that TOTO is experiencing something like a second spring around the world. The latest Greatest Hits album, "40 Trips Around The Sun" (Legacy Recordings - Sony) debuted in the Top 40 in eight different countries last March. Recently, WEEZER's cover versions of the TOTO classics 'Rosanna' and 'Africa' provided great media attention and 20 million streams. This also boosted the streaming numbers of the original track, which stand alone on Spotify at 422 million. TOTO thanked WEEZER for releasing their own version of the song 'Hash Pipe'. On their "40 Trips Around The Sun" World Tour in Europe and North America, they performed in full houses every night, including sold-out shows at the Ziggo Dome in Amsterdam, the Royal Albert Hall in London, and the Ryman Auditorium in Nashville. This tour is the most extensive in years and leads the band now in 2019 around the globe.
Important Info: The venue has expanded its safety standards. Thus, there will be increased security controls. In order to avoid delays in the admission to the concert, they would like to ask the visitors to plan the arrival earlier and to refrain from carrying large bags. Backpacks and large bags must not be taken into the hall.
German Tour Dates

30 June 2019 - Berlin / Zitadelle
02 July 2019 - Munich / Tollwood Festival
14 July 2019 - Gelsenkirchen / Amphitheater
17 July 2019 - Füssen / Barockgarten of the Festspielhaus during Königswinkel Open Airs
18 July 2019 - Salem / Schloss Open Airs.
Additional Concert Info

Doors: 19:00
Start: 20:00
Tickets: are available from 68.75 € plus fees via
Eventim
More Info: http://www.amphitheater-gelsenkirchen.de/event/toto-40-trips-around-the-sun-world-tour-2019/
More on
Toto