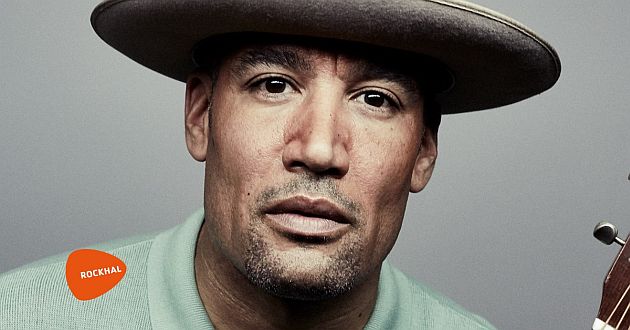 Rockhal, Esch sur Alzette, Luxembourg
12th June 2019
Ben Harper & The Innocent Criminals

Singer / songwriter BEN HARPER formed THE INNOCENT CRIMINALS to act as his supporting band for 1999s 'Burn to Shine', his fourth album and first to focus heavily on his Rock side. From that point on, THE INNOCENT CRIMINALS were a semi-regular concern, the group that Harper returned to whenever he wanted to underscore his funky, fuzz-guitar side.
THE INNOCENT CRIMINALS featured bassist Juan Nelson, drummer Dean Butterworth, and percussionist David Leach, all showcased on 'Burn to Shine'. That album started to increase Harper's exposure - it inched up to 67 on the Billboard Top 200 and went all the way to two in Australia - and between that 1999 set and the next INNOCENT CRIMINALS album, 'Lifeline', in 2007, Harper's star rose thanks to the albums 'Diamonds on the Inside' (2003) and 'Both Sides of the Gun' (2006). By that point, only Nelson remained in the INNOCENT CRIMINALS line-up; the rest of the band comprised guitarist Michael Ward, drummer Oliver Charles, keyboardist Jason Yates, and percussionist Leon Mobley. 'Lifeline' debuted at nine in the U.S. and the band supported it with a tour. It took Harper nearly ten years to return to the band, but he did so in 2016, releasing 'Call It What It Is' that spring.
Beginning with his 1994 debut, 'Welcome To The Cruel World', Harper released a string of eight studio albums over a decade and a half. This extraordinary run, featuring contributions from THE INNOCENT CRIMINALS, established him as a singularly powerful songwriter and performer with range across multiple genres and an unmatched ability to blend the personal and political. The accolades poured in - Rolling Stone hailed his "jewels of unique and exquisitely tender Rock & Roll," while Entertainment Weekly praised his "casual profundity," and Billboard said his music "reminds us of the power and beauty of simplicity." Massive, international sold-out tours, Top 10 debuts in the US, Gold and Platinum certifications overseas, and a slew of TV appearances cemented Harper and the band's status as genuine global stars.
Additional Concert Info

Doors: 19:00
Start: 19:30
Information & Tickets: https://www.rockhal.lu/events-tickets/metal-heavy/show/detail/trivium-1/
Facebook Event: https://www.facebook.com/events/774248336285838/
More on
Ben Harper