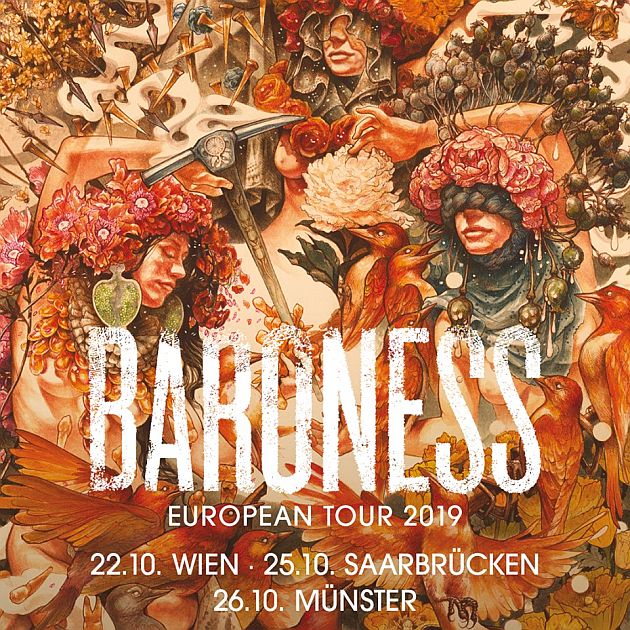 Sputnikhalle, Münster, Germany
26th October 2019
Baroness
BARONESS - Stagnation is no option! The band will be back on German stages with the new album, 'Gold & Grey' in October 2019! For BARONESS there is no other direction than forward. With their new album, 'Gold & Gray', they are once again breaking new ground. How they sound, Germany and Austria can experience live in October 2019 at three shows in Vienna, Saarbrücken and Münster.
BARONESS from Savannah, Georgia, have been on the move for over 15 years. Founded by John Baizley and Allen Blickle in 2003, the band has evolved from Punk, Metal and Hardcore to Sludge and Progressive Metal. They know how to combine raw hardness and energy with great melodies and the joy of experimenting. Between 2003 and 2007, the three EPs 'First', 'Second' and 'A Gray Sigh in a Flower Husk' aka 'Third' were released. This was followed by the debut LP 'Red Album', the first respectable success with fans and critics as well as the start of the never-ending concert tour, because BARONESS play a lot of shows. They share the stages during this time with bands like CONVERGE, DEFTONES, COHEED AND CAMBRIA and MASTODON. The second album, 'Blue Record', was released in 2009, bringing them to Australia and New Zealand with METALLICA and, for the first time, to Japan. 2012 follows with 'Yellow & Green' the third record in the colorful artistic hustle and bustle of the American Progressive Metal band.
This life in the fast lane avenged itself on the night of 15 to 16 August 2012 when the band's night liner crashed near the British city of Bath from a viaduct over nine meters and crew and band members were seriously injured. Although the members all recover in the months after, Allen Blickle (drums) and Matt Maggioni (bass) leave the band and are replaced by Sebastian Thomson and Nick Jost, who are still part of BARONESS. With them, 'Purple' was released at the end of 2015. In their current album, 'Gold & Gray', released on June 14, BARONESS become even more experimental. Inspired by Krautrock and other psychedelic music of the 60s and 70s, there are totally improvised parts, alienated voice samples from friends of the band, crazy guitar sounds and unusual mastering and compression techniques that give the album a completely unique sound. The new woman on the guitar, Gina Gleason, has provided a great deal of fresh wind and has already perfectly integrated into the line-up.
Their home is the street, the stage their living room. These circumstances have allowed BARONESS to mature into an incredible live power. Shortly before they open for VOLBEAT in Berlin on November 1, the Americans will come for their own headliner shows to Vienna on October 22, to Saarbrücken on the 25th and to Münster on the 26th.
Additional Concert Info

Doors: 19:00
Start: 20:00
Tickets are available for 29.45 euros pre-sale (plus charges) via
EVENTIM
Facebook Event: www.facebook.com/events/2374493129455417/
Info: https://www.sputnikhalle.de/sa-26-10-2019-baroness/
More on
Baroness