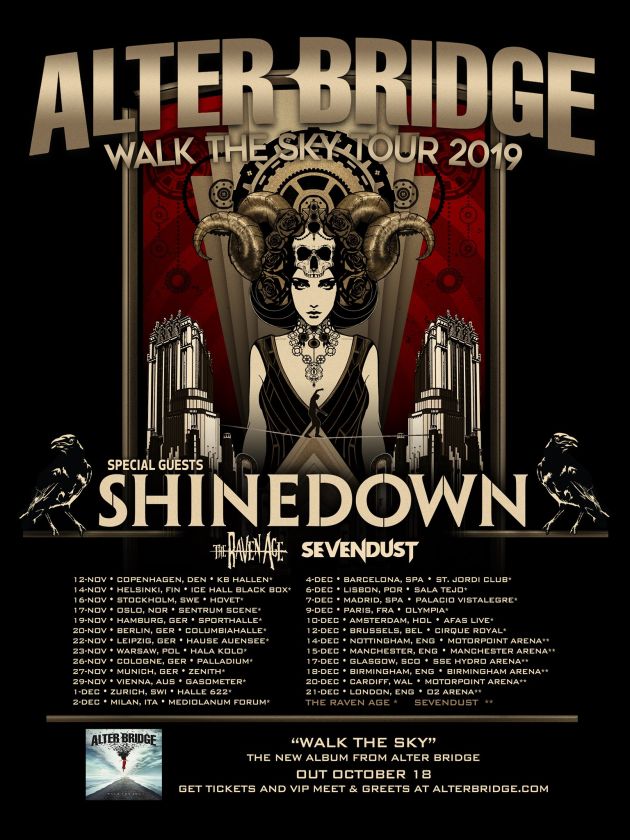 Palladium, Cologne, Germany
26th November 2019
Alter Bridge - "Walk The Sky" Tour 2019 - Special Guests: Shinedown, The Raven Age

This autumn ALTER BRIDGE will return to the German stages with full power, new album 'Walk The Sky' as well as two great support acts. In November, the American alternative superstars will perform together with SHINEDOWN and THE RAVEN AGE at five shows in Hamburg, Berlin, Leipzig, Cologne and Munich with their new songs and hits from 15 years of band history.
It was in 2004 when the end of two bands turned out to be the starting point of a new, exciting chapter of Alternative Rock. After the successful CREED broke up in 2003, Mark Tremonti (guitar), Scott Phillips (drums) and Brian Marshall (bass) went in search of a new singer. They came across Myles Kennedy, who had previously been on THE MAYFIELD FOUR. Together they founded with ALTER BRIDGE a new powerhouse of alternative rock. Their debut album 'One Day Remains' landed on fifth place in the Billboard Charts in 2004, selling almost a million units. After that they went on extensive tours, first through the USA, later all over the globe. After a change to Universal Music 'Blackbird' was released in 2007. After all the songs on the debut were written and lyricized exclusively by Tremonti, the successor was a new chapter.
The record was well received by critics and fans alike and finally released the band from the accusation to be just CREED "with a new singer". To the third album 'AB III' followed the change to Roadrunner Records, the popularity increased further. It was released 'Fortress' (2013) and, after another label change to Napalm Records, with 'The Last Hero' (2016) ALTER BRIDGE's most successful album so far. Now their sixth studio album 'Walk The Sky' has been announced for October 18th. Furthermore, four live albums have been released so far, which impressively prove the incredible quality ALTER BRIDGE bring to the stage. Iconic guitar sounds, ingenious songwriting and a powerful voice meet a stirring mix of rock, alternative, metal and progressive. If you want to see it live, you can do so in autumn, because ALTER BRIDGE will be coming to five German cities between 19 and 27 November as part of their Europe-wide "Walk The Sky Tour". They will also be supported by the great SHINEDOWN and THE RAVEN AGE.
Additional Concert Info
Doors: 18:00
Start: 19:00
Tickets are available for EUR 62.15 via
Eventim
More Info: https://prime-entertainment.de/index.php?id=34&eventid=5892
More on
Alter Bridge
,
Shinedown
,
The Raven Age