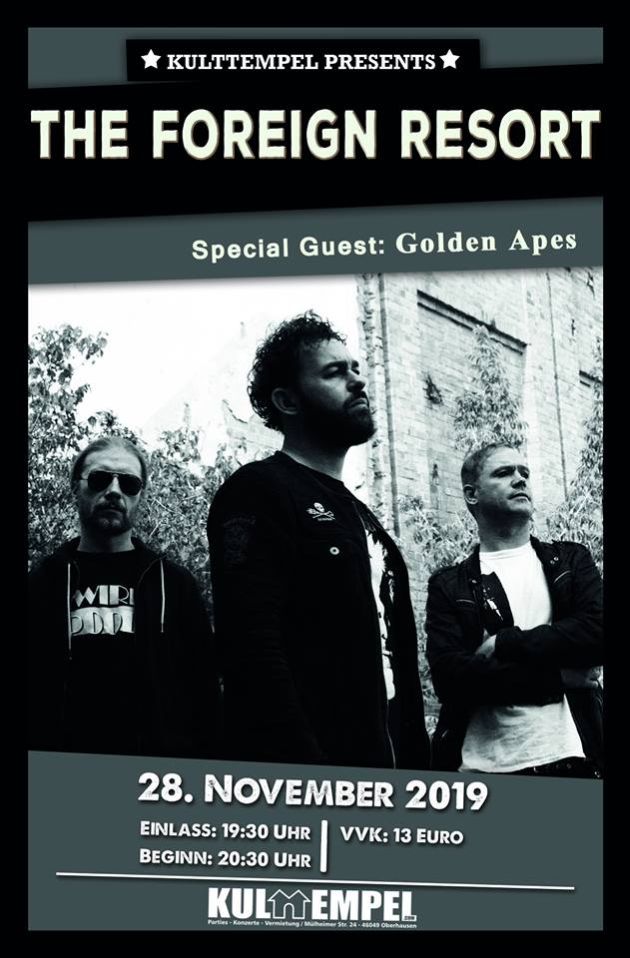 Kulttempel, Oberhausen & Café Glocksee, Hannover & Nachtleben, Frankfurt am Main, Germany
28th, 29th & 30th November 2019
The Foreign Resort - Europe November Tour 2019 - Special guests / Co-Artists: Golden Apes (Oberhausen), Then Comes Silence & [di:unru:] (Hanover) & Silent Runners (Frankfurt am Main)

THE FOREIGN RESORT - the Danish Post Punk & New Wave combo that released their debut album 'Offshore' ten years ago, has had a very busy 2019 so far - release of their newest album 'Outnumbered' that has received many very strong and enthusiastic press reviews. Their creations of strong, emotional, melancholic, but also danceable Punk Rock makes them stand out in their genre and beyond.
After the release of 'Outnumbered' in April 2019 a US tour followed just immediately and now an European tour with gigs in Germany, France and Italy in September 2019. In between they played at a bunch of festivals, like headlining at Wave-Gotik-Treffen on Monday, as well as at W-Fest in Belgium or the Minicave-Festival in Münster, Germany. THE FOREIGN RESORT convince throughout as an energetic, extremely professional and entertaining as well as very pleasant live band.
For the year's end they will return to Germany for three dates: Oberhausen (28.11.), Hannover (29.11.) and Frankfurt am Main (30.11.). Every night will be absolutely worth a visit, but THE FOREIGN RESORT promise some special surprises for the show in Hanover. Don't miss it. After the show, the "Kabinett Konträr" party will be held from 23:30. Please pay attention that the show in Frankfurt am Main has been upgraded from The Cave to Nachtleben with the "Dead Kennys" party afterwards. One more festival appearance will close the year, at the Wavefest in Rotterdam on 1st December. In case you haven't seen them live yet you should take advantage of your chance and change that.
Additional Concert Info Oberhausen

Doors: 19:30
Start: 20:30
Tickets: from 13.00 € (Oberhausen)
Info: https://www.facebook.com/events/777598439270294
Additional Concert Info Hanover

Doors: 19:00
Start: 20:00
Tickets: from 20.12 €, at the doors 21.00 €
Info: https://www.facebook.com/events/342792993019708/
Additional Concert Info Frankfurt am Main

Doors: 20:00
Start: 21:00
Tickets: from 15.30 €, at the doors 17.00 €
Info: https://www.facebook.com/events/396490257792211/
General Information

Tickets:
http://bit.ly/2noI0oi
Artist: https://www.facebook.com/theforeignresort / https://www.facebook.com/GoldenApes / https://www.facebook.com/thencomessilence / https://www.facebook.com/di.unru / https://www.facebook.com/silentrunners/
More on
The Foreign Resort
,
Golden Apes
,
Then Comes Silence
,
[di:unru:]
&
Silent Runners