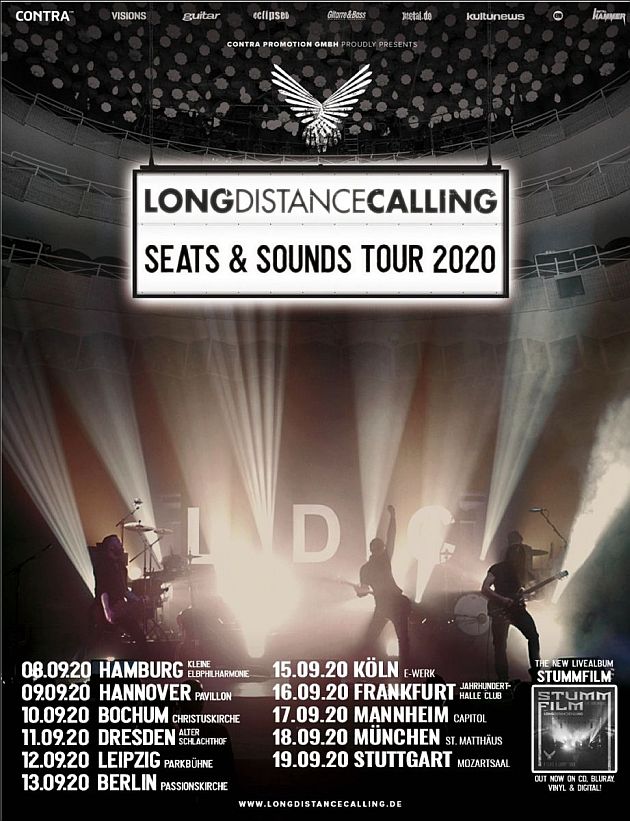 Attention: Due to the Corona pandemic, the tour is postponed from September 2020 to February and March 2021 and now further to November and December 2021. Tickets remain valid!
In April 2019, LONG DISTANCE CALLING played their first acclaimed and sold out "Seats & Sounds" tour. Because of enormous demand and euphoric reactions of fans and music press, LONG DISTANCE CALLING will come again to selected venues in February and March 2021 to play their unique, audiovisual live show and create that special atmosphere. Besides a specially developed light and video show, the band will share the stage with guest musicians, who pep up the songs with new, dynamic aspects and who make the show something very special.
Convince yourself of the unique character of these shows by listening to the first live album / Blu-ray of the band 'STUMMFILM - Live From Hamburg - A Seats & Sounds Show' (release date: Nov 1, 2019 via InsideOut Music / SONY).
Press commentaries regarding 'STUMMFILM (Live from Hamburg - A Seats & Sounds Show)':
"Long Distance Calling never needed words to fascinate their audience, especially not while performing in a magnificent church." (Visions / DE)
"Full two hours of musical ecstasy were recorded at the Kulturkirche Altona in Hamburg, and they prove, that LONG DISTANCE CALLING belong to the best of the local Rock scene." (Guitar / DE)
"To a great extent, the songs outshine the original studio versions, so when it comes to the CD version, let's call it big cinema!" (Eclipsed / DE)
"To start with a punch line: STUMMFILM is recommended to all lovers of Progressive and Post rock, and it's a must have for all LONG DISTANCE CALLING fans." (Aardschok / NL)
LONG DISTANCE CALLING – SEATS & SOUNDS TOUR 2021

29 Nov 2021 - COLOGNE, Theater am Tanzbrunnen
30 Nov 2021 - HAMBURG, Elbphilharmonie - Kleiner Saal
01 Dez 2021 - BERLIN, Passionskirche Kreuzberg
02 Dez 2021 - DRESDEN, Ev.-Luth. Lukaskirche
03 Dez 2021 - LEIPZIG, Peterskirche Leipzig
04 Dez 2021 - MUNICH, St. Matthäuskirche
05 Dez 2021 - FRANKFURT AM MAIN, Jahrhunderthalle Club
06 Dez 2021 - MANNHEIM, Capitol Mannheim
07 Dez 2021 - STUTTGART, Liederhalle Mozartsaal
08 Dez 2021 - HANOVER, Pavillon am Raschplatz
09 Dez 2021 - BOCHUM, Christuskirche Bochum
Get your ticket here: https://www.eventim.de/artist/long-distance-calling/