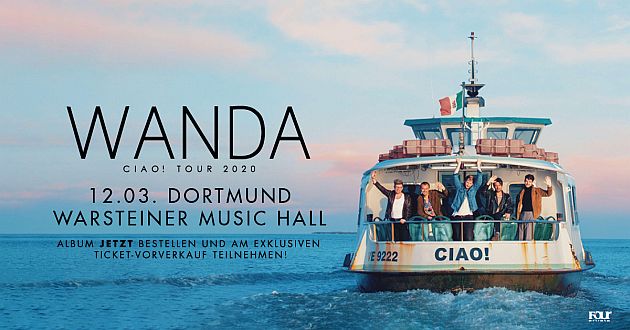 FZW, Dortmund, Germany
29th August 2021
Wanda - "Ciao! Tour" 2021

Attention: due to the Corona crises, this concert is rescheduled from March 2020 to September 2020 and further to August 2021! Tickets remain valid!
After 'Amore', 'Bussi' and 'Niente' came 'Ciao!' - WANDA released album number four and announced a belonging tour. Marco Michael Wanda, Christian Immanuel Hummer, Manuel Christoph Poppe, Reinhold Weber, and Luka Hasitschka are back live on stage in Germany and Austria starting at the end of February 2020.
On September 6, 2019, the latest album of the Austrian band WANDA was released, a band that single-handedly revolutionized the German-speaking Rock'n'Roll during the last five years. For the avoidance of misunderstandings: 'Ciao!' is not a goodbye, but an invitation for all to follow WANDA to their next chapter. The album is full of great hymns, no matter if played loud or quiet. It's again a great step forward and it will become hard for other bands to top that versatility and those killer beats.
Hundreds of thousands of fans in Germany, Austria, and Switzerland already experienced the live power of WANDA. Small clubs, big venues, or open-air events with 100,000 visitors like last year in their hometown Vienna - WANDA performances are of epochal dimensions. With every live performance, they shower the audience with ease and determination and underline the unbroken energy and passion of the band.
Additional Concert Info

Doors: 18:30
Start: 20:00
Tickets: from 45.16 € (+ charges, additional shipping) via
Eventim
Info: https://www.warsteinermusichall.de/programm/wanda/
More on
Wanda