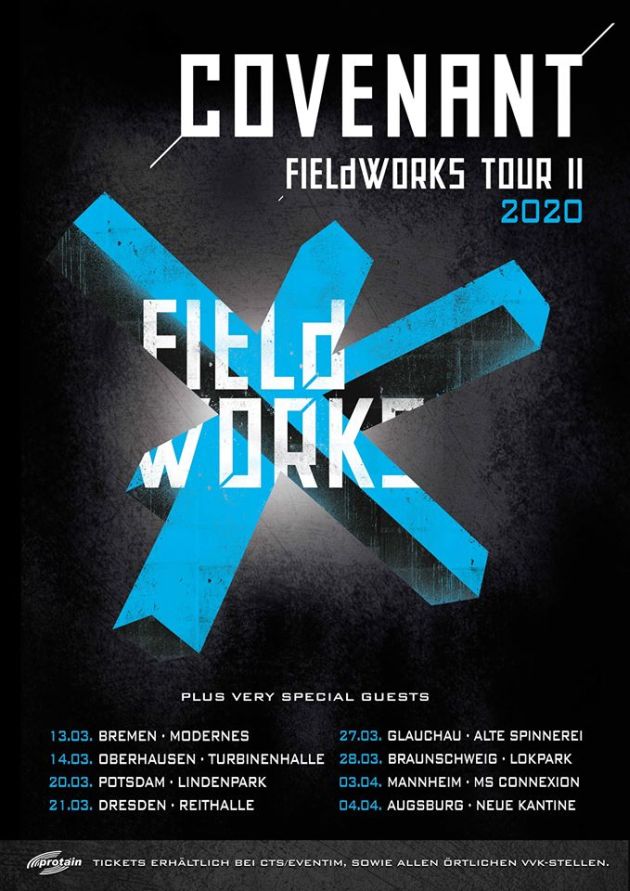 Reithalle Strasse E, Dresden, Germany
16th October 2021
Covenant - "Fieldworks Tour II" - Support: Torul and Black Nail Cabaret

Attention: due to the Corona crises, this concert is rescheduled from March 2020 to October 2020 further to February 2021 and now October 2021! Tickets remain valid!
COVENANT - the name stands for exceptional dedication, class and a brotherhood. COVENANT's name, with its biblical overtones, may have been a bit ambitious for an up-and-coming teen band from southern Sweden armed with rudimentary electronics, but in the end, this combination turned out to be extremely suitable. Whether life imitates art piece by piece or art life here is debatable, either way the band's nickname ended in perfectly bringing the vision, grandeur and brotherhood of the band itself to the point.
The friendship and joint work of Eskil Simonsson and Joakim Montelius has been in the orbit of post punk electronic music since the mid-1980s. The original COVENANT set was heavily influenced by the spicy Electronic Body Music. Dating from the early 90s, the first album 'Dreams Of A Cryotank', in addition to elements of advanced neo EBM, also contained everything that would later become famous Swedish composition. In addition to super sound, perfect production and hit, strictly synthetic COVENANT's work contained a characteristic element of humanism. COVENANT's music focused on universality and was in constant progress.
At the beginning of the first decade of the 21st century, the dynamics, melody and perfection offered by COVENANT began to dictate the directions of development of the so-called future pop. Despite the stunning success they had at the time, they never abandoned the ethos of independence and independence of their alternative beginnings. The soulful hymns went beyond the limited formulas of electro, synth-pop, future-pop etc. The advanced creativity of COVENANT distanced its followers and found recognition even among radicals reluctant to such aesthetics. It's worth getting to know its roots at the show in Dresden being the second part of "Fieldworks Tour".
Additional Concert Info

Doors: 19.00
Start: 20.00
Tickets: 33.50 EUR via https://www.konzertkasse-dresden.de/event/covenant-dresden-reithalle-strasse-e-2020-tickets-42504.html
Facebook Event: https://www.facebook.com/events/352738442081041/