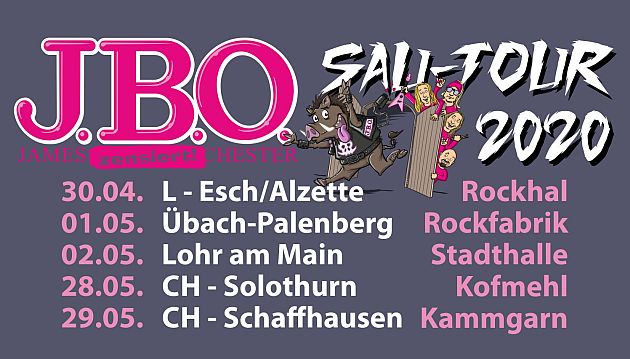 Rockhal, Esch sur Alzette, Luxembourg
23rd April 2022
J.B.O. - "Sau-Tour" 2022

Attention: Due to the Corona pandemic, this event is postponed from April 2020 to February 2021 and further to April 2022. Tickets remain valid!
In 1989 the fateful encounter between Vito C. and Hannes "G. Laber" Holzmann resulted in the legendary founding of the JAMES BLAST ORCHESTRA. The "fun project" turns into serious overnight: one of J.B.O.'s first own songs is suddenly played up and down on the local radio station. The first "real" studio album with 20 tracks is released in 1995 under the title "Explicit Lyrics" on an independent label and should sell so well, almost without marketing, that it enters the German charts!
With a record deal in the bag, the dream on the pink cloud continues: the album 'Laut!' enters the German charts at number 13. In 1997 the 4 Metal-Franks prove that they not only master their instruments but also the masses better and better: they play more than 100 concerts in front of no less than 100,000 enthusiastic spectators. J.B.O. have always been an integral part of the big Metal festivals like Wacken, Summer Breeze, Rock Harz etc.
But like hardly any other group, they also have the ability to enthuse fans from all genres. So their shows also became frenetically celebrated parties at rock festivals like Rock am Ring / Rock im Park, Taubertal Open Air, Open Flair etc. Last year, one of the absolute cult unique bands of the German music scene celebrated its 30th stage anniversary: for three decades, the Erlangen fun rockers of J.B.O. have been making the music scene a lot more colourful with their mischievous, often very profound humour.
Three decades, which will be duly celebrated with a number of live shows, a new studio album and an anniversary open air. 2020 will be, to put it in the band's own words, "a celebration". Vito, Hannes, Ralph and Wolfram started their big year to celebrate the 30th anniversary with some great Blast Christmas parties at the end of December. Four of the five shows were completely sold out in advance. All in all the tour was by far the most successful of the Blast Christmas series so far.
With their last album 'Deutsche Vita' J.B.O. proved again that their comedy Metal, for which they are style-defining, is still hard to beat. Number three in the charts, several sold-out shows and a video clip that broke the 1 million mark on YouTube within a few weeks.
Additional Concert Info

Doors: 19:30
Start: 20:00
Tickets: 31€ + presale-fees via rockhal.lu
Info: https://www.rockhal.lu/events-tickets/rock-pop/show/detail/jbo-5/
Facebook Event: https://www.facebook.com/events/3078413808840116/
More on
J.B.O.