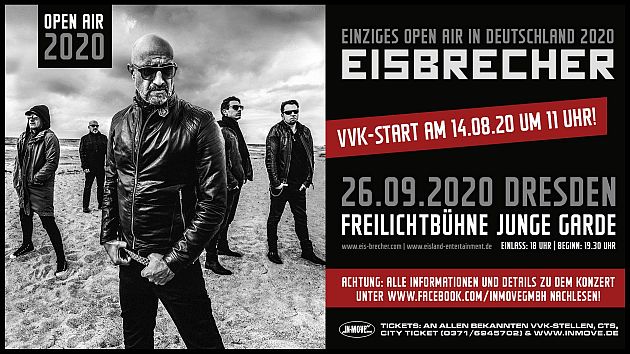 Freilichtbühne Junge Garde, Dresden, Germany
26th September 2020
Eisbrecher - Live Open Air 2020

Summer 2020 is almost over and for many music lovers it has definitely been weird with no huge festivals or concerts. But dry your tears, the rescue is about to arrive. EISBRECHER, an amazing Metal force, is coming back to play to cool some air again - with the resumption of live shows in Germany, they are going to rock the open air venue Junge Garde in Dresden on 26th of September.
EISBRECHER is probably "THE-band" for all fans of Metal power with an electronic twist and spectacular shows - founded in 2003 by Noel Pix (guitar, keyboards, programming) and frontman Alexander Wesselsky, they have been successfully winning new audiences throughout the world ever since. Often referred to as belonging to Neue Deutsche Härte, EISBRECHER in German means "Icebreaker". The band's songs often feature words related to ice or shipping, such as 'Es wird kalt' ('It's getting cold'). At concerts, the band's leader, Alexander "Alex" Wesselsky, is usually dressed in military or marine costumes. In the years 1995-2003, he was the vocalist of the group MEGAHERZ in which Jochen "Noel Pix" Seibert also played in the years 1998-2001.
EISBRECHER's recent single 'Stossgebet' (a cover of a different band - POWERWOLF - is half in Latin and it combines sexual motives, sacrum and power abuse) released in May 2020 promotes the eighth album by the band, 'Schicksalsmelodie' which will be out in September or October. As to news coming from the band there is another album announced for March 2020, but the title has not been disclosed yet. One thing is sure - with 'Stossgebet' they prove they are in fantastic shape and if you add to it the fact that their live concerts are a spectacle of energy and smashing sounds, you get a perfect opportunity to move a bit and warm the creaky bones after the summer spent in the concert-less landscape.
Additional Concert Info

Doors: 18:00
Start: 19:30
Tickets: are available for 51.25€ via
Eventim
Info: https://www.eis-brecher.com
More on
Eisbrecher