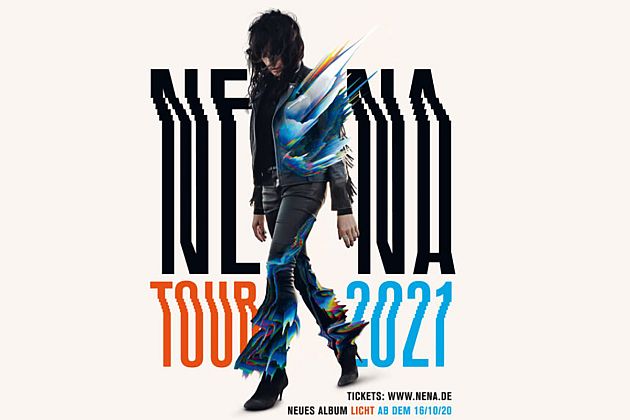 NENA goes on big tour with her new album 'Licht'. Tickets are available as of now at the exclusive fan pre-sale via www.nena.de. The new album 'Licht' to be released on October 16, 2020.

Attention: due to the Covid-19 pandemic, the tour is postponed from spring 2021 to spring 2022. Tickets remain valid!
NENA, Germany's greatest Pop icon, releases her highly anticipated new album 'Licht' on October 16, 2020 (Sony Music / the Laugh & Peas Company) and announces live dates for 2021. The big live tour for the new album starts on March 4, 2021 in Dortmund in the Westfalenhalle, followed by 28 other stops in Germany, Austria, Switzerland and Denmark (all dates are further down in the text).
Live concerts are an affair of the heart for NENA, who has been on stage for over 40 years. Despite the current circumstances, she spontaneously played several concerts (car shows and picnic concerts) this summer, supporting the people behind the scenes and ensuring unforgettable, beautiful live moments for her fans. NENA has always known how to transform positive energy into Pop and vice versa. And now, in times when only the unknown is certain, she sings against all fears and doubts on her new album with her unmistakable NENA voice. 'Licht' is an energetic pop album full of charisma and the soundtrack for a new beginning. Whether it's just to the folky anthemic acoustic guitar as in the current single 'Wandern' or to electronically dancing synthesizer beats: 'Licht' inspires to celebrate life and is available in stores from October 16, 2020.
NENA: "We humans are loving and social beings, that is our origin, and many seem to remember that now. The back burner is not enough in these times. We now need our full radiance. Love and light are the strongest forces. And we have them all in us. If we reflect on it and each of us is ready to send light and love into the world, we will also find in our trust that we can create everything and use the opportunity right now to completely redesign our coexistence on this planet for Good for everyone involved. Let's sing, dance and laugh together and celebrate life. I look forward to you all!"
The exclusive fan presale for the 2021 tour starts immediately at www.nena.de. The ticket providers MyTicket and CTS are offering online presales from Tuesday, September 8, 2020 - 10:00 a.m. The general advance booking starts on Friday, September 11th, 2020 - 10:00 a.m. Tickets are available at
EVENTIM
and www.myticket.de as well as by telephone on +49 (0) 1806 - 777 111 (20 cents / call - mobile phone prices max. 60 cents / call) and at the well-known advance booking offices. Close to NENA and the band: The exclusive and limited 'Tanz auf dem Vulkan' ticket package is available for all dates. This includes access to the area directly in front of the stage, which is surrounded by a catwalk, as well as Fast Lane, Early Entry and much more. Only on www.nena.de.
Tour Dates

03 Mar 2022 - HAMBURG - Sporthalle Hamburg // Original date: 06 Apr 2021
05 Mar 2022 - MAGDEBURG - GETEC-Arena // Original date: 10 Apr 2021
09 Mar 2022 - STUTTGART - Porsche Arena // Original date: 14 Mar 2021
10 Mar 2022 - NEU-ULM - ratiopharm arena // Original date: 17 Mar 2021
12 Mar 2022 - MÜNSTER - MCC Halle Münsterland // Original date: 09 Apr 2021
13 Mar 2022 - SCHWERIN - Sport- und Kongresshalle // Original date: 05 Mar 2021
14 Mar 2022 - KIEL - Wunderino Arena // Original date: 06 Mar 2021
16 Mar 2022 - DÜSSELDORF - Mitsubishi Electric Halle // Original date: 18 Apr 2021
17 Mar 2022 - TRIER - Arena Trier // Original date: 18 Mar 2021
20 Mar 2022 - ERFURT - Thüringenhalle // Original date: 17 Apr 2021
21 Mar 2022 - BERLIN - Velodrom // Original date: 29 Mar 2021
22 Mar 2022 - FRANKFURT - Jahrhunderthalle // Original date: 25 Mar 2021
23 Mar 2022 - DRESDEN - Messe Dresden Halle 1 // Original date: 11 Apr 2021
31 Mar 2022 - ZURICH (CH) - Samsung Hall // Original date: 13 Mar 2021
01 Apr 2022 - WETZLAR - Rittal Arena Wetzlar // Original date: 15 Mar 2021
02 Apr 2022 - BAMBERG - BROSE ARENA // Original date: 08 Mar 2021
03 Apr 2022 - HANOVER - Swiss Life Hall // Original date: 15 Apr 2021
06 Apr 2022 - BREMEN - Halle 7 // Original date: 03 Apr 2021
07 Apr 2022 - DORTMUND - Westfalenhalle 1 // Original date: 04 Mar 2021
13 Apr 2022 - ROSTOCK - StadtHalle Rostock // Original date: 13 Apr 2021
14 Apr 2022 - LEIPZIG - QUARTERBACK Immobilien ARENA // Original date: 16 Apr 2021
17 Apr 2022 - KEMPTEN - bigBOX ALLGÄU // Original date: 10 Mar 2021
19 Apr 2022 - MUNICH - Zenith // Original date: 09 Mar 2021
More on
Nena