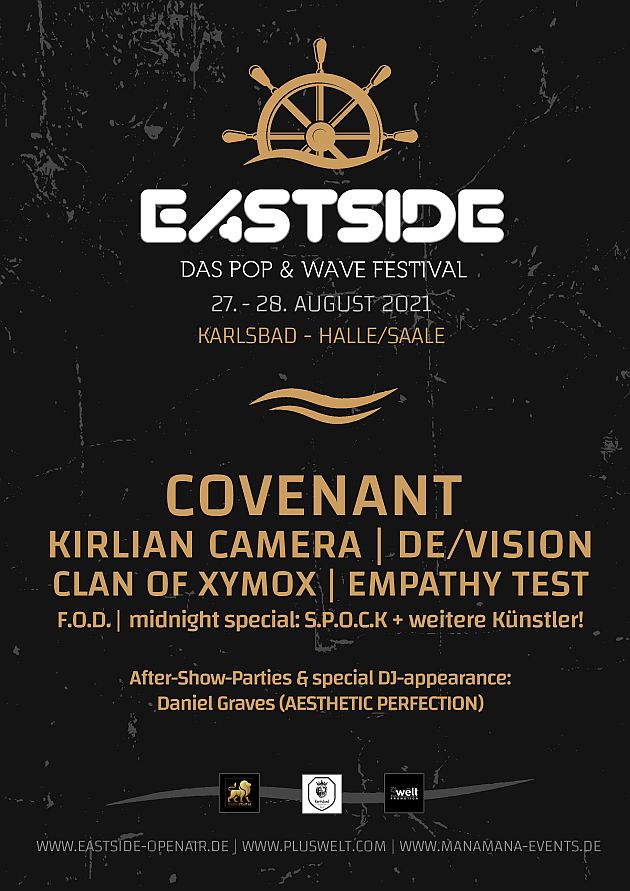 Karlsbad, Halle (Saale), Germany
27th & 28th August 2021
Eastside Open Air 2021 with Covenant, Kirlian Camera, De/Vision, Clan Of Xymox, Empathy Test, F.O.D., S.P.O.C.K and more…

Manamana Events & Pluswelt Promotion present the EASTSIDE Open Air, your Pop & Wave festival in Halle (Saale) near Leipzig, Germany. Live on stage: COVENANT, KIRLIAN CAMERA, DE/VISION, CLAN OF XYMOX, EMPATHY TEST, F.O.D. and midnight special: S.P.O.C.K. More acts will be confirmed. There will also be after-show parties & special appearance of DJ Daniel Graves (AESTHETIC PERFECTION).
The family friendly festival spans over two days and will present ten live acts on a 60-hectare area with camping and parking possibilities. There is also a lake for swimming very close. Promoters also promise lots of catering varieties. The festival area is located directly at the federal highway B80, motorways A14, A38 and A9 are close.
Additional Festival Info

Location: Halle (Saale), Karlsbad, Angersdorfer Teiche 9, Halle (S.)
Info: www.eastside-openair.de
Tickets: https://www.deinetickets.de/shop/pluswelt/de/start/?g=2474 (weekend)
Day tickets and timetable will be available beginning on July, as soon as all bands are confirmed.