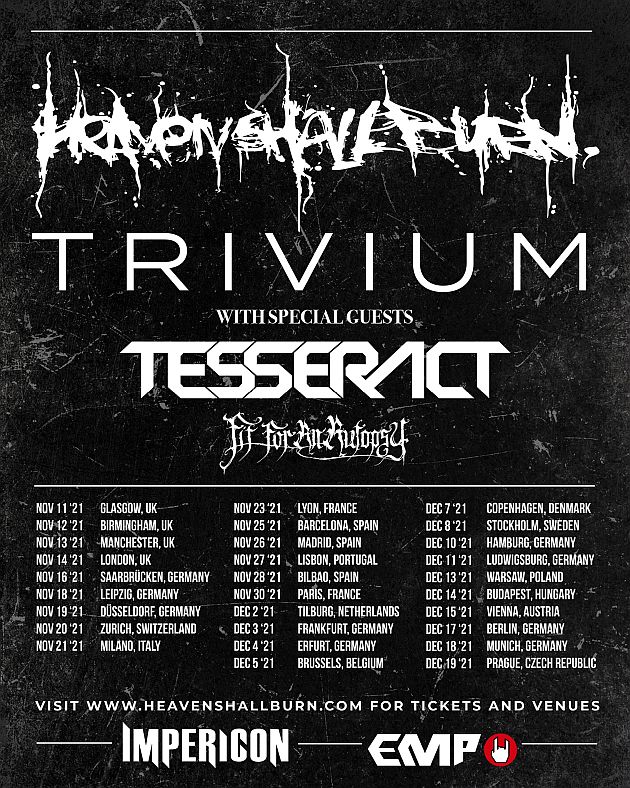 Saarlandhalle, Saarbrücken, Germany
16th November 2021
Heaven Shall Burn + Trivium - Tour 2021 - Support: Tesseract, Fit for an Autopsy

After a year full of privation in 2020 and a lean period in terms of live music, we can already look forward to the winter of 2021: with HEAVEN SHALL BURN and TRIVIUM, a Metal duo is coming on tour in Europe that will really heat up the cold months.
HEAVEN SHALL BURN can hardly wait to finally be back on stage. After a two-year concert break, during which the epochal double album 'Of Truth And Sacrifice' was created, the band wanted to take off again live in 2020 - but Corona had other plans. The result: Apart from a special XR show at the online festival "Wacken World Wide", the new songs have not yet been played live. So, we can assume that the Thuringians will bring out the big guns in 2021 to finally present their ninth album to an audience - and celebrate the band's 25th anniversary at the same time.
Band member Maik Weichert is happy: "TRIVIUM is one of our oldest and most enduring friendships in the entire music circus. We've been tearing up small clubs together since early on and later tearing down big arenas, partying and raving together in Saalfeld as well as in Sydney. We're over the moon to finally be back on tour with the guys, criss-crossing Europe."
You can't expect anything less than an epic show from HEAVEN SHALL BURN anyway: from elaborate stage sets to the sheer incredible energy that the five-piece always puts on, every concert is an experience. And hardly any other German band has so far proved so impressively that political and social issues like animal and human rights have just as much a place in the metal scene as heavy riffs and circle pits - a demolition with attitude, so to speak. Successful albums like the 'Iconoclast' trilogy and 'Wanderer' as well as indomitable anthems like 'Endzeit' and 'Voice Of The Voiceless' have long since made HEAVEN SHALL BURN one of the really big acts in the scene - internationally as well.
Even their old friends TRIVIUM, incidentally one of the most important metal bands of the 21st century, are not unimpressed: "HEAVEN SHALL BURN was one of TRIVIUM's earliest touches with Hardcore / Metalcore with melodic death and death metal influences, which also still had very important lyrics that dealt with society and the world at large. In the early 2000s, we were both on the same label [Lifeforce Records]," the US Americans explain their anticipation of the joint tour.
Of course, this is increased by the fact that the four-piece from Florida also wants to finally present their new songs. Because in spring 2020, TRIVIUM also released their ninth studio album, 'What The Dead Men Say'. With the band's typical mixture of crushing heaviness, technical demands, big melodies and irresistible hooks, the new work once again promises really great live moments. Not that there would otherwise be a lack of them: the 2005 album 'Ascendency' is already a real classic, subsequent albums like 'In Waves' and 'The Sin And The Sentence' not only developed into international chart successes, but also contain real mosh pit and sing-along guarantees with the eponymous title songs. Most recently, TRIVIUM was on tour in Europe in 2019 to celebrate their eighth album and 20th band anniversary - so it's high time for a return.
HEAVEN SHALL BURN and TRIVIUM will be supported on their tour by none other than Prog Metallers TESSERACT and deathcore power FIT FOR AN AUTOPSY. "The fact that an exceptional band like TESSERACT will be there and that FIT FOR AN AUTOPSY will also be heating things up, of course, puts the crown on the whole thing. It makes us proud and emotional that the long joint history of TRIVIUM and HSB is being continued with such a smash hit," says HEAVEN SHALL BURNs Maik Weichert. TRIVIUM agrees: "FIT FOR AN AUTOPSY are among our best friends in the world and one of our favourite bands. And we've been dreaming of going on tour with TESSERACT for a long time," they reveal - and make an announcement that's a big deal: "THIS is the tour to bring touring back to Europe." We can hardly wait.
Additional Concert Info

Doors: 17.30
Start: 18.15
Tickets & Info: https://garage-sb.de/veranstaltungen/heaven-shall-burn-trivium/
Facebook Event: https://www.facebook.com/events/315244536581737