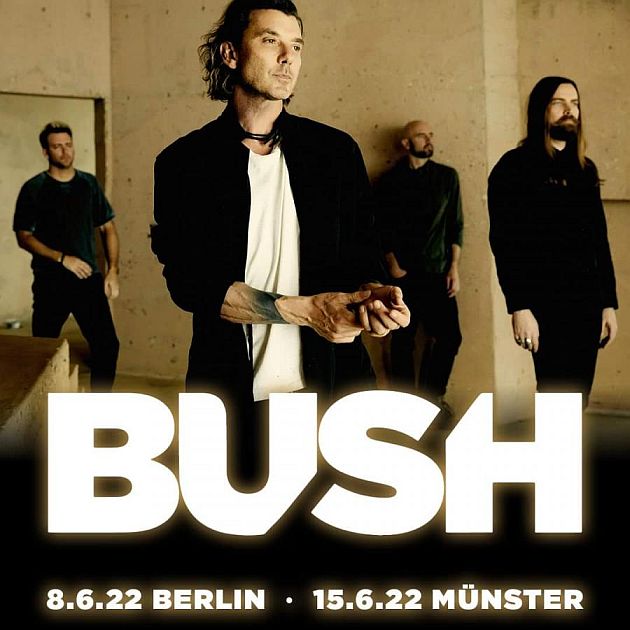 Skaters Palace, Münster Germany
15th June 2022
Bush

The British rockers BUSH will be on tour in 2022 and will also make a stop in Germany. In addition to the two club shows on June 8th in Berlin and June 15th in Münster, the band with the charismatic frontman Gavin Rossdale has now also announced a concert in Bremen for June 1st.
Since their founding in 1991, BUSH have been regarded as a rock band that has always acted anti-cyclically to the current musical trends in Great Britain. This is the only way to explain why they were increasingly successful outside of their home country and above all in the USA. This special feature began with the release of their debut 'Sixteen Stone' in 1994. While the album only peaked at number 42 in England, it cracked the top 10 in the USA and has been certified six times platinum there to date. The record also went platinum several times in Australia, New Zealand and Canada and was able to stay in the top 10 for months with five hit singles, including 'Everything Zen', 'Comedown' and 'Glycerine'.
With her second album 'Razorblade Suitcase', released in 1996, BUSH finally made the step into the premier league of global rock music. The band's strategy was to create something unique with the help of a well-known producer known for his very own sound, which seemed to be comparable to none of their other albums. This second long-player was produced very raw and powerful by Steve Albini, who had previously worked with NIRVANA, among others, while the third album 'The Science of Things' (1999) under the producer duo Clive Langer and Alan Winstanley turned out to be very electronic. On their fourth album 'Golden State' (2001) they dared another adventure by writing catchy, instantly igniting songs, which were given a proper underground dirt by New York producer genius Dave Sardy.
After a longer break, BUSH only returned in 2011 with the album 'The Sea of Memories', produced by Bob Rock in a very powerful and pointed way. Since then, the band has been part of the international rock canon again, as the two following records 'Man On the Run' (2014) and 'Black and White Rainbows' (2017) prove. In 2020, BUSH released her eighth and last studio album to date, 'The Kingdom'.
This year Gavin Rossdale, guitarist Chris Traynor, bassist Corey Britz and drummer Nik Hughes will finally be able to be seen live again - including on June 1st in Bremen, June 8th in Berlin and June 15th in Münster.
Additional Concert Info

Doors: 19:00
Start: 20:00
Tickets: are available for 45.40 euros + charges (pre-sale) via
Eventim
Info: https://www.skaters-palace.de/events/bush-2/