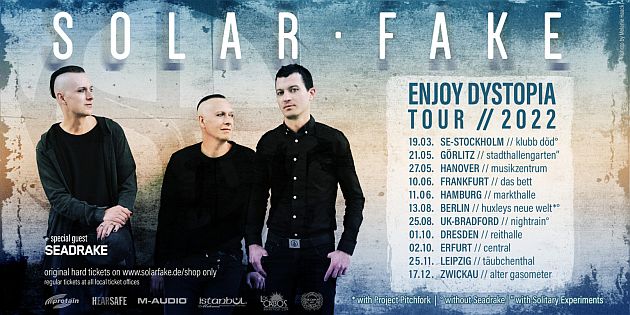 Markthalle, Hamburg, Germany
11th June 2022
Solar Fake - "Enjoy Dystopia Tour" - Support: Seadrake

Finally, SOLAR FAKE is going on their "Enjoy Dystopia Tour"! After a few summer-open-airs and special concerts in autumn, it's time to celebrate, dance, laugh and cry in the clubs. The pleasant trio from Berlin and Leipzig can hardly wait to bring their current successful album 'Enjoy Dystopia' to the stage.
Their 6th long-player by now reached a remarkable 4th place in the official German album charts and played its way deep into the hearts of the fans. Anyone who has experienced SOLAR FAKE live knows that the spark between the band and the audience is ignited from the first second and maintained until the very last note. It's not for nothing that most of the last tours and concerts were sold out. Of course, there will also be the hits and certainly some rarities to hear in addition to the new songs. This will be a wonderful experience for everyone, not just die-hard fans, who enjoy good and varied electro / industrial / pop / punk with intense lyrics.
By the way: Get SOLAR FAKE at your breakfast table, take them jogging, put them in your car, put them in your bed... just listen to the podcast "Solar Fake: We talk. Who cares?". Everywhere there are podcasts.
Additional Concert Info

Doors: 19:00
Start: 20:00
Tickets: are available for 35.65 euros (plus charges pre-sale) via
Eventim
Facebook Event: https://www.facebook.com/events/286948406627836
Info: https://markthalle-hamburg.de/konzerte/solar-fake-enjoy-dystopia-tour/