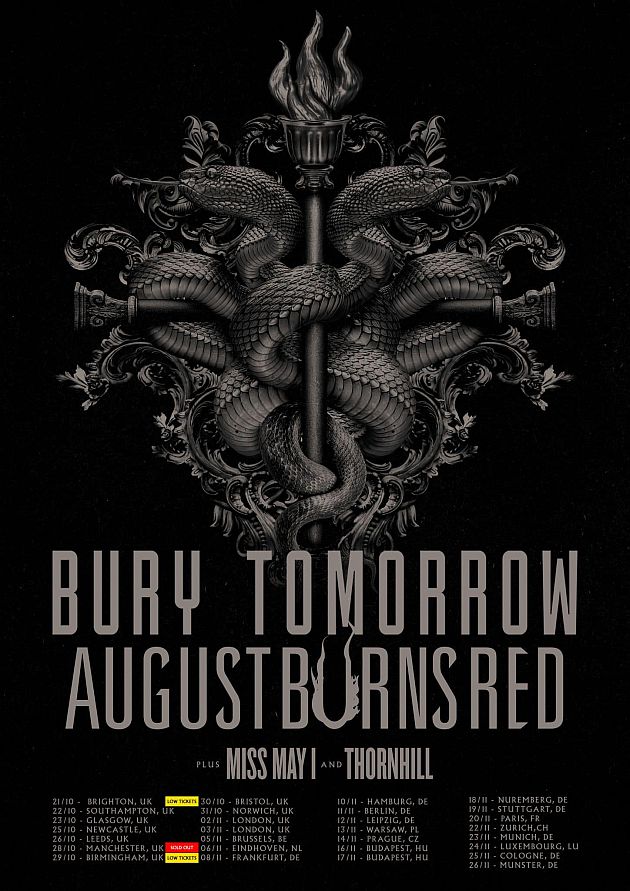 Rockhal, Esch sur Alzette, Luxembourg
24th November 2022
Bury Tomorrow - Special Guest: August Burns Red - Support: Miss May I & Thornhill

BURY TOMORROW's 2018 album 'Black Flame' catapulted them into metal's upper echelons. It was the band's third consecutive UK Top 40 album - quite the feat for a heavy band - and took them on a tour which culminated with a huge show at London's iconic Roundhouse. But with follow-up 'Cannibal', the band have taken another leap forward. Already, the South Coast quintet are responsible for some of metalcore's most rousing anthems, and 'Cannibal' is stacked with more glorious vocal hooks, razor-sharp riffs and sublime melodies that will solidify their seat at UK metal's top table.
To record it, the band reunited with SIKTH guitarist and 'Black Flame' producer Dan Weller (ENTER SHIKARI, YOUNG GUNS), while mixing and mastering was completed by Adam "Nolly" Getgood and Ermin Hamidovic, the dream team behind ARCHITECTS' 'Holy Hell'. The result is BURY TOMORROW's most technical, anthemic album yet. And while vocalist and lyricist Dani Winter Bates has long been one of metal's loudest advocates for the importance of discussing mental health, this time he's delved explicitly into his own experiences, writing his most brutally personal lyrics to date.
Upholding artistic pillars of tightly wound technical proficiency, airtight grooves, and pensive lyricism, AUGUST BURNS RED fulfil a quiet, yet staunch 17-year commitment to a diehard audience worldwide. The two-time GRAMMY® Award-nominated Pennsylvania quintet - JB Brubaker (lead guitar), Brent Rambler (rhythm guitar), Matt Greiner (drums), Jake Luhrs (lead vocals), and Dustin Davidson (bass) - have preserved this level of integrity since first emerging in 2003. Following the seminal 'Messengers' (2007) and 'Constellations' (2009), the band infiltrated the mainstream via 2015's 'Found In Far Away Places'. Not only did the latter stand out as their second straight #9 bow on the Billboard Top 200, but it also garnered the group's first GRAMMY® Award nomination in the category of "Best Metal Performance" for 'Identity'.
The momentum increased with the arrival of 'Phantom Anthem' in 2017. Marking the group's fourth Top 20 debut on the Billboard Top 200, it paved the way for their second "Best Metal Performance" GRAMMY® nod for 'Invisible Enemy'. The record ushered their career streams past the 100 million-mark as it earned four-out-of-five stars from the likes of Alternative Press and Kerrang! Between sold-out shows worldwide, they continued a 15-year tradition of holiday shows by launching the Christmas Burns Red Festival. Now, their 2020 eighth full-length, 'Guardians' sees them not only preserve but perfect this definitive sound as evidenced by the likes of 'Defender' and 'Bones.'
Additional Concert Info

Doors: 18:30
Start: 19:00
Tickets & Info: https://rockhal.lu/shows/bury-tomorrow-august-burns-red/
Facebook Event: https://www.facebook.com/events/744623872984683