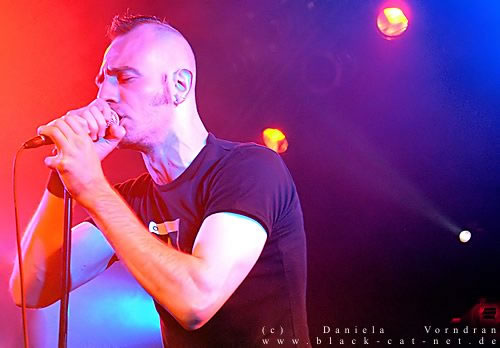 Kulturfabrik, Krefeld, Germany
29th April 2006
PLUSWELT-Festival VI: DE/VISION, IRIS, BEBORN BETON, MINERVE

After the fifth Pluswelt Festival in Krefeld, now the Promotion agency "Pluswelt" from Hamburg is organizing number six of the favoured festival series. The evening of the 29th April stands in the sign of Electro-Pop with four different artists.
De/Vision
All good things are three – that were the thoughts of De/Vision. And so they are coming back to Krefeld for the only show in Nordrhine-Westfalia to promote their new album "Subkutan" after they were playing at the "Kulturfabrik" in 1997 and 2004. The band with the 18-years lasting career will be given the possibility to play a whole live-set.
Iris
Iris from Texas were playing as support for De/Vision in January 2004. Now the three US-boys are back with their new album "Wrath" which was hitting the top positions of the German Alternative Music Charts. In May 2005, Iris were on the road for their own Europe-Tour but missed out Nordrhine-Westfalia. Especially that was the reason to please the band playing in Krefeld - this time not as opener but as Co-Headliner.
Beborn Beton
Since 1997, Beborn Beton are guest in Krefeld every two years. The band from Essen comes up with a goody for their first show 2006: For the first time in the new millennium they are presenting new songs which are not released yet and will be found on the forthcoming album to be released in late summer 2006.
Minerve
With this young Synth-pop band, a perfect opener was found. Especially in Poland, the band was hitting the charts and appeared on TV.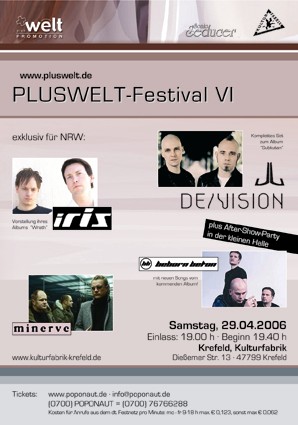 Details

Saturday, 29th April 2006
Open: 19.00
Start: 19.40
Kulturfabrik Krefeld, Dießemer Str. 13, 47799 Krefeld
After-Show-Party in the small hall
Tickets can be bought at
www.poponaut.de
/
This email address is being protected from spambots. You need JavaScript enabled to view it.
Tel.: +49 – 0700 - 76766288
Info:
www.pluswelt.de