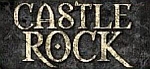 Schloss Broich, Mülheim, Germany
4th and 5th July 2014
CASTLE ROCK 15: Letzte Instanz, A Life Divided, Eden Weint im Grab, Scream Silence, Ensiferum, Crematory, Delain, Lost Area and more…

The motto of this year's festival is "One Day To Remember –Two Days To Rock!" to celebrate the 15th anniversary of the festival in the atrium of the Schloss Broich (Castle Broich). Appropriate to this anniversary the inclined audience can revel in memories as well look forward to something new. Thus there will be on the Friday, the first day of the festival, mainly bands that impressed the older as well the younger history of this festival.


Opener of the event will be EDEN WEINT IM GRAB, a band that had already in 2010 their debut with their Dark Rock. The Gothic Rock band SCREAM SILENCE will come next, who had their guest appearance already in 2001 and 2006 in Mülheim/ Ruhr. Electronic Rock will be presented then by A LIFE DIVIDED who presented themselves in 2012 to an enthusiastic audience. The evening will be finished by the headliner LETZTE INSTANZ. They have been already at the first CASTLE ROCK festival and persuaded the audience in 2002, 2007 and 2011 with their brute romanticism.

The second day will be rocking for sure. Traditionally the CASTLE ROCK presents, at the beginning of the second day, bands that aren't so well- known yet, but have the quality to be the stars of tomorrow. And so EISENHERZ with music of the genre "Neue Deutsche Härte", CAIN with two-part Gothic Rock, SÜNDENKLANG and LOST AREA with Dark Rock will lead you on a musical voyage before DELAIN with Symphonic Metal and CREMATORY with Gothic Metal are laying the ground for the grand finale: the Melodic Death Metal band ENSIFERUM.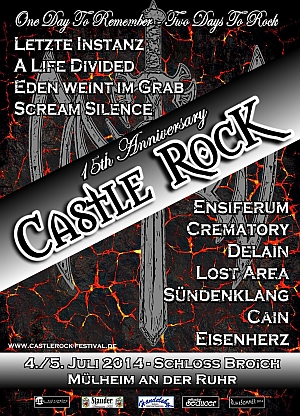 Line-up

Friday, 4th July 2014
Doors: 17.00
Letzte Instanz
A Life Divided
Eden Weint im Grab
Scream Silence

Saturday, 5th July 2014
Doors: 12.15
Ensiferum
Crematory
Delain
Lost Area
Sündenklang
Cain
Eisenherz


Tickets

The advanced ticket sales started already. They can be purchased at all established booking offices as well as at the festival shop of the CASTLE ROCK festival.

Ticket fee
for Friday: 23,00€ + Charges (Pre- Sales)
for Saturday: 29,00€ + Charges (Pre- Sales)
festival ticket: 43,00€ + Charges (Pre- Sales)
Tickets can be bought at www.castlerock-festival.de


Info

www.castlerock-festival.de / https://www.facebook.com/pages/Castle-Rock-Festival/217723361594564