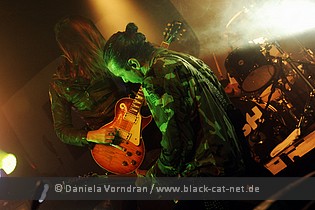 Live-Music-Hall, Cologne, Germany
8th November 2011
Bush, Evaline

BUSH are back and with their latest album 'The Sea of Memories' they prove their post-grunge sound didn't got lost over the years. I loved them in the past and lost the focus towards the band over the last years. But hearing they are back playing live in my region made me jump for joy and I was eager to see them finally for the first time live on stage. Read below if they could fulfil my high expectations…



Evaline

EVALINE from California, USA, saw the light of day in 2010 and hit the circuit with a full quota of startling tracks, playing their unrivalled rock songs using layered sounds, intense guitars and swooning vocals, as their Facebook site states. The debut EP 'Postpartum Modestyv' was released on Maverick Records. In June 2011, the CD 'Woven Material' hit the stores. So far, the band already toured with such bands as DEFTONES, PLACEBO, DIR EN GREY or APOCALYPTICA, among others. Now, we in Germany were experiencing them as support of BUSH. EVALINE is Richard Perry (vocals), Christian Lewis (guitar), Dominic Di Ciano (guitar), Steven Pedersen (bass), Greg Petersen (drums) and Daniel Petersen (baritone guitar). http://www.evaline.co.uk/ / https://www.facebook.com/we.are.evaline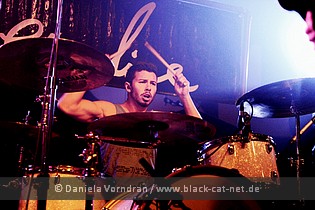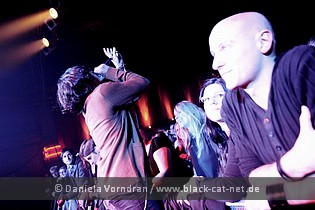 Music & Performance
Arriving at the venue I first was a bit surprised that 15 minutes before show time the hall was not even filled up one third, especially since the show was sold-out and I had problems finding a parking lot. Luckily, some more people gathered in front of stage when the Californian 6-piece rushed on stage, opening up with 'Patterned' from the homonymous EP. And as fast that you could barely see it, Richard was jumping from stage onto the fence, getting in touch with the audience. The presented Indie Rock with Post Rock influences caught the audience right away. The guitar laden sound was enriched by keyboard layers and distinctive drums. Presented songs were mainly from the band's first album, 'Woven Material'. In the middle of the set, Richard told that he was in Cologne for the first time and that he likes that "pretty city" and he's glad anyone joined the show. With 'God's Gonna Cut You Down' by JOHNNY CASH, they presented a "folk song", like Richard said.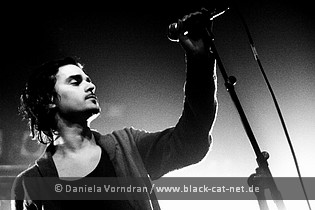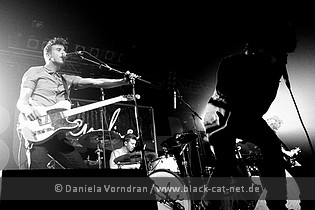 For following 'There There', Richard grabbed a tom to drum together with Greg, at least for a little while. Before last song 'All in my Mind' started, Richard asked the audience to scream for BUSH "as loud as they can"… well… in my opinion people could have cheered louder. The set ended with him jumping into the crowd once more and then he was lost for minutes and you could see two nervous crew members running through the audience looking for him. All in all a really cool show of a band you should keep an eye on.

Setlist
01. Patterned
02. Rapture
03. Equally
04. Picking it Up
05. Beneath the Fire
06. God's Gonna Cut You Down (Johnny Cash Cover)
07. There There
08. All in My Mind

Rating
Music: 8
Performance: 9
Sound: 8
Light: 5
Total: 8 / 10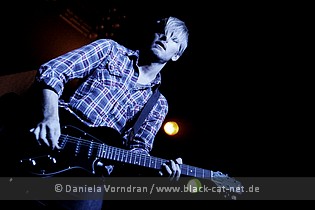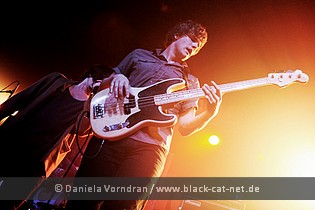 Bush

British Rock band BUSH was formed in 1992 in London. In 1994 they released their first album 'Sixteen Stone' including hit song 'Glycerine'. Over the next years, BUSH became one of the most commercially successful rock bands of the 1990s in the United States, selling over 10 million records in the United States with their albums 'Razorblade Suitcase' and 'The Science of Things'. After the release of their less successful album 'Golden state', BUSH quit in 2002. Front man Gavin Rossdale started another band called INSTITUTE releasing only one album in 2004. In 2010, part of the original BUSH line-up got back together and started working on a new album, 'The Sea of Memories', which was released in September 2011. BUSH is Gavin Rossdale (vocals / guitar), Robin Goodridge (drums), Chris Traynor (guitar) and Corey Britz (bass). http://www.bushofficial.com/ / https://www.facebook.com/BushOfficial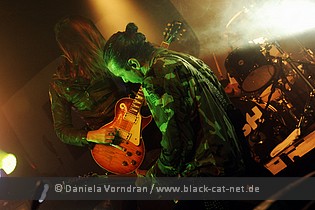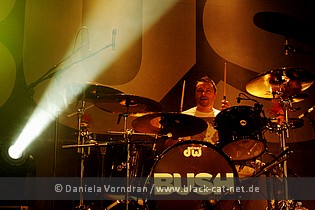 Music & Performance
Now, the venue got really packed. But people had to wait nearly an hour, before BUSH finally hit the stage at 21:30 to open their show with 'Machinehead' from their first album 'Sixteen Stone'. From now on, it was really loud in the hall. Especially girls… well… or women in their mid thirties… screamed loudly for Gavin. And well, it was understandable, he's still a heart-throb. When you thought the screams during the first song were loud, let me tell you it became much louder when 'The Chemicals Between Us' from 1999s 'The Science of Things' sounded through the P.A. Accompanied by a great light show with lots of strobe effects, all four guys developed huge power on stage, living the songs and especially Gavin was playing the guitar on his knees very often or interacting with Chris on guitar. The set mainly contained songs from the current album as well as from the band's first release. So, 'All my Life' from the current CD followed and Mr. Rossdale taking off his jacket caused girls' screams once more. Underlined by heavy strobe lights, 'Greedy Fly' out of 1996s 'Razorblade Suitcase' saw Gavin standing on the fence and playing the guitar very close to the audience and finally giving a warm welcome to the people.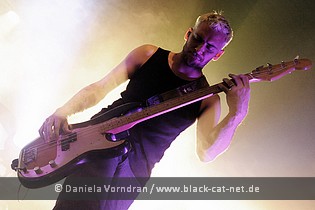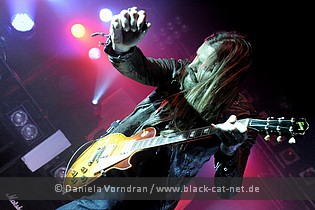 Being happy with the new album, as Gavin told, the band continued with sounds out of it, namely 'The Sound of Winter'. During this song and through the whole show, Rossdale's voice really sounded perfect with the right smoky undertone fitting very well to a Rock-Grunge band. When 'Sixteen Stone's' opener 'Everything Zen' followed next, people were jumping and you could see even a crowd surfer the security was not too happy about. With 'The Heart of the Matter' and 'The mirror of the signs' (both from the current album), it became a little calmer and much to the pleasure of many women, Gavin had opened his hair. Without guitar, he commanded the audience "Cologne, Motherfuck let me hear you!" during following 'The People That We Love' (2001 'Golden State'). 'All Night Doctors' was presented as a little acoustic piece without drums, just Gavin playing the guitar accompanied by Corey on a stage piano and Chris on cello. Wonderful! It was just a little sad that there was a strange deep, vibrating sound coming out of the speakers. One of my personnel highlights followed with 'Swallowed' from 1996s 'Razorblade Suitcase' album when people were singing all on their own towards the end. Finally, 'I Believe In You' and 'The Afterlife' from the current album and 'Little Things' from the very first one ended the main set.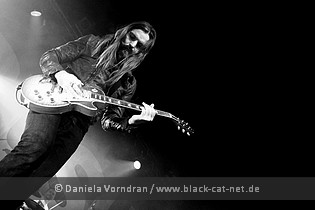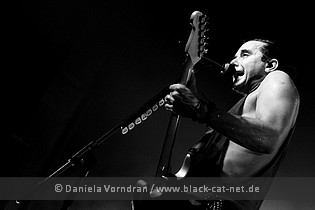 Well, about 75 minutes would have been much too little for such a fantastic show and of course, the band came back for more songs, starting the encore bloc with a THE BEATLES cover, 'Come Together'. The end of the show was formed by two old gems from 'Sixteen Stone', classic hit 'Glycerine' and 'Comedown'. What an amazing show the band put on stage after 10 years abstinence. They blew me away and also the audience was on cloud seven…

Setlist
01. Machinehead
02. The Chemicals Between Us
03. All My Life
04. Greedy Fly
05. The Sound of Winter
06. Everything Zen
07. The Heart of the Matter
08. The mirror of the signs
09. The People That We Love
10. All Night Doctors
11. Swallowed
12. I Believe In You
13. The Afterlife
14. Little Things
---
15. Come Together (The Beatles cover)
16. Glycerine
17. Comedown

Rating
Music: 9
Performance: 10
Sound: 8
Light: 9
Total: 9 / 10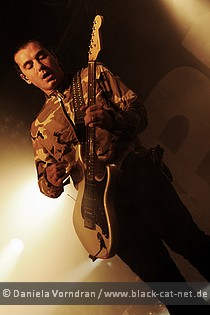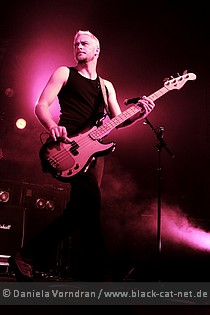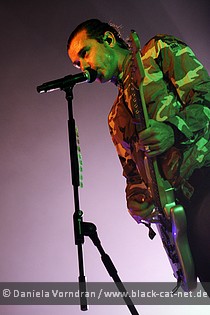 All pictures by Daniela Vorndran (http://www.vorndranphotography.com / http://www.black-cat-net.de/ / http://www.myspace.com/vorndranphotography / http://www.facebook.com/blackcatnet)



See also (all categories):