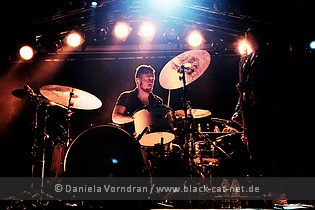 Matrix, Bochum, Germany
13th November 2011
Carpark North, Rubylux

Compared to the past shows we've attended with the suffocating ambience of a sold-out venue, this one can be billed as an intimate club show of a band that has played in bigger venue already. CARPARK NORTH this time was the main act but had an interesting newcomer for us in stock



Rubylux

Within their comparatively short career, RUBYLUX have achieved quite a lot. This includes building a passionate and ever-growing fan base, touring Vietnam and releasing their debut album 'Fake Control' and more recently supporting CARPARK NORTH. RUBYLUX is Rob Humphreys, Adam Harris, Mike Hall, and Clark Coslett-Hughes. More information is available on their web page http://rubylux.net/ and https://www.facebook.com/rubylux.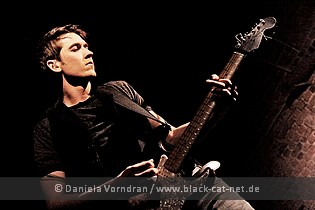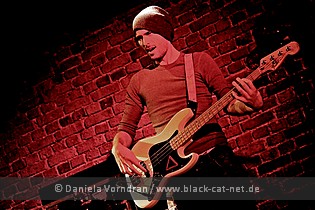 Music & Performance
That newcomer was called RUBYLUX, a bunch of guys from Brighton/England whom I've read a few interesting things about before the show. The songs which were mostly down-tempo nevertheless managed to get the crowd in tune for the main act and impressed with a strong musicianship and a fresh spirit that has nowadays become rare, even with newer bands. Many times you can smell the air of calculated success. Here it was the pure joy of making music and being able to play it to a play it live to an audience. This is something that wins you over in an instant and songs like 'Fake Control' or 'What You Need', the album's first single. Too bad the setlist just contained six songs. I'd have loved to hear some more.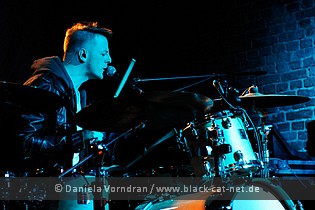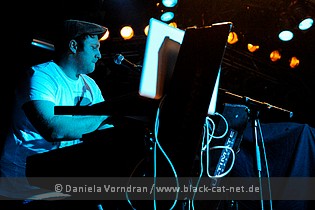 Setlist
01. They Sold You
02. The Black Sun Needs Sparks
03. Inside
04. Reconnect Life
05. Screaming Surrender
06. What You Need

Rating
Music: 7
Performance: 7
Sound: 7
Light: 7
Title: 7 / 10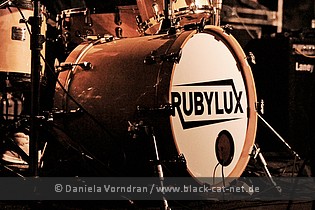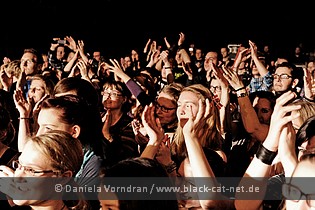 Carpark North

In Germany rather unknown, CARPARK NORTH, btw. existing already for about ten years, are already a platinum status band in their home country Denmark where they have already released 3 CDs, namely the self-titled 'Carpark North' (1999), 'All Things to all People' (2006) and 'Grateful' (2008). In Germany, they are only available as import or MP3 download so far. But finally, the international debut album 'Lost' is was released in autumn 2010 also in Germany. CARPARK NORTH is Lau Hojen (vocal, guitars), Soren Balsner (bass, synths) and Morten Thorhauge (drums). http://carparknorth.com/ / http://www.myspace.com/carparknorth / https://www.facebook.com/carparknorth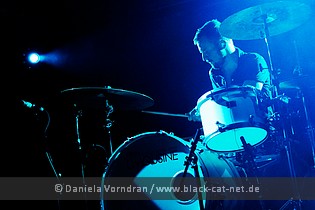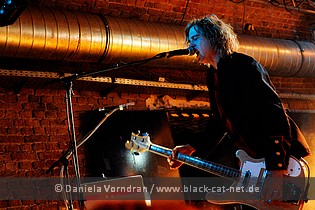 Music & Performance
Rather short was the waiting time until everything was set for the CARPARK NORTH show that kicked off fiery with 'Burn It' that left no doubt they had come to conquer the venue this evening. They continued fuelling the fire with 'Best Day'. Both made a solid base for a block of tracks that most of the attending crowd must know from the 'Lost' album. First of which was 'Beasts', a straight, upbeat track you could rock the hell out to and Sören's piano performance as the icing on the cake. 'Lost' cooled everything down a bit with the mostly spherical builds contrasting the harsh rock outbreaks. The melody of a play clock marked the beginning of 'More'. At this point the mostly female crowd was feeding from the band's hands already and especially Lau seemed to have learned a few tricks from Jared Leto in crowd participation.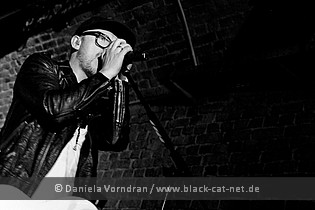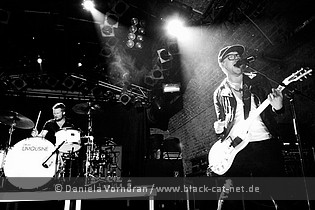 'Homeland' was a song I haven't stumbled across yet. Perhaps because I haven't been able to get my hands on the debut album. The availability of previous albums around Germany is something to work on anyway. Following 'Shutdown', a rocking version of PINK FLOYD's 'The Wall' coupled with the melody of the EURYTHMICS evergreen 'Sweet Dreams' and topped off with a little 30 SECONDS TO MARS became a crowd pleaser extraordinaire. With 'Leave My Place' and 'Transparent' some of my favourite pieces came up and I enjoyed every minute if to the fullest. The band with Sören and Lau rocking out at the front support enjoying yourself a lot as well. We were closing in on the end ...of the main set that was made by 'Save Me From Myself'.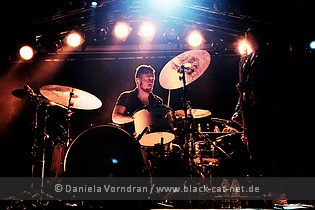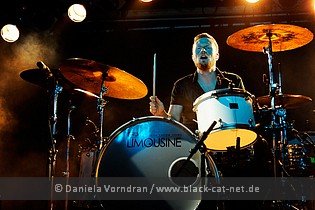 A very famous song, even though it's not even released around here yet opened the encore: 'Everything starts again' already has been performed live at Danish X-Factor and a cool video clip is online you should check out. 'Shall We Be Grateful' was chosen as bouncer of the evening. A short concert it was but an intense one with a band that could easily fill larger venues if there were a little more known around here. I still hope that's going to happen sometime because they just deserve it.

Setlist
01. Burn It
02. Best Day
03. Beasts
04. Lost
05. More
06. Homeland
07. Fireworks
08. Shutdown
09. Eric Prydtz
10. Leave My Place
11. Transparent
12. Just Human
13. Save Me From Myself
---
14. Everything Starts Again
15. Shall We Be Grateful

Rating
Music: 9
Performance: 9
Sound: 9
Light: 8
Title: 8.9 / 10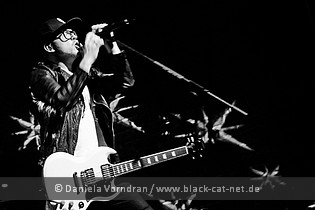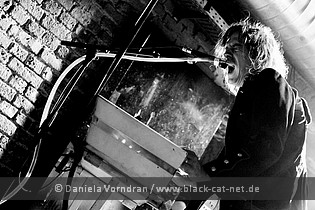 All pictures by Daniela Vorndran (http://www.vorndranphotography.com / http://www.black-cat-net.de/ / http://www.myspace.com/vorndranphotography / http://www.facebook.com/blackcatnet)