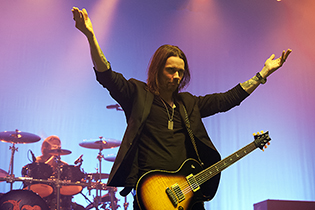 Mitsubishi Electric Halle, Düsseldorf, Germany
4th November 2013
Alter Bridge & Halestorm

As their just in September 2013 released album 'Fortress' reached the top 10 of the German album charts it was no wonder that many fans came to see ALTER BRIDGE on this evening. Even more as there are only four dates in Germany to see them perform. A look at the parking area made it clear that the fans travelled apparently quite far as many of them arrived from all kind of federal states. With their Hard Rock/ Alternative Metal sound they reach a wide audience and so you could see people of all ages from 20 up to 60+ at the concert. With approximately 4,000 people the venue was nearly sold out.



Halestorm

Founded already in 1998 by the siblings Elizabeth "Lzzy" Hale (vocals, guitar, piano) and Arejay Hale (drums), the US band HALESTORM from Red Lion, Pennsylvania, was busier with playing live at venues and festivals as well as touring with all kind of bands like SHINEDOWN, STONE SOUR, DISTURBED, MEGADETH, PAPA ROACH, GODSMACK and many more. Thus it is no wonder that they only released two albums, a live album and three EPs until now. But those were critically acclaimed in the US. The band is accomplished by Joe Hottinger (guitar) and Josh Smith (bass). http://www.halestormrocks.com/ / https://www.facebook.com/halestormrocks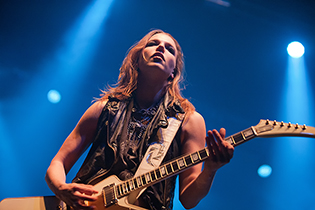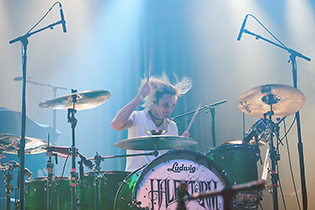 Music & Performance
Right from the beginning HALESTORM gave their best to give the audience a good warm up. The singer Lzzy showed up with a raspy voice, fitting perfectly to the music, and a good stage presence, frequently asking the people to clap their hands and sing with them. As Joe and Josh were a bit static, Arejay was playing his drums like a maniac. Of course he presented us a short drum solo and entertained us by watching him throwing his drum sticks to the hands at the side of the stage. While the setlist was more dynamic and rocking, the sixth song started more contemplative as the guys left the stage for a while and Lzzy performed the song 'Break in' alone at the keyboard. But with 'Familiar taste of poison' the guys returned and they rocked on. We learnt that they will be touring in April in Germany, too, and will perform with a full set then. Giving a solid rock show, they got a big applause when they left the stage.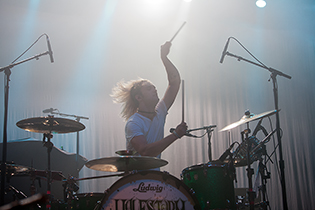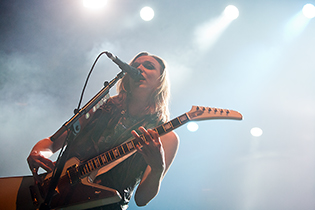 Setlist
01. Love bites (So do I)
02. Mz. Hyde
03. It's not you
04. Freak like me
05. Rock Show
06. Break in / Familiar taste of poison
07. Dissident aggressor (Judas Priest Cover)
08. I get off
09. Here's to us
10. I miss the misery

Rating
Music: 7
Performance: 7
Sound: 9
Light: 6
Total: 8 / 10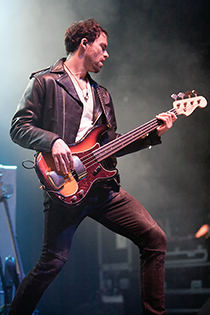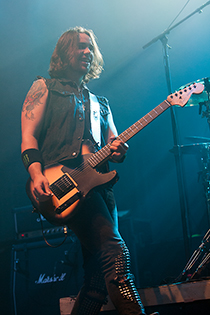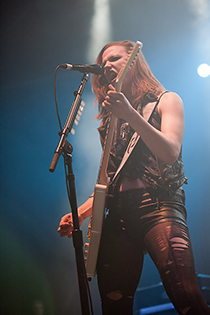 Alter Bridge

The band was formed in 2004 by the former CREED members Mark Tremonti (guitar, vocals), Scott Phillips (drums) and Brian Marshall (bass) and the former MAYFIELD FOUR member Myles Kennedy (vocals, guitar). Already in the same year they recorded their debut album 'One day remains' which was so successful in the US that it went gold and three tracks were released as singles. Their successor 'Blackbird', released in 2007, with the hit singles 'Rise today' and 'Watch over you' was critically acclaimed, as well. Up to now they have released four albums and two live albums. The fourth was just released in September 2013. http://www.alterbridge.com/ / https://www.facebook.com/alterbridge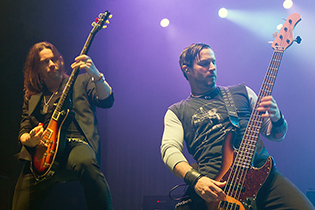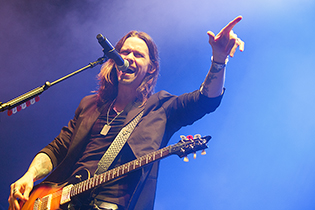 Music & Performance
The stage rebuilding took with half an hour too long for my taste, regarding that after half of the time nothing was really happening. But finally the guys of ALTER BRIDGE appeared on stage and were welcomed with a big applause. Right from the beginning the audience was moving to the songs and almost all, who were sitting at the sides of the venue, were off their seats. The vocals of Myles reminded me partly of the vocals of Axl Rose, but later on he proved that he can sing differently as well. The concert was surely a solid show and the fans obviously enjoyed it, but to me the performance was quite static and had too much of a routine. The guys presented their set very professional and relaxed. Not really an attitude you expect at a rock concert. And as relaxed as the band was, so was the audience. I was wondering why the lead singer had his position at the left side of the stage instead of the middle and most of the show he stayed there.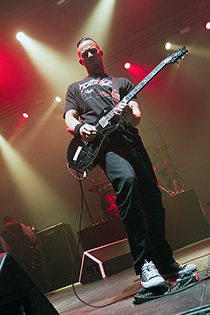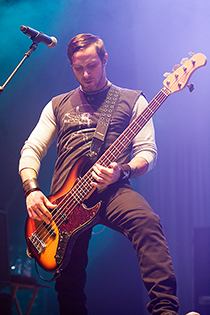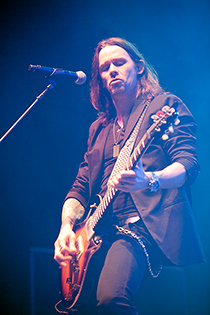 My personal highlight was the song 'Watch over you' sang as an acoustic duet with Lzzy Hale for it is a nice song and it was the only break in the experienced performance. After a set of 16 songs and three more at the encore the band left the stage and happy fans left the venue.

Setlist
01. Addicted to pain
02. White knuckles
03. Come to life
04. Before tomorrow comes
05. I know it hurts
06. Farther than the sun
07. Cry of Achilles
08. Ghost of days gone by
09. Lover
10. Ties that bind
11. Water is rising
12. Broken wings
13. Blackbird
14. Watch over you
15. Open your eyes
16. Isolation
---
17. Slip to the void
18. Metalingus
19. Rise today

Rating
Music: 8
Performance: 6
Sound: 8
Light: 7
Total: 7.5 / 10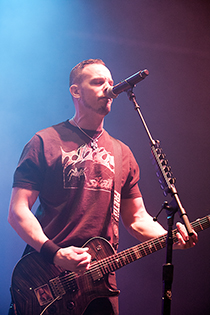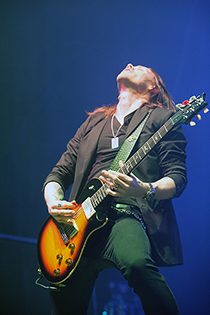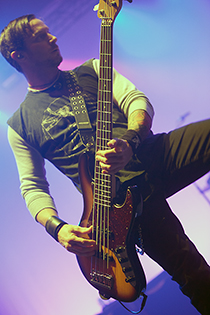 All pictures by Marcus Nathofer (More pictures: http://schaubar.de/?page_id=1069)