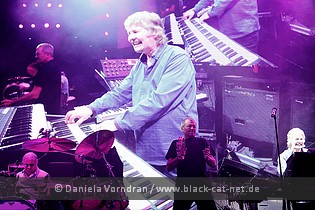 König-Pilsener Arena, Oberhausen, Germany
13th November 2015
Deep Purple & Rival Sons

DEEP PURPLE was on tour in Germany in November 2015! And there is was exclusive date in Oberhausen, NRW! For the first time in two years DEEP PURPLE were returning back to Germany for a tour! But to write this review is kind of hard now. While the band still was playing in Oberhausen, the terrible terror attacks were happening in Paris and first messages popped in while I still enjoyed the concert together with around 7,000 other people. Now, some days have passed and I can finally think about written about the concert and concentrate on the things happening there…
Rival Sons
The RIVAL SONS are a blues rock outfit formed in 2008 just outside of Los Angeles. Once Jay Buchanan joined them, the line-up was completed and works for a first album could start. Entitled 'Before the Fire', it was digitally self-released by the band in 2009. In the following time, the band performed live on a plethora of occasions, amongst them shows with KID ROCK and AC/DC. The second album 'Pressure & Time' followed in 2011 and amongst a bunch of new songs featured artwork by the same graphics designer who worked on PINK FLOYD's 'Dark Side of the Moon'. The touring cycle began anew where the band was sharing stages with EVANESCENCE and BLACK STONE CHERRY for instance. Fall 2012 saw the release of the third album instalment called 'Head Down. The band's latest album, 'Great Western Valkyrie', was released in 2014. RIVAL SONS is Jay Buchanan (vocals), Scott Holiday (guitars), Robin Everhart (bass) and Michael Miley (drums) supported live on keyboards by Todd E. Ögren-Brooks.
http://www.rivalsons.com
/
http://www.facebook.com/rivalsons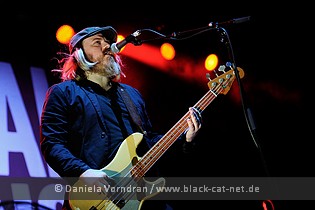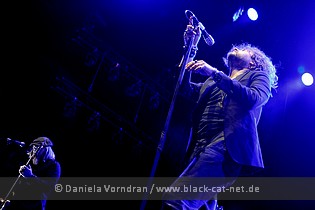 Music & Performance

RIVAL SONS started the evening very powerful and full of energy. I already saw the band a few years ago opening for EVANESCENCE. Back then I was surprised why they had chosen a support act being very different in musical genre. Today, it fitted much better to the main act musically. RIVAL SONS present kind of Blues Rock mixed with Classic Rock, and that in a very entertaining way. Especially singer Jay and guitarist Scott are in the centre of attention, acting very extroverted. The guys demonstrated a lot of fun on stage. In the audience, the opinions were mixed. Some did not really like the band, others were excited and cheered loudly. I found their style quite good and especially their stage presence in convincing.
Setlist

01. Electric Man
02. Secret
03. Tell Me Something
04. Torture
05. Where I've Been
06. Open My Eyes
07. Drum Solo
08. Keep On Swinging
Rating

Music: 7
Performance: 8
Sound: 8
Light: 7
Total: 7.5 / 10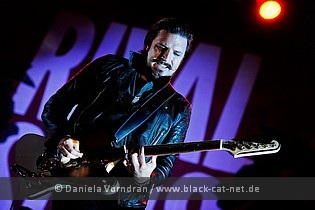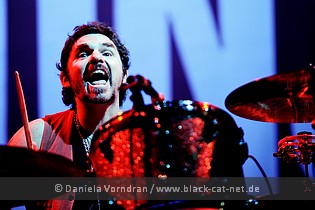 Deep Purple
DEEP PURPLE does not need any particular introduction, I think since this band is one of the cornerstones of Hard Rock and Heavy Metal with a tremendous culture impact. I guess anyone knows a t least their hit 'Smoke on the Water'. Founded back in 1968, the band is famous for its Hammond Organ sounds, remarkable guitar riffs and solid rhythm works. All in all, the band sold much more than 120 million albums. Several line-up changes during the years also brought several changes in musical styles: from Psychedelic to Blues Rock and integration of classical elements. The odds were in our favour that the band has completed their 20th studio album by the beginning of the tour. But we are still waiting. In June 2014, Ian Gillan revealed in an interview that the quintet had been working on new songs in their sound studio in Portugal. Shortly thereafter, the musicians got more concrete disclosing at a press conference in France that "the next PURPLE record will be released sometime in 2015!" Only founding member Ian Paice (drums) has left from the original band line-up, even though all recent members have a long history in DEEP PURPLE by now. Currently, the band consists of Ian Gillan (vocals, harmonica), Steve Morse (guitar), Roger Glover (bass), Don Airey (Hammond, keyboard) and Ian Paice (drums).
http://www.deeppurple-nowwhat.com
/
https://www.facebook.com/officialdeeppurple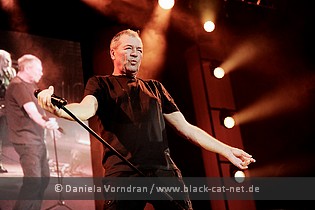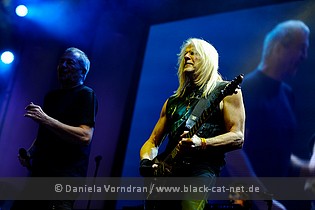 Music & Performance

It was 21:15 when the sounds of 'Mars, the Bringer of War' sounded though the arena and DEEP PURPLE entered the stage. Already the opener 'Highway Stars' was loudly welcomed by the fans and the mood in the hall was extraordinary. The setlist on the current tour contained besides many classics a new instrumental called 'Contact Lost'. Besides that, there were a few other surprises… especially the mood of Ian Gillan was great, he was joking or telling little stories. Very nice, especially if you remember that his constitution was much worse from time to time in the past. During 'Strange Kind of Woman' he was even doing some screams in kind of duel with guitarist Steve Morse. The whole who was accompanied by a fabulous light setting and various video projections on a huge screen on the back. Really appropriate for such a big arena. So, even people in the far back could see what's happening on stage since a lot of live footage was shown on the screen. During the show, Any musician got his solo part. During 'The Mule' it was time for Ian Paice on drums. Why I explicitly speak of that? The drum solo was kind of special since Ian was taking two glowing drum sticks and the light show was dimmed so you could only see those moving sticks. Sure he got huge applause!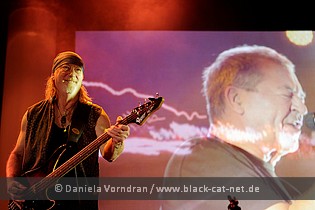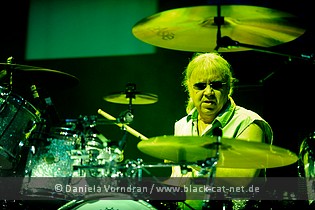 Besides the drum solo I also want to mention the keyboard solo of Don Airey. His solo followed after 'Hell to Pay' and embedded the German National Anthem into classical keyboard sounds. Following this solo was the well-known 'Perfect Strangers'. Finally, 'Space Truckin'' and the uber hit 'Smoke on the Water' were ending the main set. Of course, people were loudly singing along to this one and rewarded the band with huge applause. The band of course returned for some encores end finally ended the show with 'Black Night'. This was really a fabulous rock night and the guys are still fan to watch.
Setlist

01. Intro: Mars, the Bringer of War (Gustav Holst song)
02. Highway Star
03. Bloodsucker
04. Hard Lovin' Man
05. Strange Kind of Woman
06. Vincent Price
07. Contact Lost (new instrumental)
08. Uncommon Man
09. The Well-Dressed Guitar
10. The Mule (with Ian Paice solo)
11. Lazy
12. Demon's Eye
13. Hell to Pay
14. Keyboard Solo
15. Perfect Strangers
16. Space Truckin'
17. Smoke on the Water
---
18. Hush (with "Green Onions" by Booker T. & The MG's instrumental intro)
19. Bass Solo
20. Black Night
Rating

Music: 9
Performance: 9
Sound: 9
Light: 9
Total: 9 / 10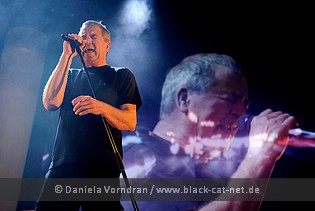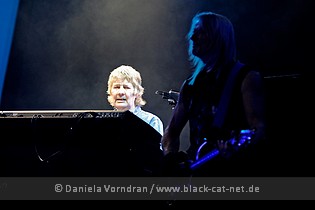 All pictures by Daniela Vorndran (
http://www.vorndranphotography.com
/
http://www.facebook.com/blackcatnet
)