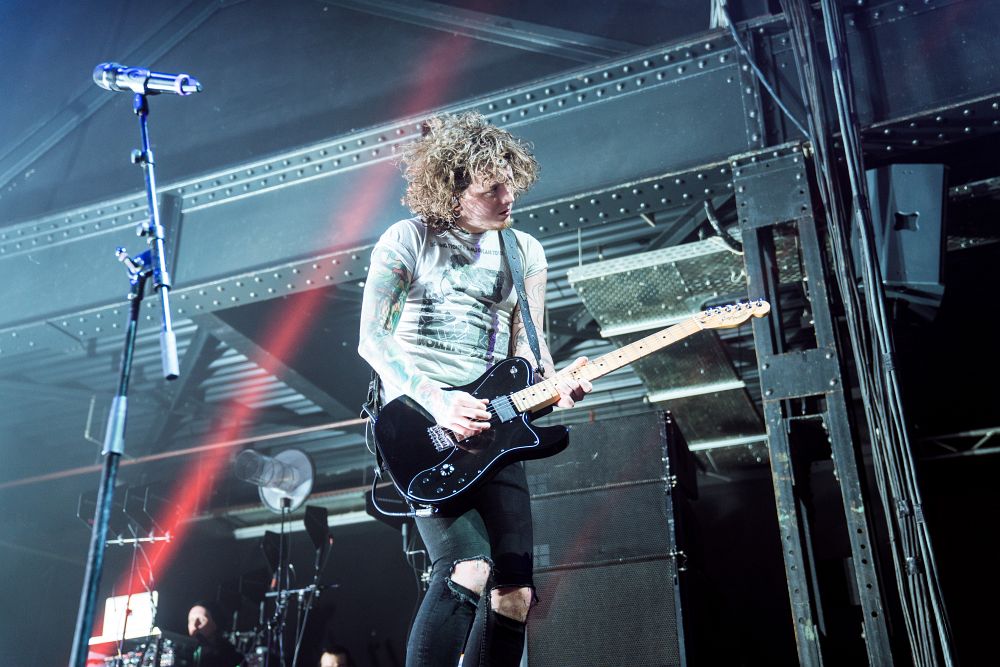 Palladium, Cologne, Germany
29th January 2018
Black Veil Brides - "The Resurrection Tour Europe 2018" - Special guests: Asking Alexandria & To The Rats And Wolves

January this year has certainly potential for the lovers of hard but melodic music, as two favourite bands of this genre have decided to go on a co-headlining tour through Europe.
To The Rats And Wolves

The two main acts brought
TO THE RATS AND WOLVES
as support with them. TO THE RATS AND WOLVES are a six-headed group from Essen, Germany, and they play so-called Trancecore, which essentially means hard guitar riffs paired up with catchy electronic melodies with the occasional growl thrown in. TO THE RATS AND WOLVES have been founded back in 2012 and have released two albums so far. www.totheratsandwolves.com / https://www.facebook.com/totheratsandwolves
Music & Performance

Pretty early at 7:20, TO THE RATS AND WOLVES went onstage after a somewhat lengthy electronic intro. The spacious venue still was only half full, but the band members did their best to garner the interest of the relatively young audience. And it turned out they had a few tricks up their sleeves: Besides sugar-coated melodies and good looks, especially singer Nico Sallach developed real entertainer qualities, as he requested the crowd to perform various stunts (such as getting their partner on their shoulders or sitting down on the ground and then jumping up while turning around) as well as sing-a-longs throughout the 30-minute gig. As far as the sound was concerned, the guitars were a bit weak in the mix and almost failed to cut through, but that is a very common issue for support acts with limited sound check resources. After their last song there were plenty of encore demands, so it seems that TO THE RATS AND WOLVES have won over quite a few new fans that night, even though they played 'Ohne Dich' from MÜNCHENER FREIHEIT as an outro.
Setlist

01. Young. Used. Wasted
02. Blackout
03. Wild at Heart
04. Suburban Romance
05. Anywhere For You
Rating

Music: 7
Performance: 8
Sound: 5
Light: 6
Total: 6.5 / 10
Asking Alexandria

The quintet from North Yorkshire, UK have gone through several line-up changes since their inception in 2006. Beginning of last year, they reunited with their original singer Danny Worsnop, who had departed two years earlier to pursue other musical interests. They released their fifth (self-titled album) in December 2017. www.askingalexandria.com / https://www.facebook.com/askingalexandria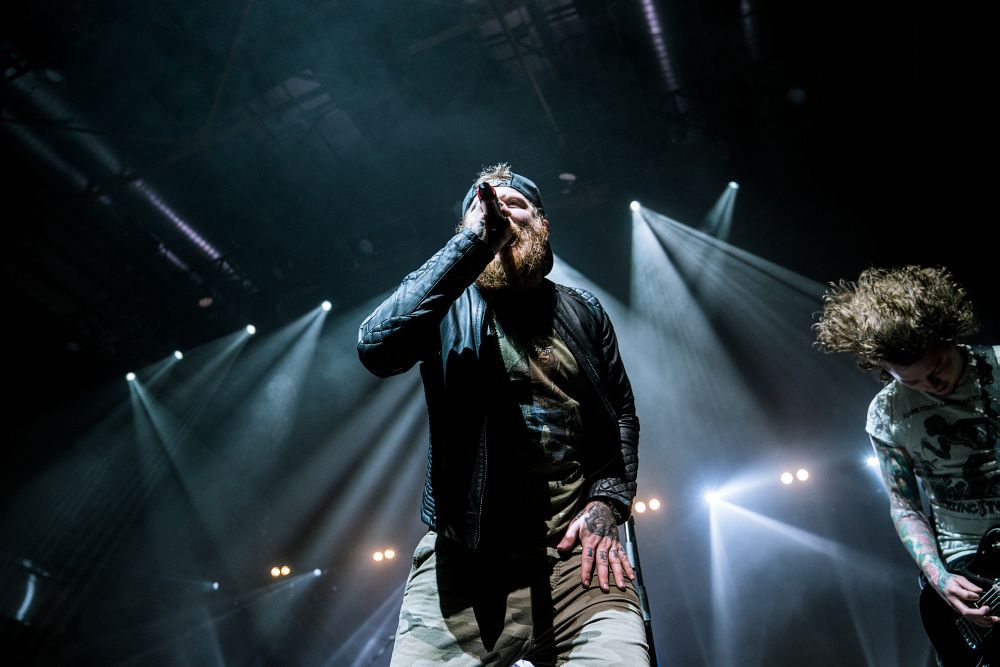 Music & Performance

Around a quarter past 8pm, a pulsing heartbeat-like thumping, together with red strobe lights announced it was time for the first Co-Headliner
ASKING ALEXANDRIA
. The band opened their set with the magnificent 'Into the fire' from their most recent album, and it certainly did not fail to impress the audience, as the fan girls and boys kept singing the choruses and performed the occasional crowd surf. The songs were accompanied by a large, dizzying video projection and light show, which really created an immersive experience. After song no. 4, singer Danny displayed his odd sense of humour and announced "That's all from our side. Good night!", which left the concertgoers rather perplexed than amused. The relief was palpable when the band continued. A little more than halfway into the set, things took a rather unexpected turn, when Danny together with guitarist Ben Bruce went for an acoustic set-up sitting down at the edge of the stage to perform the songs 'Vultures' and 'Someone somewhere'. This caused the audience to quit moshing for a moment and light up cell phone flashes and lighters for a while.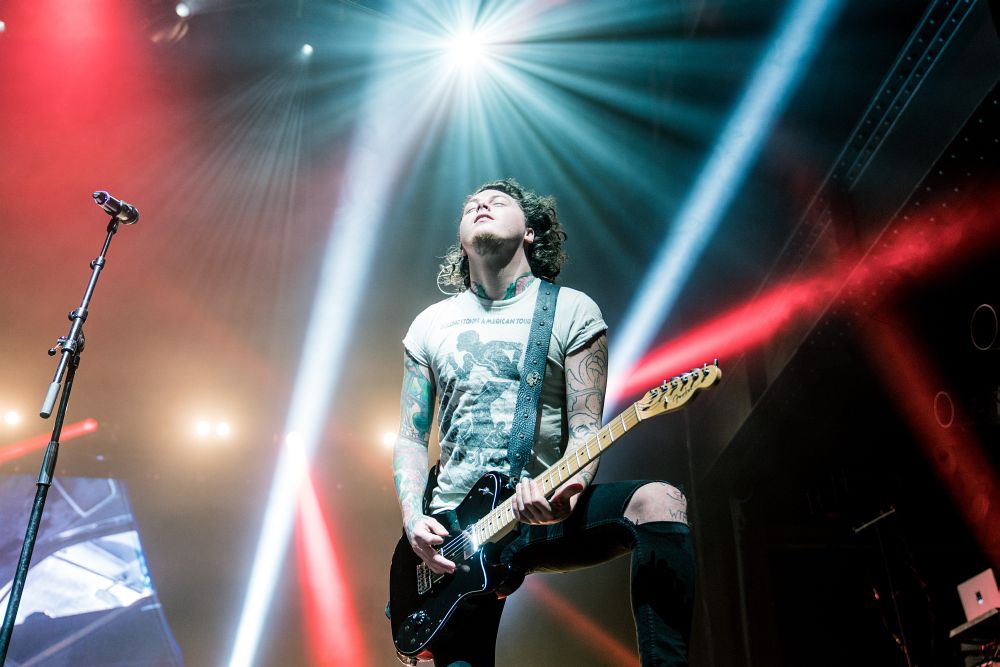 It was really a pleasant surprise to hear Danny's trademark whiskey-hoarse voice in a very different set-up, which sent shivers through the room. After this, ASKING ALEXANDRIA picked up steam again for the next three songs, and - after a short break - also performed two encore songs, which brought their total playing time to a little more than over an hour.
Setlist

01. Into the Fire
02. Killing You
03. To the Stage
04. Under Denver
05. Run Free
06. Alone in a Room
07. The Final Episode (Let's Change the Channel)
08. Not the American Average
09. Vultures(Acoustic)
10. Someone, Somewhere (Acoustic)
11. Eve
12. Where Did It Go?
13. A Prophecy
---
14. Moving On
15. The Death of Me
Rating

Music: 8
Performance: 7
Sound: 8
Light: 8
Total: 8 / 10
Black Veil Brides

Tonight's headliner, the
BLACK VEIL BRIDES
from Hollywood, California, will make you think it's the 80ies again. Their outward appearances with long black hair, leather jackets, and whitened faces certainly evoke reminiscences to the times where ALICE COOPER, KISS and MÖTLEY CRÜE reigned over rock stages world-wide. They have released their fifth studio album 'Vale' beginning of January 2018, so concertgoers were in for some brand-new material. Find out more about the band via www.blackveilbrides.net or https://www.facebook.com/Blackveilbrides
Music & Performance

Around 9:45 PM it was time for band of the evening. The band stormed on stage and broke out into the opener 'Faithless' from their 2014 self-titled album. This immediately won over the crowd and everyone joined in to sing the catchy "whoo-hoo" chorus. Song three, 'Wake Up', was the first one from the new album. It brought all those quintessential Rock ingredients, such as riff-heavy guitar solos and anthem-like chorus, and it immediately had the audience bouncing with arms in the air, singing in unison and grinning while they do so. Singer Andy Biersack put on quite a show, while the video projection in the back displayed fires and explosions. The guitarists made the 80ies revival complete by performing back-to-back guitar solos and synchronous moshing. Sound-wise, the volume of the base drum dominated everything, making it sometimes a little difficult to make out the rest of the band, including Andy's vocals. This become even truer, when guitarist Jinxx put on a top hat and swopped his instrument for a violin. BLACK VEIL BRIDES disappeared from the stage after an hour or so. Continuous screams of "we want more" forced them back onto the stage for three more songs, until everyone was spent and happy to return home.
BLACK VEIL BRIDES are certainly something like a guilty pleasure, and as such a fantastic live experience. Most probably, quite a few seats in Cologne schools will have remained empty on the following day due to extreme post-concert fatigue.
Setlist

01. Faithless
02. Coffin
03. Wake Up
04. I Am Bulletproof
05. Rebel Love Song
06. When They Call My Name
07. Shadows Die
08. Lost It All
09. The Legacy
10. Wretched and Divine
11. Knives and Pens
---
12. Perfect Weapon
13. Fallen Angels
14. In the End
Rating

Music: 8
Performance: 8
Sound: 7
Light: 9
Total: 8 / 10
All Pictures by Maximilian K. Unuetzer