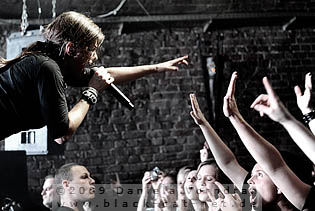 Matrix, Bochum, Germany
18th December 2009
Die Happy, Modern Day Heroes
Snow had started falling as I was on my way to Bochum and after exiting the train it had covered everything with thin white and glittering layers. The temperatures naturally coming with this are not meant to go out in t-shirts, even if it's only for minutes. Still you could see people here and there risking their health, while waiting in the long queue to get into the warm club to sweat together with DIE HAPPY…
Modern Day Heroes
The first mention-worthy success of the three heroes was the song 'I want You' winning the N4Music award 2006. That it was just the start of a very promising career for the band couldn't b e guessed at the time. But when they appeared on the big Swiss festival stages, everyone was inclined to admit that they've got what it takes. Various compilation appearances and live shows would follow and in March 2009, the time had come for them to release their debut album 'The Sun Never Sets in the Land of Cool'. MODERN DAY HEROES is Serge Christen (vocals, guitar), Yves Fontana (bass) and Heinz Baumann (drums).
http://www.moderndayheroes.ch/
/
http://www.myspace.com/moderndayheroes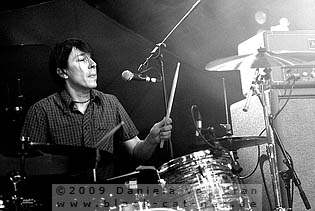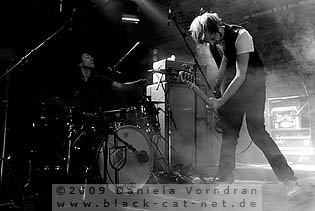 Music & Performance
Judging by their sound only, Switzerland wouldn't be my first guess of origin with the MODERN DAY HEROES. But that's exactly where they come from, particularly from the city of Biel. So much for the geographical exercise, now to the sound which is earthly and utterly dry Stoner Rock one time, but then turns to genuine Rock'n'Roll in American Style. However, the band doesn't just simply copy anything, except for the 60s song 'Black Betty' but that's an exception, they weave in their own hallmarks and combine it with a great improvisational talent that extended songs like 'I'm Gone' or 'You Made My Day' way beyond their usual playing time. But I think that the actual reason why that performance appealed to the audience so much was just the right portion of humour and entertainment that raised even some encore shouts after the show had ended.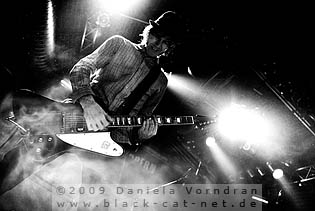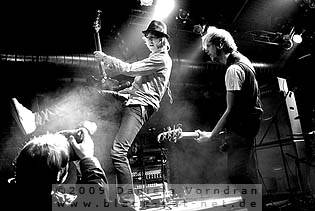 Setlist
01. I Want a Revolution
02. I'm Gone
03. At the Wrong Place
04. Black Betty
05. I Want You
06. You Made My Day
Rating
Music: 7
Performance: 8
Sound: 8
Light: 7
Total: 7.5 / 10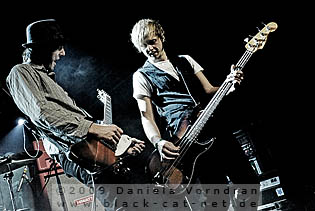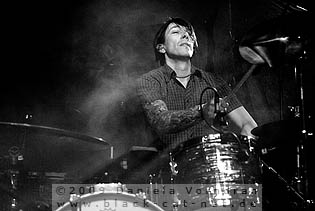 Die Happy
DIE HAPPY are amongst Germany's busiest bands! Already six albums and one "Unplugged" record have been released by the band around singer Marta Jandová since their inception in 2001. The single 'Supersonic Speed' made it into the Top 50 of the German single charts in 2001. Their last long player, aptly titled 'Six', was released in April 2008, and as far as reactions from the press and fans go, it's one of their best works to date. This year's July saw the release of their band retrospective 'Most Wanted'. DIE HAPPY is Marta Jandová (vocals), Thorsten Mewes (guitar), Ralph Rieker (bass) and Jürgen Stiehle (drums).
http://www.diehappy.de/
/
http://www.myspace.com/officialdiehappy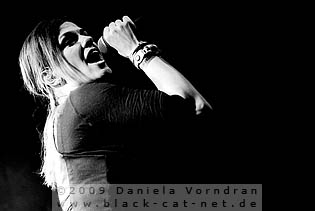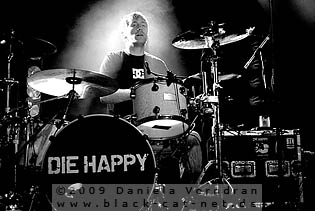 Music & Performance
Since the audience count was manageable before and during the support show we thought it might stay that way due to the "special" weather conditions. Our thoughts turned out to be wrong and the room filled quickly with people now, so that when the concert started eventually you could speak of a real crowd. 'Big Boy' was the means of choice to throw some energy packs into the audience right away, followed by 'Not That Kind of Girl', seeing band and audience forming one big collective. One of the advantages of playing in a club rather than a big arena! 'Easy Come Easy Go' started very slowly with kind of a lazy sound towering more and more fury erupting in a powerful chorus. During 'NY-Tokyo' almost everyone lost it in front of the stage, raising their hands in the air and starting excessive pogo dancing. At the same time Marta performed wild dancing moves herself.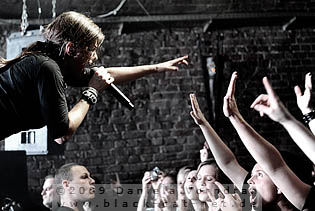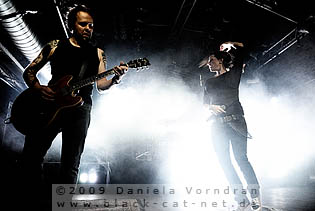 With 'Don't You', the band channelled their powers into a touching yet still somewhat energetic ballad, highlighting Marta's voice to flip back into rockier realms afterwards with 'Get Up'. Guitarist Thorsten promised the fans would want to kiss his ass for that song after its end, and indeed some people, mostly guys, raised their hands, which escalated to a conversation about hairy men's butts and hairy men in general in the end. Marta was quite talkative that evening anyway. Besides her doing funny conversations and joking a lot, she gave away interesting background info about one or the other song. 'Breathing' was one of them and became the most emotional moment of the concert for me and many others, just being stunned by the soul striptease performed here. To shake off the sadness again, the next song 'Love to Hate You' was best suited, seeing the entire crowd jumping to get even the last bit of unhappy feelings off their bodies, just like during 'Rebel' for that matter.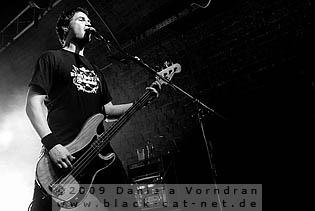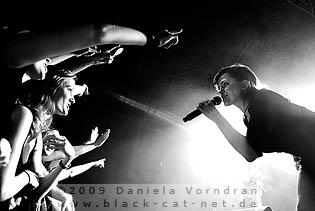 After even the last and one of their most famous, songs 'Supersonic Speed' closed the show leaving happy faces all over the place, the evening wasn't over already. Instead of getting out into the winter storm outside, people chose to spread on the several floors and dance the night away.
Setlist
01. Big Boy
02. Not That Kind of Girl
03. Easy Come Easy Go
04. NY-Tokyo
05. Don't You
06. Sleeping Time
07. Get Up
08. The End
09. Breathing
10. Love to Hate You
11. Peaches
12. I Am
13. Violent Dreams
14. Rebel
15. Like a Flower
16. Goodbye
---
17. Greed
18. Slow Day
---
19. Supersonic Speed
Rating
Music: 8
Performance: 9
Sound: 9
Light: 8
Total: 8.5 / 10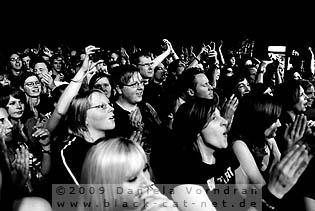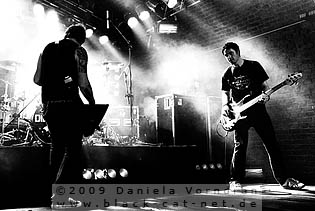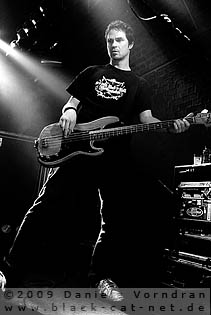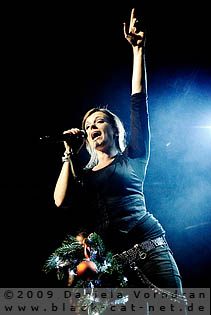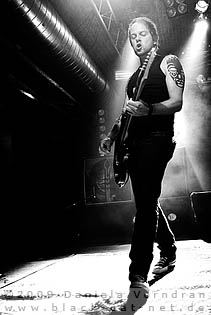 All pictures by Daniela Vorndran (
http://www.vorndranphotography.com/
/
http://www.black-cat-net.de/
/
www.myspace.com/vorndranphotography
)
{jos_sb_discuss:17}