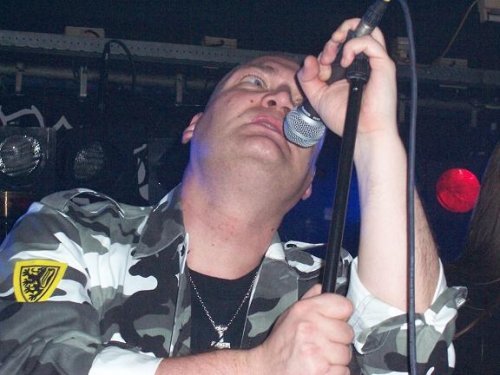 JV Unitas, Wageningen, The Netherlands
February 5th 2005
Ancient Rites

Ancient Rites is a melodic metal band from Belgium. The live CD, "The hordes stood as one" is from 2002 and they are busy with a new CD. It was a long time ago that Ancient Rites gave a concert in Holland.
Music
Gunthers voice is very well this night. There are 2 new bandmembers, the new guitarist Raf Jansen and the old keyboard player Domingo Smets, on the bass guitar now, they play very well this evening. The guitar sound is very full, 3 guitars, really great sound. They play old tracks from the "dim carcosa" cd, like Victory or Valhalla and On golden fields, the audience liked that. The live sound in JV Unitas is very good and the new ancient rites sound engineer, Mark, is also great!
Performance
The show was perfect and very dark, not so typical for Ancient Rites in Holland, but for Belgium a normal case. The light intro was a pentagram, made by the JV Unitas light engineer. There was not much frontlight. The only drawback was the backlight for making pictures. Gunther Theys and the rest of the band enjoyed the audience. It was a excellent home match for Erik Sprooten.
Setlist
01. The Return
02. Exile
03. Victory or Walhalla
04. Total Misanthropia
05. Aris
06. And the horns called for war
07. North Sea
08. Infant Sacrifieer to Baalberith
09. Blood of Christ
10. Longing for the Ancient Indom
11. Götterdämmerung
12. Ode to Ancient Europa
13. Death Messias
14. Overture to the Sun
15. On Golden Fields
16. Mother Europe
---------------
17. Evil Previals
18. Fatherland
19. Victory or Walhalla
20. Mother Europe
21. Dim Carcosa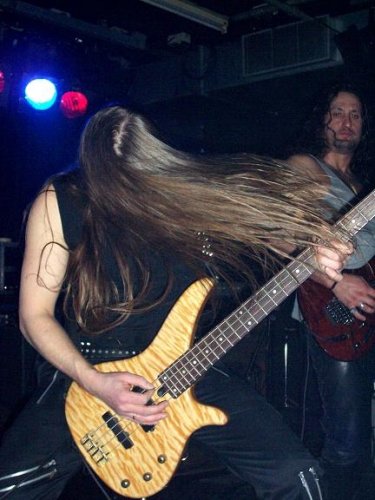 Rating
Music: 7,5
Performance: 8
Sound: 8
Light: 6
Total: 8