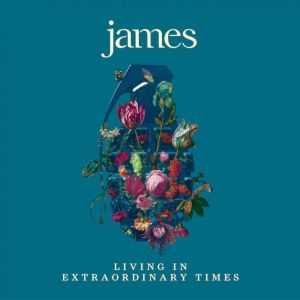 Artist: James
Title: Living In Extraordinary Times
Genre: New Wave / Rock
Release Date: 3rd August 2018
Label: BMG Rights Management (Warner)
Album Review

The cult band JAMES, formed in 1982, releases their 18th album this summer… and probably one of the best album of the year! As many pointed out since Friday and the release 'Living In Extraordinary Times'… how can a band sound so fresh, re-invent himself at each album after more than 30 years? This band is a damn mystery. It sounds of course like JAMES, but the production and the sounding around is massive as rarely before in the bands discography.
The brand new and very emotional hit, 'Coming Home (pt 2)' (Tim Booth singing about being far away from his loved daughter and all the missed steps of life due to being away constantly) or 'Better Than That' that was released a couple of weeks before as an EP, are very relevant of this constant refresh. It still sounds like JAMES… but exploring new sounds, new structures, and new vocals style. There are some other strong hits on this album: 'Hank', 'Many Faces' or 'Leviathan' will certainly ensures the commercial success of it.
And on the other hand, you have some crazy experimental stuffs: one of the Anti-Trump songs of the album, 'Heads', is completely crazy with three or four different parts that will certainly be a big live moment in the coming tour. Starting minimal with just a beat, a bass and vocals, it ends up with a sound storm of metallic percussions, huge horns, big drums, synths. Another one is 'Pictures Of This Place', starting as a pure New Wave track and ending up almost Industrial. Most of all, this album is to be discovered without any preconceived ideas.
The Bonus CD is also more than worth it with one bonus track and three demos, so well produced they could be final versions. Top Songs: 'Time To Sleep', 'Coming Home (pt 2)', 'Heads', 'Many Faces', 'Leviathan'… and almost all of the album
Tracklist

CD1

01. Hank
02. Coming Home (Pt 2)
03. Leviathan
04. Heads
05. Many Faces
06. How Hard The Day
07. Extraordinary Times
08. Pictures Of This Place
09. Hope To Sleep
10. Better Than That
11. Mask
12. What's All About
CD2

01. Backwards Glances (Bonus Track)
02. Moving Car (Demo)
03. Overdose (Demo)
04. Trouble (Demo)
Line-up

Jim Glennie - Bass guitar, backing vocals
Tim Booth - Lead vocals
Adrian Oxaal - Lead guitar
David Baynton-Power - Drums
Saul Davies - Guitars, violin, percussion, backing vocals
Mark Hunter - Keyboards, piano
Andy Diagram - Trumpet, percussion, backing vocals
Deborah Knox-Hewson - Drums, percussion, backing vocals
Website

https://wearejames.com / https://www.facebook.com/jamesisnotaperson
Cover Picture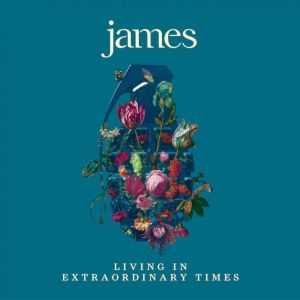 Rating

Music: 10
Sound: 10
Bonus: 10
Total: 10 / 10
See also (all categories):