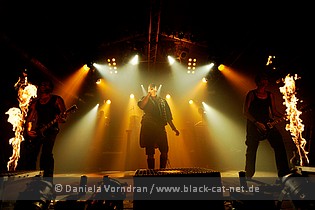 Matrix, Bochum, Germany
14th October 2011
Feuerengel – A Tribute to Rammstein: Set 1 – 1995 – 1997 – 2001

FEUERENGEL is a true RAMMSTEIN cover band. During a RAMMSTEIN show in 1997, they had the idea to cover this band as original as possible. So, they became the first ever RAMMSTEIN tribute band. Not only covering the songs was important, also covering the show using authentic effects and requisites. For their shows, they use an own pyro-technician. Knowing all this one thing was sure: this must turn out as a cool show! On 14th October, the band presented their set 1 with RAMMSTEIN albums from 1995 to 2001. Following albums were presented during a show one day later. FEUERENGEL is Boris (vocals), +hors+en (keyboards), Farp (guitar), Daniel (guitar), Holger (bass) and X-oph (drums). http://www.feuerengel.de/ / http://www.myspace.com/feuerengelmusic / https://www.facebook.com/feuerengelmusic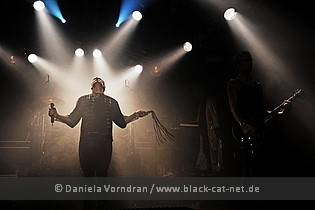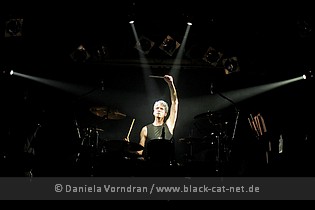 Music & Performance
Even though FEUERENGEL are covering RAMMSTEIN, they try to be more than just a mere cover band. And also the show on 14th October 2011 in Bochum proved that they can electrify their audience like their big ideal. Since they were putting their focus on the early albums 'Herzeleid' (1995), 'Sehnsucht' (1997) and 'Mutter' (2001), also their stage performance and outfit was based on the one of RAMMSTEIN from that time, especially the outfit being an exact copy. At the beginning, the whole stage was hidden behind a curtain falling down during the intro. Already with the first song 'Mein Herz brennt', FEUERENGEL showed what a RAMMSTEIN show is famous for: the pyrotechnics. Right from the start, also the audience was celebrating like on a RAMMSTEIN show, singing every single song with the band. For 'Sonne', the flame jets found use for the first time in the set, blowing four big fire columns into the air and heating up the hall and especially in the front rows it is advisable to save your head and hair.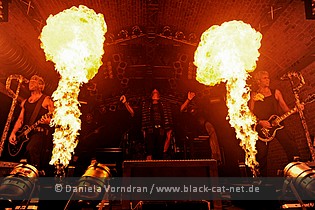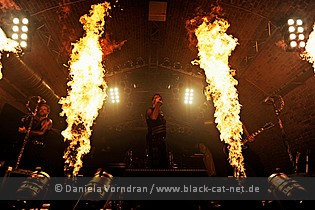 Next highlights followed with 'Sehnsucht' where several pyro flashes and strobes were used, and 'Asche zu Asche' when the micro stands of Daniel and Farp were blowing up in flames. Anyone was delivering a great performance, might it be Boris copying Till Lindemann in every single move, Daniel and Farp in the front behind their guitars or the three guys in the back on drums, bass and keyboards. Especially +hors+en on keys was behaving exactly like Flake of RAMMSTEIN. It was a pleasure to watch indeed. With 'Seemann', the band turned to some softer tones before the marching of 'Links 234' started. And then, three more were pushing the audience up: 'Du hast' was sung loudly, following 'Feuer frei' was accompanied again by big flame columns (as you could imagine by the title) and 'Ich will' was finally already closing the main set after 17 song. Time was passing really fast and when the band left the stage, no one really could believe that the show was over. And of course, screams for encores called the band back to stage.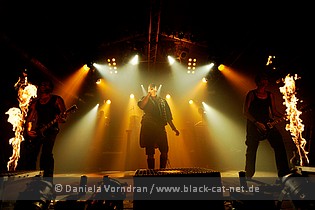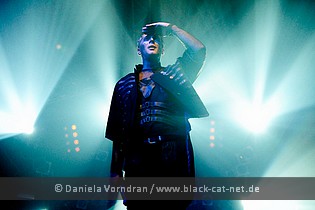 The encore block was opened with 'Spiel mit mir' followed by 'Du riechst so gut'. Highlight of the show was probably the next one, 'Engel', accompanied again by fire columns. This song is not only one of my RAMMSTEIN highlights, it was also loudly celebrated by the audience. As a very last song, a cover version of DEPECHE MODE's 'stripped' was played and also, one institution of every RAMMSTEIN show was not missed: the rubber boat being carried above the audience with a fan sitting in it. This was finally the end of the show but all fans of the band had the chance for the second part the day after, when FEUERENGEL played a set consisting of songs out off the following albums…

Setlist
01. Intro
02. Mein Herz Brennt
03. Tier
04. Bestrafe mich
05. Sonne
06. Weisses Fleisch
07. Mutter
08. Sehnsucht
09. Asche zu Asche
10. Laichzeit
11. Spieluhr
12. Adios
13. Seemann
14. Links 234
15. Du hast
16. Feuer frei
17. Ich will
---
18. Spiel mit mir
19. Du riechst so gut
20. Engel
---
21. Stripped (Depeche Mode Cover)

Rating
Music: 8
Performance: 9
Sound: 8
Light: 9
Total: 8.5 / 10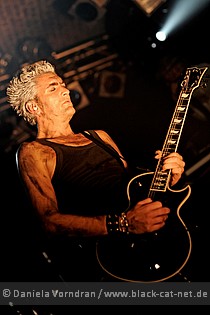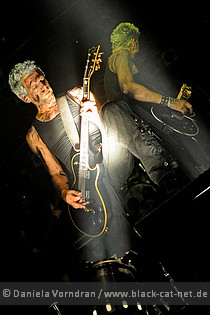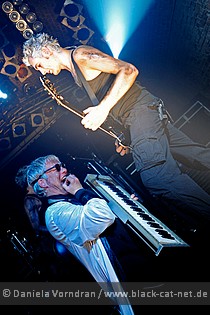 All pictures by Daniela Vorndran (http://www.vorndranphotography.com / http://www.black-cat-net.de/ / http://www.myspace.com/vorndranphotography / http://www.facebook.com/blackcatnet)