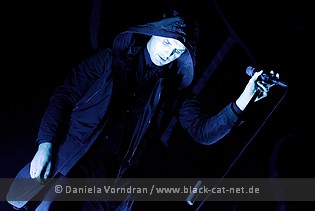 Mitsubishi Electric Halle, Düsseldorf, Germany
13th November 2013
Hurts, Glasvegas, Pegasus

Although HURTS are actually quite a "young" band, having released their second album just in February 2013, they already received a lot of awards and their albums and singles went gold and platinum in Germany, Austria, Switzerland and the UK. As they got most of the awards in Germany it is no wonder that on this evening the concert hall, with a capacity of 4000 people, was sold out.



Pegasus

Switzerland is not really known as a country where music is coming from, with the few exceptions like YELLO and DJ BOBO. But even though you don't hear much these days of the mentioned, there are still some creative and talented musicians working hard to gain a reputation across the border of their small country. PEGASUS, consisting of Noah Veraguth (lead vocals, backing vocals, rhythm guitar, piano, organ), Simon Spahr (lead guitar, rhythm guitar, backing vocals), Gabriel Spahni (bass guitar, electric piano, backing vocals) and Stefan Brenner (drums, percussion, backing vocals), is such a band. Knowing each other since childhood times, they started early making music together, performing in all kind of venues in Switzerland, released two critically acclaimed albums until they made up their minds in 2010 to change their concept completely. The album 'Human.Technology', released in 2010, went platinum in Switzerland and their single 'Skyline' topped the charts. Their musical repertoire embraces Dance, Pop and stadium Rock. http://www.pegasustheband.com / https://www.facebook.com/pegasustheband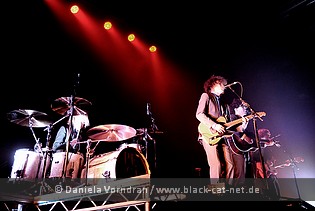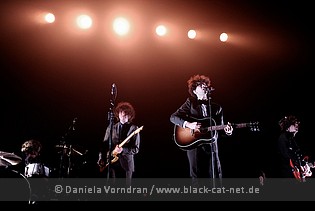 Music & Performance
When PEGASUS entered the stage the venue was not completely filled, but a good crowd had already shown up. Dressed in suits the guys looked almost like a band performing at a High-School ball and I almost expected the announcement of the High-School Queen and King. They presented a nice and quite entertaining mixture of Pop – Rock songs, mainly from their album 'Human.Technology', like 'Man on Mars' and 'Technology' and invited the audience to sing and jump with them which partly happened. Furthermore we learnt that soon their new album will be released soon and that they will be back on an own little tour early next year. In summary it was a nice opening of the evening.

Rating
Music: 6
Performance: 7
Sound: 8
Light: 7
Total: 7 / 10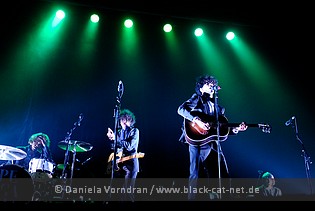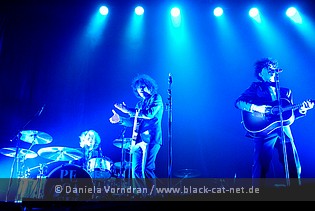 Glasvegas

Formed 2003 in Glasgow, GLASVEGAS were discovered three years later by the Scottish music expert Alan McGee. They then released their first single but only with their second single 'Daddy's gone' they reached more attention and won a newcomer award. After their tour in the beginning of 2008 and with the release of the third, limited, single GLASVEGAS got their contract with Columbia Records and were able to release their first official single 'Geraldine', which reached the Top 20 in the UK. The debut album 'Glasvegas' followed soon and entered immediately the position 2 of the charts. Until now they have released three studio albums, the actual one 'Later... when the TV turns to static' was just released in September 2013. GLASVEGAS are James Allen (vocals, guitar), Rab Allen (guitar), Paul Donoghue (bass) and Jonna Löfgren (drums). http://glasvegas.net/ / https://www.facebook.com/glasvegas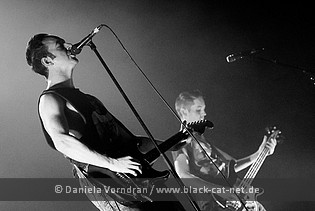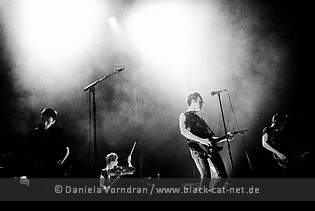 Music & Performance
With GLASVEGAS the music got tougher as it belongs to the Alternative Rock genre. The show started with a sound like a siren with flickering lights while the band entered the stage and started to play. Unfortunately there was a problem with the sound. At the first song you could hear some clicking noises and at the end of the performance the acoustic noise was quite disturbing which was very unfortunate as I found their music quite good. The songs they presented us were cool Rock songs and James showed up with good vocal qualities, reminding me a bit of CHRIS ISAAC with this slightly weeping undertone. Besides the music I liked to watch the drummer standing behind her drum set which created a nice shadow play in the background. After a quite short show they left the stage which surprised us as we actually expected them to play longer. Hopefully there is a chance to see them soon again – without sound issues.

Setlist
01. If
02. Secret truth
03. Geraldine
04. Daddy's gone
05. Lots sometimes

Rating
Music: 7
Performance: 7
Sound: 5
Light: 7
Total: 6.8 / 10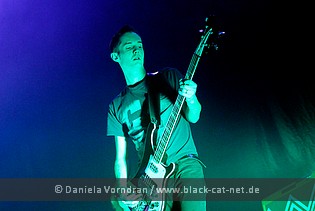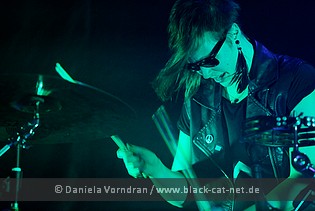 Hurts

As mentioned in the intro, HURTS is actually a quite young band, founded in 2009 in Manchester, UK, but they quickly reached popularity with their hit singles 'Wonderful life' and 'Stay'. Naming bands like PET SHOP BOYS, DEPECHE MODE, TEARS FOR FEARS, FRANKIE GOES TO HOLLYWOOD and the like as the source for their inspiration, Theo Hutchcraft (vocals) and Adam Anderson (grand piano keyboard, guitar) create Synth Pop/ Electro Pop/ New Wave music that reaches not only people of the more gothic scene but also the audience who listens mainly to the popular/ mainstream chart music. With their hit single 'Wonderful life' they reached the top ten of the charts in several European countries and stayed there for many weeks. In Germany they even reached the position two for some weeks. Thus it is no surprise that they were headliner at some different kind of festivals and the audience on their 'Exile' tour is quite mixed. Up to now they have released two studio albums 'Happiness' and 'Exile'. http://www.informationhurts.com / https://www.facebook.com/hurts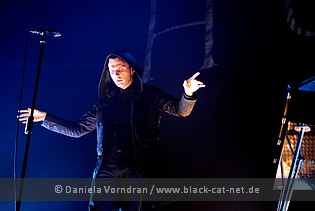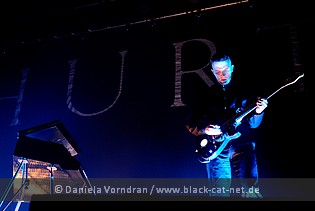 Music & Performance
The stage rebuilding didn't take too long and meanwhile the venue was packed. Besides the normal stage there was a catwalk built in front of the stage. When HURTS appeared, they were cheered frenetically. For their live shows they have additional musicians on stage as there were a guitar player, a drummer, a keyboarder, singing the backing vocals, too, and a female violin player, who also played saxophone, clarinet and the backing vocals. Adam was playing a lush grand piano keyboard as well as guitar. The concert was underlined by a very nice light show. At the beginning they had a big black banner with 'HURTS' on it hanging in the background which fell down, presenting an arty construct with all kinds of lights at it, creating nice effects.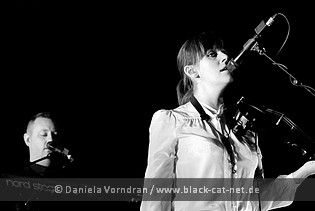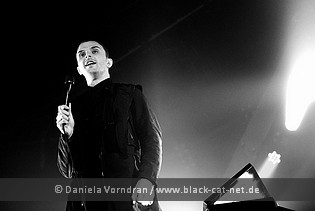 As already expected lots of young ladies were screaming when Theo entered the stage. The spot were Theo stood and started to sing was rather dark so that you, at first could only see a silhouette of him. Wearing a hood my first association was, that he got a cowl on, just to discover a bit later when there was more lights, that he was wearing a parka. Later on he took his parka off and both, Theo and Adam looked very handsome and elegant in their black outfits. He showed up with excellent vocal qualities and performed the songs quite expressively and put lots of passion in his singing so that it was really nice to watch him. Between the songs he always addressed to the audience and he even spoke some German which was really lovely. If he had not won every heart before, but by singing the SELIG song 'Ohne Dich' as acoustic version, he had conquered the last resisting. It was such a moving moment when he stood on the catwalk with Adam, playing guitar, close to him, and sang this song.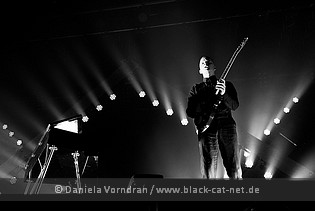 I was glad that he did it so amazingly, as this song is one of my all-time favourites. For me they proved on this evening that they are definitely not a one or two hit wonder. HURTS have a fantastic live quality as well and Theo has such a charisma on stage. They further showed that they are really rocking when Theo danced and involved the audience to do as well and the audience followed the invitation with pleasure and sang along with him at 'Stay'. He further started a charm offensive addressing to the female fans by throwing white roses into the audience. After a long and diverse set of songs they left the stage. But the audience shouted loudly and stamped their feet for an encore and thus were presented further two songs where Theo danced and jumped once more, asking the people to do as well and one more time he gave away some more white roses.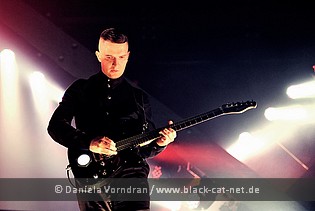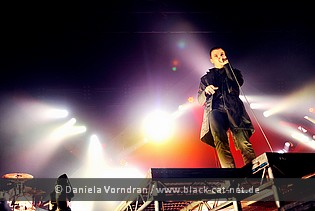 I have to admit that I was a bit sceptical before the show, not being sure if HURTS have really good live qualities but I found their live appearance really impressive and convincing.

Setlist
01. Mercy
02. Miracle
03. Silver lining
04. Wonderful life
05. Somebody to die for
06. Blind
07. Evelyn
08. Cupid
09. Unspoken
10. The crow
11. Ohne Dich (Selig cover, acoustic version)
12. Blood, tears and gold (acoustic version)
13. Exile
14. Sandman
15. Sunday
16. Stay
17. Illuminated
18. The road
---
19. Better than love
20. Help

Rating
Music: 9
Performance: 9
Sound: 9
Light: 9
Total: 9 / 10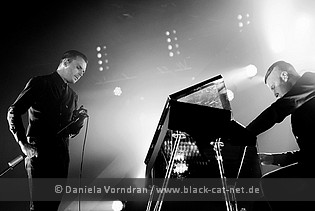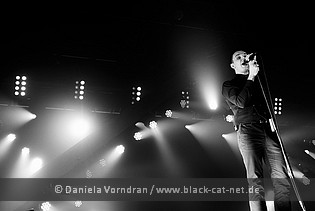 All pictures by Daniela Vorndran (http://www.vorndranphotography.com / http://www.black-cat-net.de/ / http://www.facebook.com/blackcatnet)