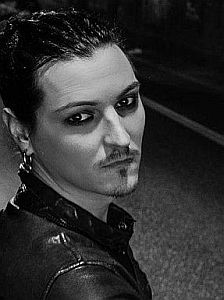 Interview with
Florian Grey

"Harder and groovier":
FLORIAN GREY
is in Wide Noise Studio at the moment, producing his new album. Nevertheless, he took the time to answer a few questions about the upcoming acoustic tour, his influences and some other interesting things from the life of a musician.
Reflections Of Darkness [RoD]
: You have already played acoustic shows many times. When and how did you come up with the idea for your own acoustic tour?
Florian
:
I try to play some acoustic concerts every winter, so far this was part of the "Rock Meets Silence" series. I already had the idea on the "Banished & Gone" tour and since I'm not part of the "Rock Meets Silence" concerts this year, my own tour was the next best thing.
RoD
: In your former band EVES END, the music style was very much influenced by Gothic Rock / Metal and the comparison with Finnish bands was inevitable. Do you personally like Finnish rock music (which bands)?
Florian
:
I've always loved the Nordic way of music. In any case, I'm more into European productions, as I often find the American stuff to ironed out and overproduced, there you put more value on the money than on the music. However, there are brilliant songwriters over there. In the end, I think that's just a matter of taste. At EVES END, I was able to give free rein to my own tastes, but just as great an influences were Nordic bands and I was then very often in Helsinki, which of course also inspired me. Hm, which Finnish artists / bands I currently have on my playlist: Oh yes, my friends JAANI PEUHU and RAIN DIARY, or even stuff from NIGHTWISH or TARJA, a few songs from PRIVATE LINE, even LEO STILLMAN. Basically many different styles of music, including DAMN SEAGULLS or KLAMYDIA.
RoD
: Do you like to go to concerts privately and how often? Who do you plan to see next?
Florian
:
When I have time I like to go to concerts. The next thing I wanted to see is HARDCORE SUPERSTAR but right now I'm in the studio for the new album production.
RoD
: Since you've been a solo artist, the style of your music has changed, it has become more versatile and mature. Where did the inspiration for the new style come from?
Florian
:
I would not call it a new style, more of a development and a detachment from the Original sound. The difference now is that I write about life by and large, which is much more interesting and multi-faceted. Nevertheless, I remain true to myself musically.
RoD
: Are there musical limits for you in terms of variety and versatility? What kind of music would you never want to do, even if it made you famous?
Florian
:
First and foremost, I make music because I simply cannot express myself otherwise and that gives me the opportunity to process life with all the nuances and colours. I also like to hear many different ranges of melodies. The only genres I cannot do anything with are German rap or modern Hip Hop, they pull me down too much. Schlager is also such a thing that just does not pick me up.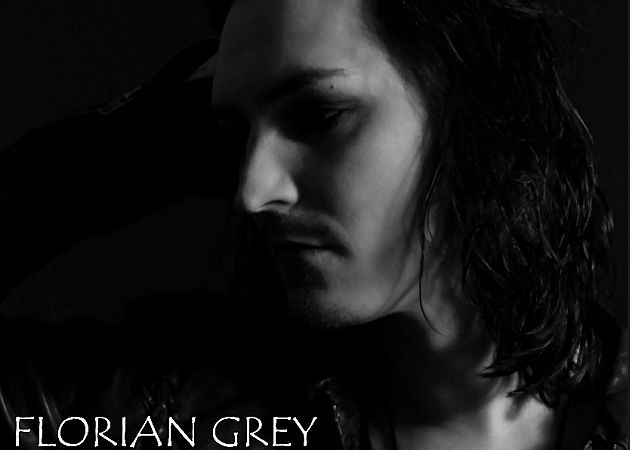 RoD
: Please tell us about working with Chris Harms (LORD OF THE LOST) on your album 'Gone'. How did you meet and how did the idea for working together come about?
Florian
:
Chris and I have known each other for a while. We wanted to tour together when LORD OF THE LOST was still young and I was still with my previous band. We met in 2012 at M'era Luna and talked about a possible cooperation, because I knew that Chris also produced. We stayed in contact and in 2014 we came together musically. Cooperation I can say that Chris and also Benjamin Lawrenz had my complete confidence and did a great job on 'Gone'.
RoD
: You're currently back in the studio working on the new album. How far has the work progressed and will Chris Harms be part of the production again? Is there already a name for the new album?
Florian
:
The new work is being produced in the Wide Noise Studio with Hilton Theissen as producer. We are currently working on the demos that were written and prepared by Von Marengo and myself in a "Boot Camp". Matteo VDiva Fabbiani has also made significant contributions to six songs. It will be harder and groovier. Yes, there is a name for the new album …to be revealed in due course :)
RoD
: Is there still time to rehearse for the acoustic tour?
Florian
:
So in the next few weeks I'm completely involved with that. Working with great musicians, we all prepare separately for the rehearsals, then we meet to play the songs. It's not like we play the songs for the first time.
RoD
: Even if you do not want to reveal everything, we can still make the fans a little curious. Are duets planned for the acoustic tour and will you play cover versions again?
Florian
:
Duets... You never know what's going to happen, that's the beautiful thing about the acoustic shows, it is close up, stays with us in that evening and becomes infinite. Music is reduced to the heart and remains pure, just as the songs were created. There will be covers - it's a tradition of mine to play a handful of my favourite songs and this time there are songs that have been with me for a long time.
RoD
: As a musician you want well-filled or sold out clubs. But honestly Florian, what was the smallest audience you played for and how was your feeling?
Florian
:
My feeling is this: I always go onstage when I am able to do so, whether there is one person or a hundred in front of the stage. This one person has spent their money to see my boys and me because they may love the music and connect their own stories with it. Why should I disappoint that person, and I speak here invariably for everyone in the Grey team, just to satisfy my ego?
RoD
: In the past you have also been to major festivals such as "Witch Dance Festival", "Autumn Moon Festival" or "Wave Gotik Treffen". What was your best concert as a musician and what was your strangest experience on stage?
Florian
:
I cannot tell you which one was my favourite concert. My boys and I are always happy to play wherever we get invited. I liked all the concerts so far, everyone is so different. That sounds trite, but it is so.
RoD
: Where do you get inspiration for your mostly sad lyrics?
Florian
:
Inspiration, as I have already mentioned, I find everywhere and always in life itself. I write down what touches me. For some, these stories seem very sad but I prefer to call them a very personal and unfiltered look at life.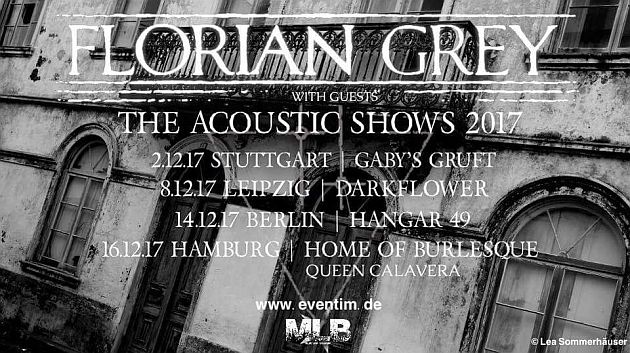 RoD
: Are there any musicians you would like to work with?
Florian
:
Hm, I would like to sing a duet with TARJA or work together with LAITH AL-DEEN.
RoD
: Would you, like some other German artists / bands, sing in German as well as English, or is that not an issue for you?
Florian
:
Sure, I also sang German before and could imagine, if it should ever come to a collaboration with LAITH AL-DEEN to sing in German. The funny thing is, I wrote a German song last week. Whether it sees the light of day, I do not know yet, but the song does not work in English. Let's see.
RoD
: Do you have any other job besides music and what has been your least favourite job in the past?
Florian
:
Music is actually a full-time job but my "other" field of activity also has to do with music, but rather with PR, bookings and at the beginning as a technician/ soundman. I used to work in a print shop and media agency, which was the most thankless job I ever worked on.
RoD
: You treat your fans very warmly and friendly. What other characteristics and strengths do you have?
Florian
:
Others are better judges for this! Phew, good qualities... Let's see, I think empathy, determination and helpfulness are enough in the list. Actually, basically, I am always myself, be it on stage or privately.
RoD
: Finally, a question about the upcoming acoustic tour. Three of the four shows will feature SORROWNIGHT which were on the "Banished and Gone" tour with you and EYES SHUT TIGHT. Why did you choose SORROWNIGHT again? Have you been in constant contact ever since, or even become friends? Are there any friendships in the music business at all?
Florian
:
Even back then we talked briefly about an idea for acoustic dates on tour and have since been in periodic contact. They immediately came into my head when we were planning the dates and since they are good and professional on top of that, we sorted it. I believe in friendships in the music business, at least I can call a few musicians my friends, and ones without envy and resentment. We all want the same and why not go a little way together? On the other hand, as in normal life, those who laugh in your face, however, immediately pick up the axe as soon as you show your back.
RoD
: Thank you for your time. We wish you much success in the work on the album and a great, successful acoustic tour! Maybe you want to say a few words to your fans.
Florian
:
Thank you. I am looking forward to the December. My band and I will play our asses off for you!
Photos by Oliver Garrandt / Flyer Background by Lea Sommerhäuser