Morbid Angel - Masters of death metal

They were the inspiration for many bands from the 'new' generation like Vader, Krisiun and Cannibal Corpse. They were, and still are, the symbol of rough metal. They guarantee the most impressive deathmetal you can see and the duo Trey (guitars) and Pete (drums) are so unique that only their names have enough impact op people. Behind this band lies a deep philosophy which comes from Trey.
Biography
(copyright the official website
http://www.morbidangel.com/
)

To see past the secure foundations of convention and into an entirely new state of being demands the strength, conviction and true sense of purpose possessed only by a chosen few. They are the innovators, the leaders, the ones who transcend perceived limitations. In their decade-plus reign as death metal's leading creative force, MORBID ANGEL have consistently succeeded in shattering the musical, spiritual and ideological boundaries of extreme music while unquestionably retaining their core element of brutal and inspirational excellence.

With their seventh offering, the band that shaped an entire genre has re-defined it yet again. 'Gateways To Annihilation' marks the opening of a new door for MORBID ANGEL - a new path and a new state of mind. Musically enveloping itself within the natural rhythms of the universe, the album flows with the enduring spirit of infinite possibility. The luminous virtuosity of guitarist, founder and song writer Trey Azagthoth, the astonishing battery of legendary percussionist Pete Sandoval and devastating bassist/vocalist/song writer Steve Tucker, along with the classically-inspired workmanship of guitarist Erik Rutan, combine to weave sinuous, striking, and dark grooves around timeless truths and questions that have been asked since the dawn of consciousness and shall be asked forever more. Produced by MORBID ANGEL and Jim Morris at Morrisound Studios in Tampa, FL, 'Gateways To Annihilation' will become another indispensable landmark on the heavy metal landscape. The standards have been raised and exceeded, but that is what MORBID ANGEL have done since their inception.

The world was introduced to the furious intensity of the Tampa natives in 1989 with the release of 'Altars Of Madness.' The album was a revolutionary and unprecedented statement in extreme metal at the time, its strong song writing, finely tuned musical firewinds and uncontrollable lyrical rage finding so many eager ears that it catapulted to #1 on the UK Independent chart. Their debut has gone on to be unequivocally acknowledged as one of the most influential death metal albums ever recorded, a whirling vortex of searing anger and unstoppable energy. 1991's 'Blessed Are The Sick' cemented MORBID ANGEL's (and songwriter Azagthoth's in particular) reputation as truly innovative and visionary composers, infusing prevalent classical undercurrents within their exceedingly powerful material. 'Blessed...' retained the devastating windstorm of sound that had become their trademark and took it to another dimension. With two already-classic albums behind them and a relentless global touring schedule, the band had become a force destined for recognition further outside of the growing death metal community.

In 1993, they reached a milestone within that community by becoming the first and only death metal band to be signed to a major label. 'Covenant' proved that a band as uncompromisingly brutal as MORBID ANGEL could not only release an album within the major label system, but thrive in that world as well. 1995's 'Domination' further proved that point, with it's slime-ridden guitar mastery providing a statement to what the band had become: an ever-expanding organic machine, fueled by an unquenchable thirst for evolution and driven by an unstoppable will.

After appearing on the live Entangled In Chaos, Vincent left in June 1996 to pursue a solo career, in addition to working with Genitorturers. His departure (along with Rutan) seems to have had little effect on Morbid Angel's sound. Guitarist Erik Rutan returned to the line-up on the latter but had departed again before the release of 2003's Heretic.

1997 signaled a major turning point for the band as Steve Tucker joined as bassist and vocalist. His passion, expert musicianship and true death metal vibe helped to make 1998's 'Formulas Fatal To The Flesh' a grand return for MORBID ANGEL and ushered in a new prosperous era for the entire death metal movement. Their exhaustive touring of nearly every continent saw Tucker quickly become an integral part of the band and also proved that, in this day and age, supreme music can still create a supreme response. With 'Formulas...', the continued resonance of the first two classics, two major label triumphs that have sold a half million albums worldwide and a heralded live album ('Entangled In Chaos'), the masters have set the stage for themselves once again.


In the year 2000, another death metal masterpiece has been given to the world. Emanating strength with its dynamic and sweeping passages, intensely dark melodicism and intricate percussive flair, 'Gateways To Annihilation' represents all of what was, is and will be - in both death metal and beyond. It is the mirror of the true self. It is the rhythm of existence.

"In 2002, second guitarist Erik Rutan left Morbid Angel to focus solely on his own band, Hate Eternal. Shortly after, lead guitarist and songwriter Trey Azagthoth, drummer Pete Sandoval, and bassist/vocalist Steve Tucker set to work writing and recording Morbid Angel's eighth album, 'Heretic'.
'Heretic' is the eighth chapter in Morbid Angel's unfolding legacy and, in keeping with Morbid Angel's tradition of titling their albums alphabetically, its title begins with the eighth letter of the alphabet. Recorded at D.O.W. Studios in Seffner, Florida, with co-producer Juan "Punchy" Gonzalez (Morbid Angel's live front-of-house sound engineer for eight years), 'Heretic' sees the unearthly talents of Azagthoth, Sandoval, and Tucker uniting in new and transcendent ways. Set for release in September 2003, 'Heretic' is a multi-layered, multi-dimensional album that provides an amazing glimpse into the minds of its creators, and provides a whole new milestone for the rest of us to derive inspiration from."
(
quote from the record company Earache
).

- Silvia Deurwaarder - ROD
The story continues when in the end of 2003 the band starts to promote "Heretic." With frontman Steve and Tony Norman as the second guitar player, it seems to be a good package. The band did the X-Mass metalfest tour in Europe and played at some festivals like Graspop and Roskilde. They did some clubshows with Krisiun, which were very special for the band, but also for the fans. There was a lot of chemistry and the band prooved that they still are very strong. Then suddenly Steve deceided to leave the band in the end of the year. He had problems with his voice, so the band was confronted with a problem; the upcoming American tour with Soulfly was awaiting. Luckely David Vincent wanted to play those gigs. This worked out so well that he and the band deceided to do a European tour as well. The "Master of Chaos" tour has just finished and it was a hudge success. Now the band takes some rest to focus on some new materal While Pete is also busy with his other project "Terrorizer."
"Groups like Venom, Mercyful Fate, and Slayer may have founded death metal in the early '80s, but it wasn't until such disciples as Morbid Angel came along at the close of the decade that the genre was pushed to its most extreme level, both musically and lyrically. Formed in 1984 in Florida, Morbid Angel (along with Death) would also help spearhead an eventual death metal movement in their home state, which would include such notables as Deicide and Obituary, among countless others. From its inception, the group's leader has been guitarist/songwriter Trey Azagthoth, who has successfully maintained that Morbid Angel stick to their guns throughout countless musical fads during their career. Over the course of their first few releases, 1989's Altars of Madness and 1991's Blessed Are the Sick (the latter considered by many as a landmark release in the death metal genre), the group's lineup consisted of Azagthoth, vocalist/bassist David Vincent, guitarist Richard Brunelle, and drummer Pete Sandoval. Morbid Angel spent the summer of 2001 touring U.S. arenas along with Pantera and Slayer as part of the multi-band Extreme Steel Tour."
Greg Prato, All Music Guide

Line - up


Trey Azagthoth - Guitars
Pete Sandoval - Drums
David Vincent - Vocals/Bass
Tony Norman - Guitar

Photos


copyright: Morbid Angel and Earache Records
Discography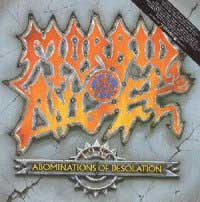 Abominations Of Desolation
Morbid Angel's first studio DEMO (not their first album)
Recorded 1986, released 1991 on Earache Records as an import only.

This is Morbid Angel's first studio demo recording. These recordings were produced by David Vincent, who wasn't yet the frontman for the band. Trey Azagthoth: All Guitars, Mike Browning: Vocals/Drums, Sterling Von Scarborough: Bass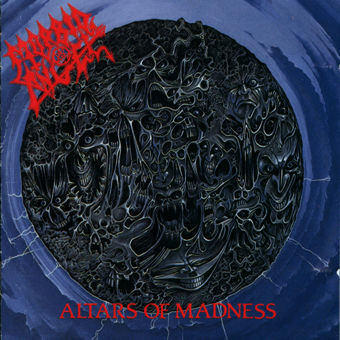 Altars Of Madness - Released 1989 on Earache Records

With Richard Brunelle on the second guitar. The most historical record, because the band broke with the traditions. When it came out it was very new to use different uptempo structures. Still "Chapel of Gouls" is the end of every MA show.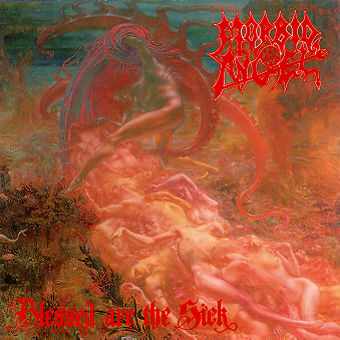 Blessed Are The Sick - Released 1991 on Earache Records

After 14 years "Blessed Are The Sick" hasn't faded a bit, it still sounds great and it will never sound dated, much like the art made by Mozart, Beethoven and other geniuses within the art of music. A classical record in the history of deathmetal .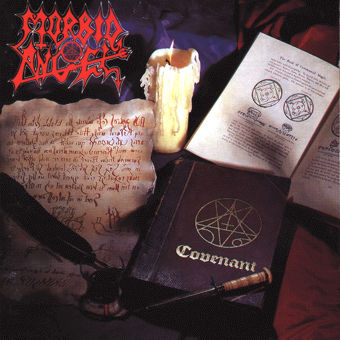 Covenant - Released 1993 on Earache Records in Europe,
and on Giant/Warner in North America

A three men cooperation between Trey, Pete and David. There are elements that make Morbid Angel a force to be reckoned with in the world of death metal and this is one of the albums that prove it.Some of the best songs here are Rapture, Pain Divine, Blood On My Hands, Sworn To The Black, and God Of Emptiness.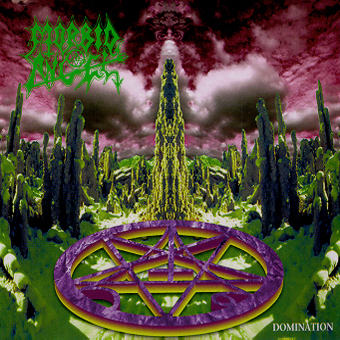 Domination - Released 1995 on Earache Records in Europe,
and on Giant/Warner in North America

The first record with Erik Rutan guitar/keybords. Domination shows an experienced and skilled Morbid Angel, the songs reflect a concerned band about what their audience wants to hear, but simultaneously reveal that they wrote the album without any kind of pressure and particularly that they actually enjoyed writing it.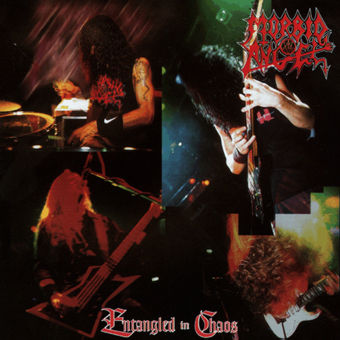 Entangled In Chaos - Released 1996 on Earache Records in Europe as an import only,
first official live recording.

Morbid Angel play songs from Altars of Madness, Blessed are the Sick, Covenant, and Dominate. The band is all about the twin pillars of unholy death metal: Pete "the Commando" Sandoval on drums, and Trey Azagthoth on guitar. Also Erik Rutan plays the second guitar on this tour.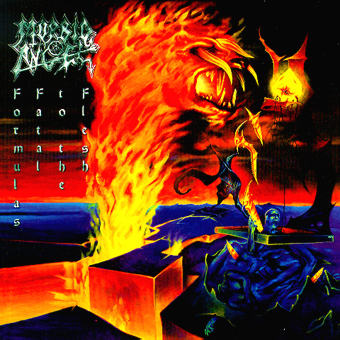 Formulas Fatal To The Flesh - Released 1998 on Earache Records
First record with Steve Tucker (bass and vocals) and without Erik Rutan (second guitar).
Also a classical record from this band. The songs are very technical, mystic (parts in Shumerian) and strong. The change of rhythm and vocals creates very unique athmosphere.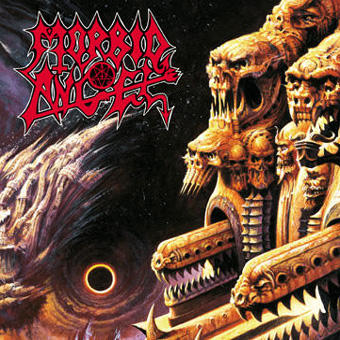 Gateways To Annihilation - Released 2000 on Earache Records
Erik Rutan is back on this record.

Gateways To Annhiliation has redefined and broken the barriers. Broken, rigid riffing and odd time changes along with individual guitar lines sculpt original, highly inventive musical compositions. With lyrics and words covering more than the common subjects often found in death/heavy metal music, the reasons for making the music are true.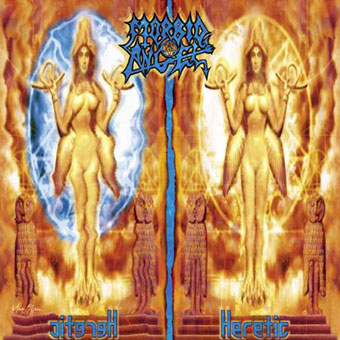 Heretic - Released 2003 on Earache Records
A three men cooperation between Pete, Trey and Steve.

The limited edition of this album has a second cd with some new versions of songs like "Stricken Arise" but most important is that the first cd has more than the wellknown 13 songs. They added some extra materal, what's interesting only because of the great drumparts.

Tourdates


The European "Master Of Chaos" tour has just ended.
Website


http://www.morbidangel.com/mainindex.html
Contact


General

This email address is being protected from spambots. You need JavaScript enabled to view it.
Management
http://www.worldentertainmentinc.com/
E-mail:
This email address is being protected from spambots. You need JavaScript enabled to view it.
Postal mail: P.O. Box 3095
Sea Bright, NJ 07760
Fax: 732.747.3357