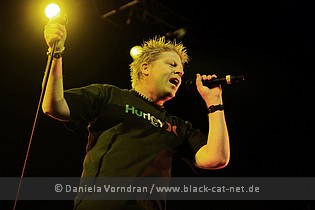 Palladium, Cologne, Germany
29th August 2011
The Offspring & Sondaschule

THE OFFSPRING were playing their one and only German concert on 29th August in Cologne. Originally planned for the E-Werk, it soon was obvious that this location would be much too small and so, the show was moved across the street into the bigger Palladium. Anyway, the concert was sold-out. Anyone in the area was eager to see the US Punk rockers.



Sondaschule

The band from Mülheim / Germany, founded in 1999, is playing Ska-Punk. First album 'Klasse 1a', released in 2002, was followed by a long tour. It took until 2006 to release second album, 'Rambazamba-Tour'. Two more albums followed up to now, latest one 'Von A bis B' was released in May 2010. SONDASCHULE is Costa Cannabis (Tim Kleinrensing - vocals), Chemokeule (Mirko Klautmann - guitar, vocals), Fikü (Tobias Rauch - bass), Mr. Bäm (Simon Roesler - drums), Chris Chrawumm (Christopher Altmann - trombone), Don Alfonso (Daniel Junker - guitar), Roberto Rosetti (Michael Spaet - saxophone) and Tröte (Andreas Kiwitt - trombone). https://www.facebook.com/SondaschuleBand / http://www.sondaschule.de / http://www.myspace.com/sondaschule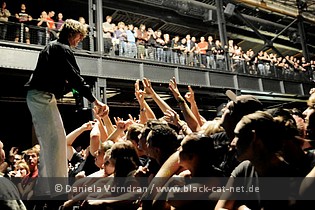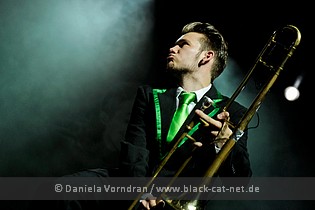 Music & Performance
First of all, I need to admit that this Ska-Punk style is not really my cup of tea. But also I need to admit that SONDASCHULE was a pretty good opener for THE OFFSPRING, getting the audience going with songs like 'Sondaschule', 'Dumm aber glücklich', 'Hängematte' or 'Sommer, Sonne, Strand und Meer'. Singer Costa was animating the audience to dance (Reggae btw.), clap and sing. Ti get in touch with the audience, he even jumped from stage and climbed the fence of the security pit. Of course, a little commercial was needed, asking the people to buy CDs at the merch, but skip the shirts since the had to increase the prices during this show to the OFFSPRING level. During their 40 given minutes they prepared the audience well for the things to come.

Setlist
01. Sondaschule
02. Strand im Ruhrgebiet
03. Dumm aber Glücklich
04. Ich wünsch Dir alles nur nichts Gutes
05. Hängematte
06. Sommer, Sonne, Strand und Meer
07. Komm und tanz
08. Siega
09. Lieblingslied

Rating
Music: 5
Performance: 8
Sound: 7
Light: 5
Total: 6.4 / 10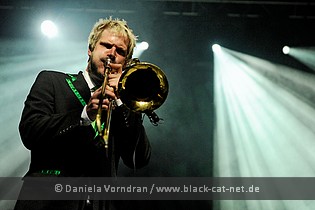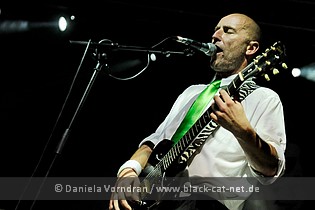 The Offspring

Founded as early as 1984 THE OFFSPRING, back then named MANIC SUBSIDAL, became an icon of punk music in the following. The four-piece consisting of Bryan "Dexter" Holland, Kevin "Noodles"" Wasserman, Pete Parada and Greg Kriesel made their breakthrough with the album 'Smash', including all-time hits like 'Self-Esteem' or 'Gotta Get Away'. It made them worldwide popular overnight and sold over 11 million copies. In the years to come, the band whilst undergoing slight line-up changes underpinned their reputation and expanded their audience even more, being at the forefront of reviving mainstream interest in punk rock music. As of 2011 the group is reported to be working on their new yet untitled album. THE OFFSPRING is Dexter Holland (lead vocals, rhythm and lead guitar, piano), Noodles (rhythm and lead guitar, backing vocals ), Greg K. (bass, backing vocals) and Pete Parada (drums, percussion) plus live additional touring musician Todd Morse (rhythm guitar, backing vocals). https://www.facebook.com/Offspring / http://www.offspring.com / http://www.myspace.com/offspring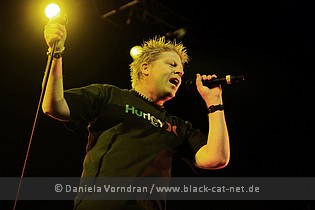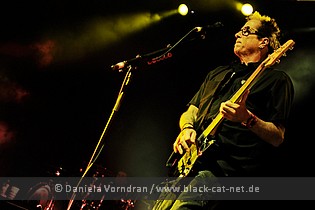 Music & Performance
Having seen THE OFFSPRING in 2009 at the Area4 festival, I was kind of disappointed by their show lacking any joy in playing. So, I was really curious how it would turn up now, when the band was playing in front of about 4,000 people in the sold-out hall. First thing I need to point out: it was so much better than in 2009. This time, the band showed real fun in playing, joked with the audience also proving their skills in German language and delivering a great show. Starting off at a few minutes past nine, 'All I want' and 'You're Gonna Go Far, Kid' were the right songs to get the audience going. Third song was a new song, as Dexter stated the "simply call it THE new song - in fact it is called 'November Song', from the upcoming studio album the band is currently working on. What followed in the course of the show was a series of popular tunes i.e. 'Come out and Play (Keep 'Em Separated)', 'Why Don't You Get a Job?' or 'Americana'. The crowd had a big party with a lot of jumping, dancing and singing along. The fans were partying along to heavy riffs, catchy tunes and a few sing-alongs. THE OFFSPRING are always good for a party, even though the guys turn older now!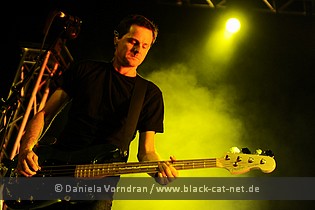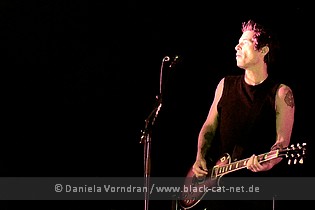 But there were also calmer moments coming with the ballad 'Kristy, Are You Doing Okay?' presented nearly acoustic. As well-known by Punk songs, the titles are rather short and so it took not even an hour until we reached the end of the main set with 'Pretty Fly (for a White Guy)', '(Can't Get My) Head Around You' and 'The Kids Aren't Alright'. Still, there were a few songs missing. And so, the five guys came back for a few more songs, ending the evening with classic 'Self Esteem' and releasing the audience into the cold summer night.

Setlist
01. All I Want
02. You're Gonna Go Far, Kid
03. November Song (New Song)
04. Come Out and Play (Keep 'Em Separated)
05. Have You Ever
06. Staring at the Sun
07. Stuff Is Messed Up
08. Bad Habit
09. Walla Walla
10. Hit That
11. Kristy, Are You Doing Okay?
12. Why Don't You Get a Job?
13. Americana
14. Gone Away
15. Pretty Fly (for a White Guy)
16. (Can't Get My) Head Around You
17. The Kids Aren't Alright
---
18. Hammerhead
19. Want You Bad
20. Self Esteem

Rating
Music: 8
Performance: 8
Sound: 7
Light: 7
Total: 7.7 / 10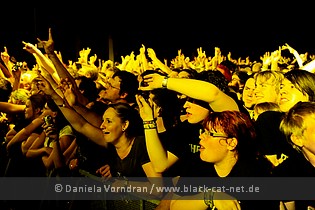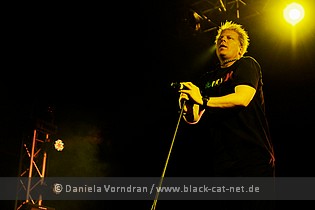 All pictures by Daniela Vorndran (http://www.vorndranphotography.com / http://www.black-cat-net.de/ / www.myspace.com/vorndranphotography / www.facebook.com/blackcatnet)