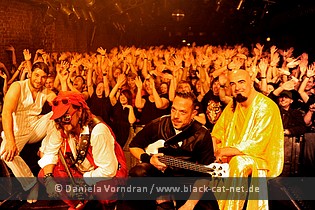 Matrix, Bochum, Germany
9th October 2011
Knorkator

KNORKATOR is a German band from Berlin that combines heavy metal with a satiric attitude. They proclaim themselves to be "Germany's most band in the world" (German: "Deutschlands meiste Band der Welt"), as the title "The best band in the world" was already taken by DIE ÄRZTE. The band was founded in 1994 but only played in the Berlin / Brandenburg area until 1998. KNORKATOR gained further fame (and some notoriety) in 2000 with their performance of 'Ick wer zun Schwein' (sic; literally, in Berlin dialect, "I'm turning into a pig") in the German national qualification for the Eurovision Song Contest. Their latest album is called 'Es werde Nicht', released this September. http://www.knorkator.de/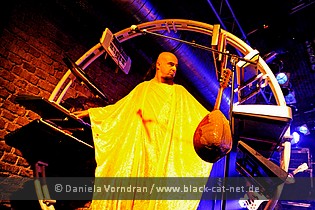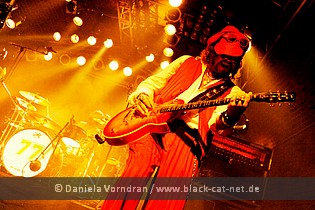 Music & Performance
You never quite know what you're going to face on attending the show of a band you've never seen before. In the special case of KNORKATOR, even long time fans were in the position of not knowing that. The queue was insanely long this time and we had to be fast to secure ourselves the good spots to watch the show up close. The entire time before the show there was a projection wall showing what the guys were doing backstage. Then suddenly the lights went dim and the show began. When the first thing you see is a guy in a stole turning up and the next a little one in a golden body suit, it really strikes you that all the rumours are true: Those guys are clearly mad. They gave further proof of that on the following first tracks like 'Der ultimative Mann' or 'Schwanzlich Wilkommen' on which both Alf and Stumpen showcased their vocal range. First thing after that one was asking all the photographers on stage to take photos of all the crowd waving, except me and I got one for that immediately.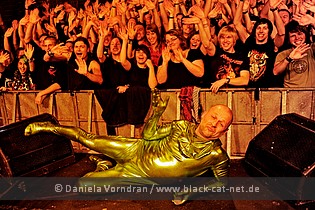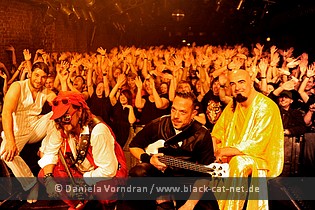 The satiric absurdity became even more obvious with some of the lyrics of 'Ich will nur fickn' or 'Refräng', whereas that being a good pun on the ever-repeating pop music structures. The audience at that point already was completely at the band's mercy and whatever the fans were ordered to do they did it, including creating a wall of handshaking. Yes you heard right. Instead of running towards each other possibly banging your heads, you were supposed to jump towards each other shaking hands. The question that always came up during the shows was if the people were having just a little fun yet. Guess we can definitely if it a big yes. Following 'Arschgesicht' featuring a collaboration from "Thailand" for which Stumpen had to make a call with an attendee's phone, here was a cover section with 'Ma Baker' and the "incredibly difficult" 'Ain't Nobody', presented by guitarist Buzz Dee. Nearly two hours in total the show lasted and was wrapped up with 'Auf dem See', leaving an incredibly sweaty but happy crowd slowly leaving the venue. What a ride!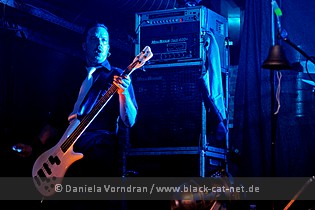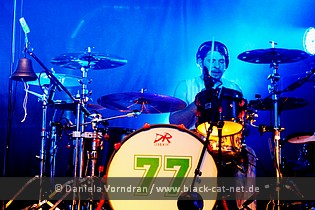 Setlist
01. Der ultimative Mann
02. Buchstabe
03. Schwanzlich Wilkommen
04. Mich verfolgt meine eigene Scheiße
05. Ich will nur fickn
06. Eigentum
07. Refräng
08. Du bist Schuld
09.Bleib stehn
10. Du nich
11. Arschgesicht
12. Ma Baker
13. Ain't Nobody
14. Alter Mann
15. Konflikt
16. Ich lass mich klonen
17. Highway to Hell
18. Kurz und Klein
19. Weg nach unten
20. Für meine Fans
21. Böse
22. Warum
23. Verflucht und Zugenäht
24. Sofort
25. Auf dem See

Rating
Music: 7
Performance: 10
Sound: 8
Light: 7
Total: 8.1 / 10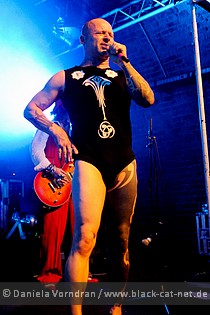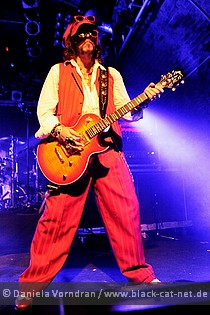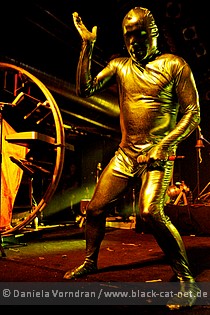 All pictures by Daniela Vorndran (http://www.vorndranphotography.com / http://www.black-cat-net.de/ / http://www.myspace.com/vorndranphotography / http://www.facebook.com/blackcatnet)



See also (all categories):