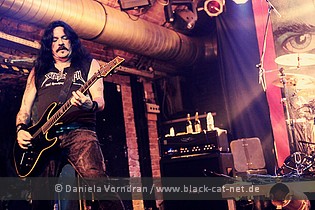 Matrix, Bochum, Germany
22nd May 2012
Prong & Coal Black

It was a very hot day in May when PRONG were coming to Bochum for a very special event. It was announced that the band was going to play two sets during the evening. In one set, the band would play the entire 'Beg to Differ' album and the other one would be a "Best-Of" set including new material as well. It turned out slightly different, but more to that later. As support act, COAL BLACK were opening the evening.



Coal Black

COAL BLACK came together in 2010, when the five members were sitting at a café, creating the concept for a new band with English and serious lyrics, a band being heavy and melodic at the same time. The band has a lot of fun making music and also wants people to take part in the fun. As bands they are influenced by, they name Stone Sour, Godsmack, Volbeat, Primus and Tool. COAL BLACK is Dirk (vocals). Arnd (bass), Lars (guitar), Marc (guitar) and Ingo (drums). http://www.myspace.com/coalblack_music / http://www.coal-black.de / https://www.facebook.com/coalblackband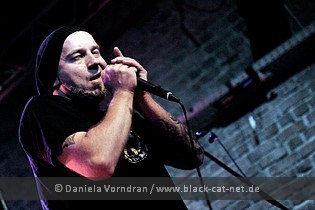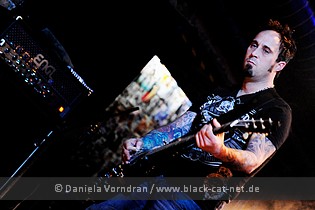 Music & Performance
Originally, there was no support band planned. Maybe due to the long waiting time during the previous German shows there was a short-notice decision to have an opener, the local band COAL BLACK, on very short notice. Most people appearing at the venue did not really expect one. Speaking of people, the demand for the concert was really low. I guess it were not much more than 100 people showing up for the concert. Was it a lack of promotion? The weekdays for the shows (all in all a mini tour) or the hot weather or even the ticket price? Anyway… to the opener… This band from close by Essen had not a big audience for their show. The set of Dirk (who btw reminded me vocally a little of Limp Bizkit) and his colleagues was quite solid, but in my opinion nothing I would remember for long. Additionally, Arnd on Bass was absent and so, a little pressure was missing. The audience's reactions were quite hesitant, anyone was just waiting for PRONG.

Rating
Music: 6
Performance: 6
Sound: 6
Light: 5
Total: 5.8 / 10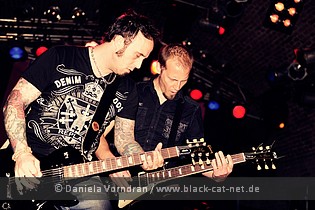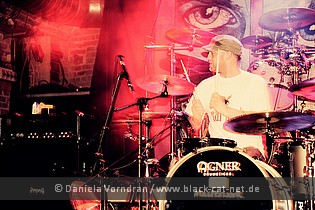 Prong

PRONG's career spans over 26 years and had seen their sound reaching different territories - from Groove Metal and Hardcore to Industrial. Foremostly, their main sound roots from Thrash. Over the years, the band from California has managed to be considered one of the "heavy" names of Metal. And yet, during the last period of time the band got into some peculiar paths, in musical terms speaking, that managed to pigeon-hole the soundscapes in which the band moved. In April 2012, the band released its latest album 'Carved into Stone'. PRONG is Tommy Victor (vocals / guitars), Tony Campos (backing vocals / bass) and Alexei Rodriguez (drums). Due to other duties (namely a tour with SOULFLY), Tony could not make it to the German tour. Instead, the bass and backing vocals were taken over by Matt Brunson (Crowbar) and Dave Pybus (ex-Cradle of Filth). http://www.prongmusic.com / https://www.facebook.com/prongmusic / http://www.myspace.com/prong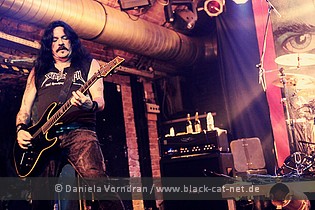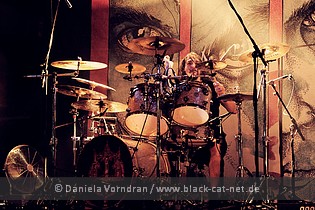 Music & Performance
Announced was a concert with two sets, it turned out e little different. First, the whole 'Beg to Differ' album was played as announced, but the second set was rather a very long encore consisting of 7 songs in total. Also, the announced mix of old and new songs turned out to include just one song from the new album, namely 'Revenge...Best Served Cold'. Besides that, the duties on bass were shared. Whilst Matt was taking over the first part and the encores, the second part, all in all 5 songs, was delivered by Dave, who in my opinion made the better impression on stage, comparing both artists. I must admit that I never saw PRONG before… even though I like the band, I somehow never made it. So, I cannot compare the Bochum show to any other one before. I just have to say that I personally had a lot of fun, even though there were much less people showing up than expected. But the ones being there had a lot of fun and were really active, jumping and dancing, screaming or even climbing the stage for some crowd surfing.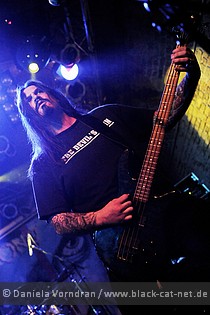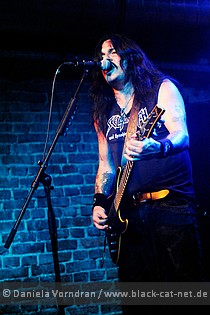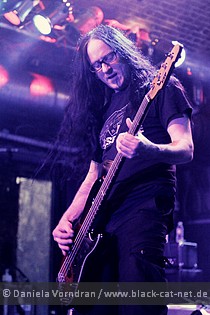 If the audience was in Tommy's opinion not active enough, he fired it up with gestures, words or just with his facial expressions. During the first set, people were already excited, but not overly enthusiastic. This changed for the second set, when people, mainly male in front of stage, freaked out. Then the mood reached a level you'd expected. With two encores, the band served a great final. After the show, and I mean really directly after, the band sold their CDs at the merch – other merch sadly was already sold-out – and signed them or had little chats with the fans. I think this was a really nice behaviour and they sold quite some CDs!

Setlist
- Set 1: 'Beg to Differ' album -
01. For Dear Life
02. Steady Decline
03. Beg To Differ
04. Lost And Found
05. Your Fear
06. Take It In Hand
07. Intermenstrual D.S.B.
08. Right To Nothing
09. Prime Cut
10. Just The Same
11. Third From The Sun (Chrome cover)
- Set 2 -
12. Another Worldly Device
13. Revenge...Best Served Cold
14. Rude Awakening
15. Whose Fist Is This Anyway?
16. Snap Your Fingers, Snap Your Neck
---
17. Eternal Heat
---
18. Unconditional

Rating
Music: 8
Performance: 8
Sound: 7
Light: 7
Total: 7.5 / 10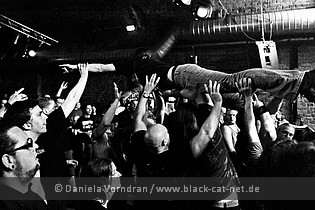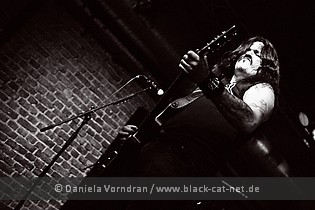 All pictures by Daniela Vorndran (http://www.vorndranphotography.com / http://www.black-cat-net.de/ / http://www.myspace.com/vorndranphotography / http://www.facebook.com/blackcatnet)