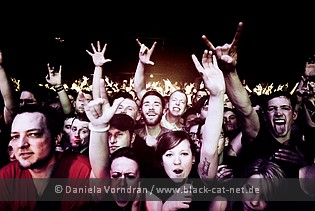 Turbinenhalle, Oberhausen, Germany
6th December 2012
Stone Sour, Papa Roach, Hounds

The new STONE SOUR album 'House of Gold & Bones Parts 1 & 2' is a collection of 23 tracks that follow an immersive, linear storyline. Part 1 – the first 11 songs – was released on October 23, 2012. Part 2 will be released in 2013 completing the story. Now, the guys came on tour to present the new stuff live to their fans. With PAPA ROACH and HOUNDS as support we got a huge rock package we could look forward to. Oberhausen was the last stop of five German gigs and in a cold winter night we got a damn hot evening in a sold-out venue!



Hounds

HOUNDS are a band from Aberdeen, Scotland. They play hardcore songs which you'll want to dance (or better pogo) and sing along to. Presenting some nice punk rock songs, still everyone was waiting for the other two bands. But HOUNDS were a little nice warm-up for those people being already present at the venue. And the crowd was steadily increasing… HOUNDS Dan Vegas (vocals), Blain Manson (guitar), Finlay Urquhart (guitar), Scotty Allan (bass) and Fraser Allan (drums). www.houndsmusic.com / https://www.facebook.com/houndsofficial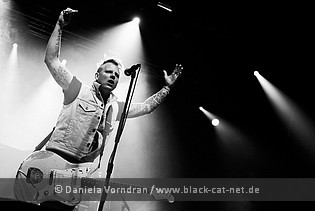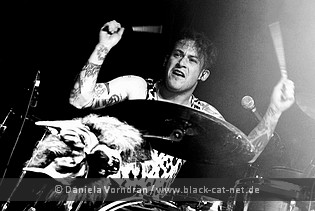 Papa Roach

PAPA ROACH is an American rock band from Vacaville, California. The formation began in January 1993 when lead singer Jacoby Shaddix and drummer Dave Buckner met on the Vacaville High School football field during an intense match, where the two ended up talking about music. Their first major-label release was the triple-platinum album 'Infest' (2000). The group's success continued with their gold album 'Lovehatetragedy' (2002) their platinum album 'Getting Away with Murder' (2004), 'The Paramour Sessions' (2006), and 'Metamorphosis' (2009). The band's seventh album, 'Time for Annihilation', was released on August 31, 2010. Papa Roach has sold more than 18 million album copies worldwide and are known for their songs 'Last Resort', 'She Loves Me Not', 'Getting Away with Murder', 'Scars', '...To Be Loved', 'Forever', and 'Lifeline'. PAPA ROACH is Jacoby Shaddix, Jerry Horton, Tobin Esperance and Tony Palermo. www.paparoach.com / www.myspace.com/paparoach / https://www.facebook.com/paparoach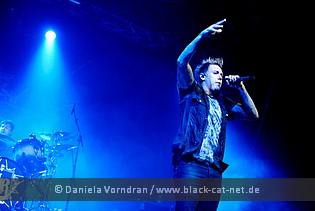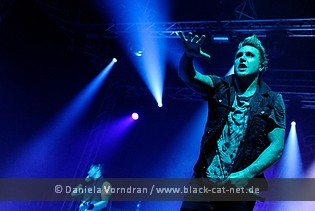 Music & Performance
PAPA ROACH was welcomed with open arms. The crowd was already shouting for them before they were on stage. They started with 'Still Swingin' from the new album and everyone was with them from the very start. The audience was singing along every song. They knew all the lyrics. If you wouldn't know it better you could guess the main act was already on stage. Singer Jacoby was so damn right when he said: "You bloody love that shit, Oberhausen"! Jacoby jumped also off the stage to shake hands with the first row and to party with the fans. Suddenly during 'Hollywood Whore', he also went into the crowd and straight to the bar, jumped on the counter of the bar and was singing from there. The one and only 'Last resort' was played as last song. Jacoby said they will come back in June, so we can look forward for more PAPA ROACH power. In that night we must had enough with nearly 50 minutes.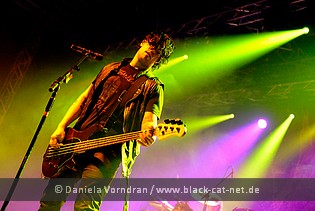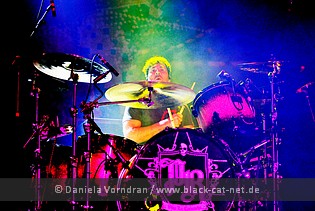 Setlist
01. Still Swingin'
02. Silence Is the Enemy
03. ...To Be Loved
04. Getting Away With Murder
05. Burn
06. Forever
07. Scars
08. Hollywood Whore
09. Between Angels and Insects
10. Where Did the Angels Go?
11. Dead Cell
12. Last Resort

Rating
Music: 10
Performance: 10
Sound: 9
Light: 8
Total: 9 / 10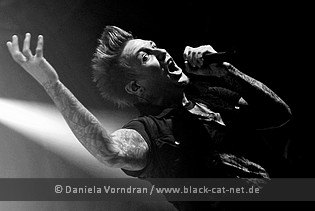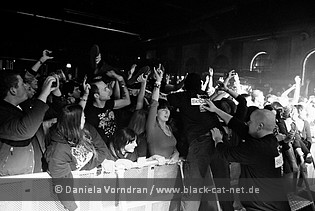 Stone Sour

STONE SOUR is an American rock band formed in Des Moines, Iowa in 1992, performing for five years, before disbanding in 1997. They reunited in 2002 and since 2012 the group has consisted of Corey Taylor (lead vocals, guitar, piano) and Jim Root (guitar, keyboard) also of Slipknot, Josh Rand (guitar) and Roy Mayorga (drums, percussion). Original members Joel Ekman (drums, percussion) and Shawn Economaki (bass guitar) left the group in 2006 and 2012 respectively. To date Stone Sour have released four studio albums 'Stone Sour' (2002), 'Come What(ever) May' (2006), 'Audio Secrecy' (2010) and 'House of Gold & Bones – Part 1' (2012). Their next studio effort will be titled 'House of Gold & Bones – Part 2', the first part was released on October 22nd, 2012 and the second part is expected in early 2013. They also released a digital live album 'Live in Moscow' in 2007. www.stonesour.com / www.myspace.com/stonesour / https://www.facebook.com/stonesour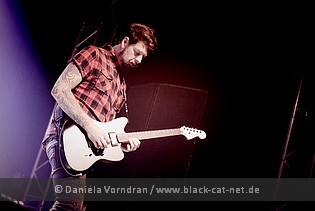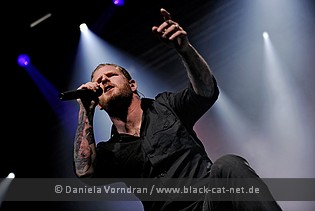 Music & Performance
The first song 'Gone Sovereign' started from tape. The audience was singing the lines while the band came on stage to take over. Right at the start, Corey Taylor put his charm all over the place with speaking German to us. "Thank you my friends. Germany is the best fucking country in the world". After this powerful start with 'Absolute Zero' and 'Mission Statement' from the album 'Audio Secrecy' no one could stop audience. This venue was pure madness. Corey was throwing plastic bottles with water into the crowd endlessly. It was now 10 years ago when the first album came out and they wanted to celebrate that. Corey thanked Roadrunner Records Germany and not only that they played 'Orchids', it was said this was the start of a 2 years tour and we can be sure to see the guys soon again.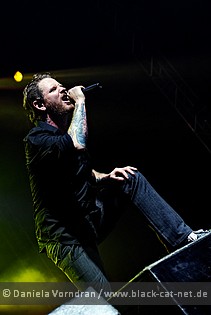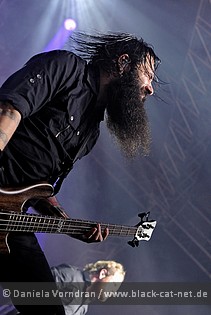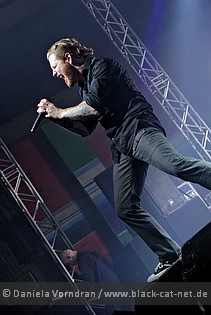 Next to all the great rock songs we had got the acoustic part again. For the first two songs of the encore block, it was just Corey and his guitar and everyone was singing along to 'Bother' and 'Through Glass'. Corey often wanted to switch on the lights that he can see all the wonderful people who were singing with him. With the amazing '30/30-150' the show ended and so this song was the last chance for the mosh pit. Somehow it is hard to describe a STONE SOUR show, because there is this special atmosphere between the band and the fans who are celebrating these fantastic songs. If you couldn't get a ticket this time, be faster next time. STONE SOUR will come back and so will we.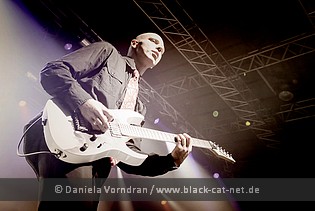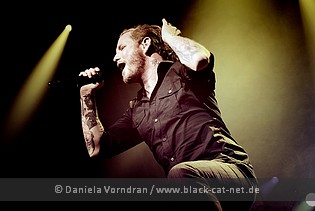 Setlist
01. Gone Sovereign
02. Absolute Zero
03. Mission Statement
04. Hell & Consequences
05. Orchids
06. Made of Scars
07. A Rumor of Skin
08. Reborn
09. Hesitate
10. RU486
11. Say You'll Haunt Me
12. Get Inside
---
13. Bother
14. Through Glass
15. Digital (Did You Tell)
16. 30/30-150

Rating
Music: 10
Performance: 10
Sound: 9
Light: 10
Total: 9.8 / 10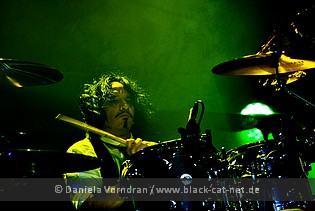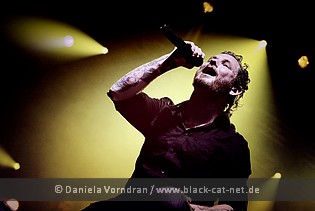 All pictures by Daniela Vorndran (http://www.vorndranphotography.com / http://www.black-cat-net.de/ / http://www.myspace.com/vorndranphotography / http://www.facebook.com/blackcatnet)