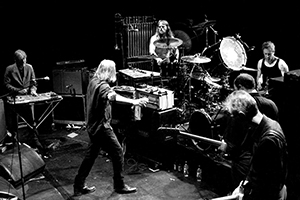 Ancienne Belgique, Brussels, Belgium
25th September 2014
Swans & Pharmakon

SWANS and PHARMAKON on the same night, it's clearly a double bill and the promise of a complete sonic devastation. Both acts are famous for their powerful shows and for the same ruthless auditive aggression. Tonight, the schedule is tight as the venue imposes a curfew at 22:30 and SWANS are likely to play for as long as 1 hour 1/2 or 2 hours.
Pharmakon

It's therefore very early, at 19:30, that the show starts. The venue is nearly empty as most people didn't pay attention to the announced schedule. PHARMAKON is in fact the project of Margaret Chardiet, an underground artist from New-York, who, among other things, runs 538 Johnson, a space for live music and art. I saw her play live at the Sonic City Festival in Kortrijk, Belgium, last year and at least, I know (more or less) what is going to happen.
https://www.facebook.com/pharmakonnn
Music & Performance

At first, you see this young woman with long blond hair, looking fragile and shy as she's preparing to start her set behind the table on which her machines are placed. She launches a very dark rhythmic sequence and seizes a metal plate, on which tiny microphones are attached. She takes her silver bracelet and with it, she starts scratching the plate. What you hear are shrieking sounds, which form a loop. On top of that loop, she starts screaming in the tiny microphones, which resonate with the plate. The whole becomes a deafening wall of sound. But it is not finished: then she takes the main microphone with its cable and begins to scream like a girl in a horror movie. At first, you see the astonished faces in the public but as the intensity grows higher, you feel that people are either fascinated, or horrified.
The music is a sort of industrial noise, evoking EINSTÜRZENDE NEUBAUTEN and THROBBING GRISTLE but here, the "arty" aspect is completely absent. It's a harsh physical assault, without compromise. Later, in the same way she did in Kortrijk, she descends from the stage and goes into the public while screaming in her microphone. At the end of her show, she creates sound loops based on her own breath, tampered by numerous distortion effects and you find yourself putting earplugs in your ears as the sound is simply unbearable. After only 25 minutes, she leaves the stage and like most people in the public, you feel like you've been hit in the face and oddly enough, it sounded great... Don't hesitate to buy PHARMAKON's debut album 'Abandon' via Sacred Bones records!
Rating

Music: 7
Performance: 8
Sound: 8
Light: 7
Total: 7.5 / 10
Swans

After a short break, the bell announces the start of the SWANS show. This legendary band from New-York is led by singer, songwriter and multi-instrumentalist Michael Gira. It was originally active from 1982 to 1997 and reformed later in 2010. They pioneered an experimental music, combining no wave and post-industrial elements with psyche and kraut overtones. One year after the 'The Seer' tour, during which they mainly played new, unreleased songs, which later appeared on the new 'To Be Kind' album, they are back.
https://www.facebook.com/SwansOfficial
Music & Performance

The first musician to appear on the stage is the percussionist Thor Harris. He's tall and strong and looks a bit like a Viking. During nearly 15 minutes, he plays on a huge gong, creating waves of sounds. The venue is now full but not sold-out. Then Phil Puleo joins Harris on drums, followed by Christoph Hahn on his lap steel guitar. The sonic construction becomes like a slow, dark, ambient lamentation. Then the three remaining musicians arrive: Christopher Pravdica on bass, Norman Westberg on guitar and of course Michael Gira. Note that Gira and Westberg are the only original members of the band, having been there since the beginning.
From the beginning, it is clear that Gira is the boss on stage. With movements and signs, he acts like a conductor with his orchestra. On his black Gibson Lucille guitar, he starts a repetitive riff and the whole band follows. It's a new song, called 'Frankie M', which develops like a long flow of music, obsessive and hypnotic. The trademark of the SWANS is to create minimalistic patterns and to let them move like huge waves, with peaks of intensity and calmer moments. The next song, 'A Little God In My Hands', from 'To Be Kind', is more accessible, with its pounding, funky bass riff. Gira's vocals are tribal, slightly dissonant. At times, they are reminiscent of Jim Morrison for the psyche side and of Gavin Friday (VIRGIN PRUNES) for the tribal aspects.
Then it's 'Apostate', again a musical tour de force, off 'The Seer': it starts with crying, howling slide guitar sounds and after six minutes, comes an explosion with two hypnotic guitar chords and a very fast sequence. Then comes the part with vocals, again based on repetitive drums and bass, combined with Harris' bells and Gira's guitar chords. The song ends in a complete firework of drums and percussions. A great moment!
After 'Just A Little Boy (for Chester Burnett)', from 'To Be Kind', a song dedicated to HOWLIN' WOLF, the last part of the concert consists of two new, unreleased songs: 'Don't Go' (working name), a long psychedelic trip, and 'Black Hole Man' (combined with excerpts from 'Bring The Sun'), a demonically spiritual chant. The middle part is a bit weaker but the end of the concert is very powerful. At times the sound was so strong that it must definitely surpass the imposed 100 decibels limit! "Thank You, Brusselians", says Gira at the end as he introduces his musicians, who come to stand at the front of the stage to bow.
In conclusion, a violent and soul-lifting performance, like a primal scream. While most bands go up on stage to play their old hits, this band has the courage to play new songs, mostly unreleased, and to confront the audience with them. Their approach of music with cyclical rhythms and searing riffs, which they created 30 years ago, paved the way to post-rock and the psyche/ kraut revival wave we're going through right now. The SWANS are stronger than ever and it's not time yet for their... Swan Song...
Setlist (tentative)

Frankie M
A Little God In My Hands
The Apostate
Just a Little Boy
Don't Go (tbc)
Bring the Sun / Black Hole Man
Rating

Music: 8
Performance: 8
Sound: 8
Light: 7
Total: 7.8 / 10
Photo by Jennifer Church