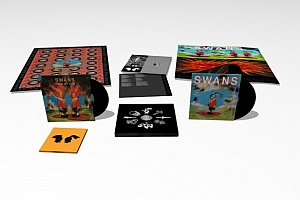 Artist: Swans
Title: White Light From The Mouth Of Infinity / Love Of Life (Reissue Box Set)
Genre: Alternative Rock
Release Date: 4th December 2015
Label: Mute Records
Album Review

The complex, creative, chaotic story of SWANS begins with the impossibly heavy and dense dirges of their early period, where live shows were confrontational, deafening, and frequently mired by violence. A mid period of increasingly artistic and even mellow song-writing, saw the arrival of Jarboe, adding a mystical and contradictory voice to Michael Gira's deathly deep vocals, but experimentation and left-field soundscaping was never far away. They split, Gira recorded under the ANGELS OF LIGHT name, and then, remarkably, pieced SWANS back together again in 2010. Subsequent releases see no dip in the quality and creativity, and interest in the band has never been higher.
This three CD box set is from arguably their most successful and accessible period, although anyone here for an easy ride will leave confounded. First is the stunning album 'White Light From The Mouth Of Infinity', initially released back in 1991. Opening with the sound of a baby gurgling, it manages to sound cute and sinister at the same time, and once the grandiose 'Better Than You' rolls itself out dramatically and impressively you have the sense that SWANS have thrown everything into the song, from the rollocking percussion and dark instrumentation, to the blackness of Gira's singing, and Jarboe's sweet backing. In under six minutes it manages to showcase every skill that SWANS possess.
The jumble of percussion and Gira's mantra-like vocals hold 'Power And Sacrifice' together with a sense of absolute unity and discipline, and for sheer devastating darkness 'Love Will Save You' is hard to beat. Until you reach 'Failure'. Has a more depressing song ever been penned? Over a stripped back and hushed strumming comes the booming, emotionless voice of total resignation. Contrast this with the loose and beautiful whimsy of the Jarboe sung 'Song For Dead Time' or the skipping country feel to 'Blind'. There are so many styles and genres, textures and sounds on 'White Light…' that it feels fit to burst with energy and life, despite the frequently black subject matter.
'Love Of Life' was released a year later, and successfully continues and builds on the sounds and themes of 'White Light…' The title track begins with the same tumble of drums, and busy, bustling grandiosity, settling into the slower, more menacing creep and crawl of 'The Golden Boy That Was Swallowed By The Sea'. In between the songs are short instrumentals, found sounds and recorded voices, an idea later expanded on 'Soundtracks For The Blind' in 1996. There are wild swings between the pace and textures throughout 'Love Of Life', yet it remains a fascinating and cohesive body of work, strangely timeless and infinitely complex, despite some of the simple-sounding arrangements. 'Her' for example is almost upbeat by SWANS standards, whispy and whispery at first until discordant guitars crash in to spoil the party. 'The Sound Of Freedom' is mellow and melodic, 'Amnesia' accessible enough to have been a single (and what a mighty song it is) and 'She Cries For Spider' simply beautiful. There is a heady mix of gentleness, brutality, confusion, chaos and order throughout 'Love Of Life', indeed this creative contradiction is what fuels all the best releases by SWANS, and this particular period in the band's history is remembered fondly.
The third CD is a delight for collectors and fans alike, gathering together rarities, fragments and live versions. It's certainly not the best way initially to discover the weird and wonderful world of SWANS, but it's no slouch either, and it's a nice touch that it's added to the box set. SWANS were, and still are, a band like no other, and these reissues find them at their creative peak with two albums of absolute potency and brilliant consistency, and this is an essential release, for any true musical explorer.
Tracklist
Tracklist White Light From The Mouth Of Infinity
01. Better Than You
02. Power and Sacrifice
03. You Know Nothing
04. Song for Dead Time
05. Will We Survive
06. Love Will Save You
07. Failure
08. Song for the Sun
09. Miracle of Love
10. Blind
11. When She Breathes
12. Why Are We Alive
13. The Most Unfortunate Lie

Tracklist Love Of Life
01. Part 1
02. Love of Life
03. The Golden Boy That Was Swallowed by the Sea
04. Part 2
05. Part 3
06. The Other Side of the World
07. Her
08. The Sound of Freedom
09. Part 4
10. Amnesia
11. Identity
12. Part 5
13. In the Eyes of Nature
14. She Cries (For Spider)
15. God Loves America
16. Part 6
17. No Cure for the Lonely
Tracklist Extra CD
01. Amnesia (Long)
02. Song for Dead Time
03. You Know Everything
04. Mother's Milk
05. The Child's Right
06. Love of Life (Short)
07. Unfortunate Lie
08. No Cruel Angel
09. Black Eyed Dog
10. Love of Life (Long)
11. Picture of Maryanne
12. Amnesia (Live)
13. Dream Dream
14. Please Remember Me
15. Drink to Me Only With Thine Eyes
16. The Unknown
17. Blood on Your Hands
18. A Young Girl Needs















Line-up

Michael Gira
Jarboe
Norman Westberg
Website

https://www.facebook.com/SwansOfficial
/
http://younggodrecords.com/
Cover Picture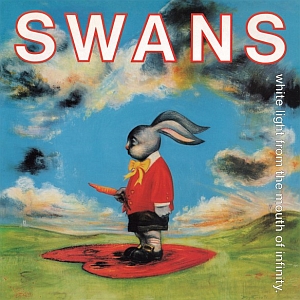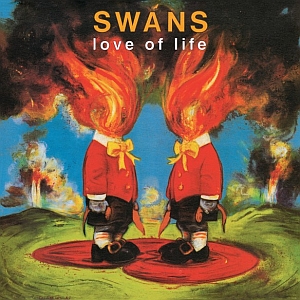 Rating

Music: 9
Sound: 9
Total: 9 / 10
See also (all categories):