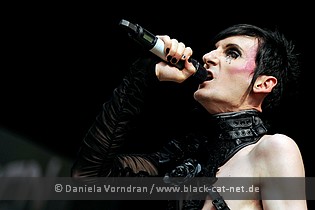 Interview with
Pete Crane (aka Virul3nt ) from Shiv-r

Today we present you an interview with another band which will play at the Electronic Dance Art Festival on 26th December 2015 in Frankfurt. Pete from SHIV-R has found some time to answer a few questions for us.
Reflections of Darkness [RoD]
: Recently you released the remix album 'Eye of the Needle', which you selected through the contest for another compilation, 'On Blackened Wings'. How did you get the idea to hold a competition? And why the title 'Eye of the Needle'?
Pete
:
Actually I'll give you the inside scoop on this. We originally chose a particular artist to remix this song for the 'On Blackened Wings' release. I won't mention who, but because this is the main single for the album we chose a really special name. But of course, big names are always busy and this particular artist was just too busy with his own releases to deliver their remix on-time despite agreeing to do so. So it was only then that the idea came: let's hold a competition for this slot! I was nervous at first, because this song is the key position for the release, but I was also confident because we have had good luck with "fan remixes" before; there are remix kits on our website www.shiv-r.com and we have received incredible remixes in the past totally out of the blue, e.g. by SYNDROID, etc. In the end we got so many good remixes of this track that there were at least 13 worthy to be released, including the winning remix by Greek producer Thanos Mylonas, that we decided to make this release.
RoD
: I have a question about the other release of remixes, 'On Blackened Wings'. You have collected tracks from ΔAIMON, Thomas Rainer (L'ÂME IMMORTELLE), NITRONOISE or FREAKANGEL. How did you manage to gather remixes from such top authors?
Pete
:
I'm glad you agree that these are top-tier authors! Some have wondered why we didn't go for even bigger names. But we wanted to go for names we already have a relationship with. There is a personal story behind each remix artist on this release, to make it more special to us. The other criticism we got from this release is that it should have been a "disc 2" for the album the remixes are from, 'Wax Wings Will Burn', instead of a separate standalone release, but we chose to make it a separate release six months later because we didn't want the DJs to just ignore the original tracks in favours of the remixed versions. And that decision has proven successful; DJs have made a club-hit out of 'Eye of the Needle' in its original version, whereas only the remix would've gotten played if they were released simultaneously.
RoD
: How was your tour with AESTHETIC PERFECTION in the UK? How did the audience meet you?
Pete
:
It was great for a personal reason. This tour forced me to confront myself: is this as good as I can be or am I still "warming up" as a performer? This tour has been a catalyst to push my vocals and performance to the next level and realize I have more work to do, but I have already had some breakthroughs since this tour. It's easy to get into a routine live on stage and say "We're not rock stars like COMBICHRIST because they have the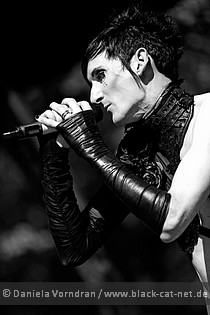 energy of two live drummers" or "The crowd is weak because the scene is apathetic these days" or "We will never play huge venues because we're in this tiny industrial scene", and never look to yourself and what you can do to grow; always visualizing external barriers to hold you down which do not fucking exist. Pro hint: the metal and EDM scenes are making the exact same excuses as the industrial guys! This tour and this year's live shows have let me realize the only barriers are within me. I got into music to express what's inside me - anger, pain, existential angst, etc. This year I let myself accept this and not hide behind barriers of genre, self-doubt and bullshit. To go back to the question: the UK audience is always great to us and understands the message. The UK is my "adopted home" and I'm always partying in the crowd after the shows here. You cannot have a "rock star attitude" and play a no-bullshit city like Manchester and that's the way I like it.
RoD
: You have a lot of live performances lately. Will you continue at the same level in 2016? Or will you go to the studio to record a new album?
Pete
:
There's no need to take a break from live shows as we're always working on new studio material. Beside this we also run our own digital label / production house, Blind Mice Productions, where we produce and release other bands' music, e.g. a lot of creative time was spent in 2014 as we made the music for the Amelia Arsenic EP, and we are also now finishing the music for another artist Brittany S. There are some things on the schedule like this which may slow down the next SHIV-R album, and beyond that we don't want to rush anything. We've written a lot of SHIV-R songs this year that I'm really proud of, but if it doesn't get released until 2017 it will be a better result. We released three full albums and three EPs between 2010 and 2015 and that is not a bad effort. For live work, we have just been taken on board by Pluswelt Booking Agency for Europe so hopefully that will enable more extensive touring in 2016.
RoD
: What set did you make for the Electronic Dance Art Festival? Will be there some surprises?
Pete
:
It will definitely be a special set. This weekend I'm flying to Basel just to rehearse with our new live drummer Chris Fox (L'ÂME IMMORTELL, ex-LOST AREA). To accommodate this new sound I'm remixing and reworking some songs too. This is what we're calling "SHIV-R 2.0"; a new act that doesn't have anything to hide behind or have any excuses to make. Our image is updated too; I'm modifying my own clothes instead of working with designers on over-the-top outfits. I think, I have worn rubber, corsets and feathers for the last time! Now there will be less to hide behind and affect the energy of the performance. There will also be more guitars by myself live; I can "shred" and I'm tired of hiding this because of "Industrial-electro rules" where you're not allowed to use guitars. If it's expressive, we will use it; I want something I can feel!
RoD
: End of the year is a good time to summarize all things happening in this year. How was 2015 for you? What were the most important events and things that happen to you?
Pete
:
To summarise 2015 I can only say, "What does not kill you only makes you stranger", and also, "no one knows what future brings". 2015 has been the strangest year of my life, filled with the most uncertainties. Everything familiar from before has changed, and I do not have a clear picture of what the next step will look like. Some of the people in my life are still here, but others have made it clear they are not along for the ride. In the end I can only try to come to the realisation that I am allowed to be happy, and carve a future out from there.
RoD
: And in the end a few words to our readers.
Pete
:
Fuck the barriers and rules, including the ones within you. Fuck the "rock star attitude" but also allow yourself to accept that you have something worthy to say creatively. And forget the ones trying to bring you down; they are only damaging themselves.
Written by Viola Noir and Daria Tessa (Ukrainian Gothic Portal). The Russian version of the article is available
http://gothic.com.ua/Interviews/3150.html
.
Electronic Dance Art 2015 (26.12.2015):
http://festival.electronicdanceart.de/