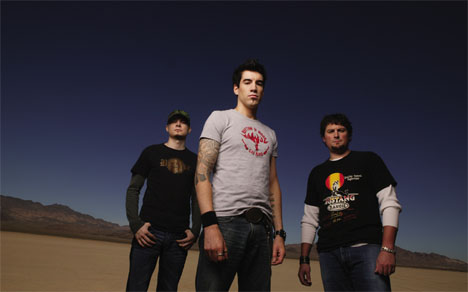 Interview with
Tyler Conolly (vocals) of Theory of a Deadman

THEORY OF A DEADMAN are to release their newest album 'Scars & Souvenirs' on 26th June 2009. This was the reason for us to ask them a view questions about the band, the new album and touring plans.
Reflections of Darkness (RoD)
: Where did the name THEORY OF A DEADMAN come from and what is the story behind it?
Tyler
:
The name came simply from a song title. Our first self titled record had a song about suicide on it called 'Theory of a deadman' which was a story about a guy depressed who decided to write down all the things he had to live for and what he would miss when he was gone. We changed the name of the song to 'The last song' and took THEORY OF A DEADMAN to be our band name.
RoD
: Can you briefly summarize how the band formed and what you do in THEORY OF A DEADMAN?
Tyler
:
I am Tyler Connolly. I sing and play guitar. We formed around 2000 when Dave Brenner joined as a second guitarist and Tim Hart became our drummer. Soon after that we started working on new material along side stuff I had from earlier bands that would later be on our first record.
RoD
: Your lyrics are infused with heavy detail and raw emotion. What is it that normally gives you inspiration when writing lyrics and is there a concept behind the music you create?
Tyler
:
My inspirations come from my raw emotion. It's best to write how you feel so if you're happy, write a happy song. If you're sad, write a sad song. There is no concept really, just try to write songs people can relate to.

RoD
: Your new album is 'Scars & Souvenirs'. How is this album in comparison to your older releases? What can fans expect when they listen to your music?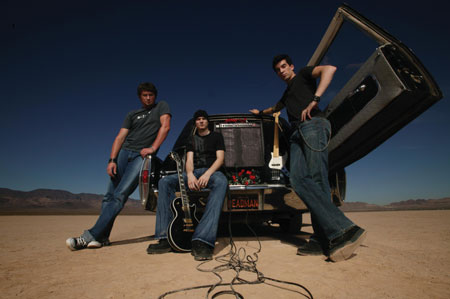 Tyler
:
Don't think so, we want our fans to take away some great memories from this record, much like song that remind you of a time in your life. We want the same for our music.
RoD
: How do you think you will affect the music scene you are part of? What are your thoughts on the growing popularity in it as well?
Tyler
:
We love the fact that we have been able to slowly but surely built a great fan base over the years. Some people think we might have come out of nowhere and that's fine too. Much like the bands that influenced us growing up I hope we can help influence new bands make great songs in the future.
RoD
: If you had the chance to switch lives with someone else for 24 hours who would it be and why?
Tyler
: E
lvis, of course I guess I'd be stuck in a grave for 24 hours.
RoD
: Many of your songs are so hard and intense that I am sure they translate well into a live setting taking on a whole new life in front of a live audience. How does it make you feel when the emotion and power that you envisioned in the recording studio, come to life while playing in front of a crowd?
Tyler
:
Feels great. There is so much than just the songs you hear. When you see us live you can see these songs come to life. See the intensity and aggression up on stage.
RoD
: What are the upcoming plans for THEORY OF A DEADMAN?
Tyler
:
We are touring relentlessly for the remainder of the year including Crue Fest 2 this summer and a trip over to Europe in the fall.
RoD
: How has MySpace and the internet impacted your band and do you think downloading helps or hinders the artists?
Tyler
:
Love the internet it really helps making the world that much smaller so we can connect with all our fans around the world. It gives us so many new opportunities that weren't available before and it also gives the fans an opportunity to check out a band before they dig in making bands having to work harder.
RoD
: What is the toughest lesson you ever learned in the studio and on the stage?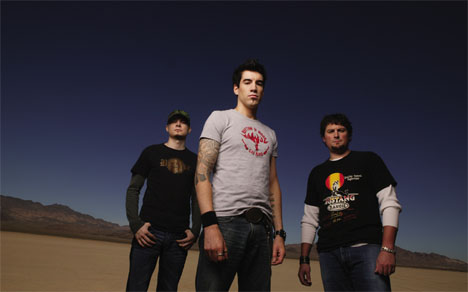 Tyler
:
Always commit. Work as hard as you can cuz you can sleep when you're dead.
RoD
: What bands would you like to tour with and who has been your favourite to tour with this far?
Tyler
:
We love to tour with pretty much anyone who likes to have a good time and doesn't take themselves too seriously. Mötley Crue was a great experience and we're pumped to be asked back for the Crue Fest this summer.
RoD
: Every band has its musical influences. What are some of the other bands and artists that have greatly influenced you guys and your music?
Tyler
:
I was into rap when I was young then I turned a corner and found rock and roll. Led zeppelin was the first great band I fell in love with and it went from there.
RoD
: What's your reaction when / if a fan told you a very meaningful statement such as "Your music changed my life"" Has this ever happened to you?
Tyler
:
Yes, it feels surreal cuz I don't see myself as someone who has changed peoples lives. But if I ever met jimmy page I'm sure I would say the same thing.
RoD
: All of that passion that you play with must be tough on you physically. How do you prepare for the physical demands of a tour?
Tyler
:
Do a lot of drugs, haha just kidding. I try to stay in shape. I don't party too much which can be sad sometimes but I'm committed to putting on a good show and get run down real easy cuz the songs are so physically hard on me.
RoD
: Anything else you'd like to add?
Tyler
:
2 and 2 together equals four.
{jos_sb_discuss:21}