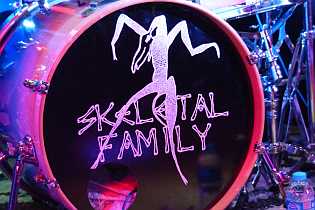 Britannia Boat Club, Nottingham, England
21st to 23rd June 2013
Dark Waters Festival Day 2: Dreams Divide, Berlin Black, The Mekano Set, Rhombus, Skeletal Family

A windy and wet Saturday did little to dampen spirits for day two of the festival, and the weather gave a good excuse to spend several hours browsing at Void Clothing in the afternoon. Events got under way punctually back at the Britannia Boat Club, and there was an expectant buzz as the first band of the evening took to the stage.



Dreams Divide

No point dragging your heels when a party needs starting, which is exactly the approach adopted by duo David Crout and Gem Davison, who make up DREAMS DIVIDE. Their infectious dance-oriented synth pop turns heads the moment it starts, and people soon decamp from the back bar to join the dancing that has erupted in front of the band. It's a lively and impressive start, and Mr Crout makes for a watchable, energetic and likeable frontman, bouncing dangerously close to the low roof and commanding the stage like it's the biggest gig of his life. It's easy to imagine this whole performance playing out on one of the European festival stages, such is the charisma and the sheer joie de vivre of it all. The two share vocal duties, and there are good call and response songs, and even my growing dislike of 80's rehashes gets a dressing down. For every BLANCMANGE, OMD and YAZOO influence there is some NUMAN, MODE, and NAILS to balance it out, and some of the more harsh, industrial songs have a genuine edge to them.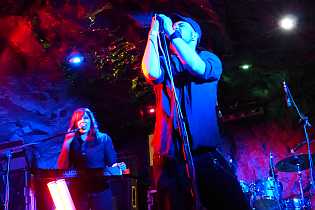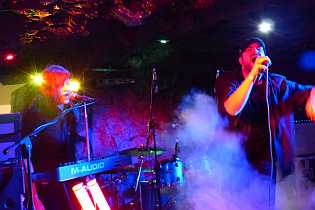 "Make some noise!" we are told. And the place obediently erupts. By the end of the set even those who would normally only dance to 'Moonchild' are joining in, and it's an exhausted looking DREAMS DIVIDE who leave the stage smiling, job well done. // https://www.facebook.com/dreamsdivide


Berlin Black

Nothing can quite prepare you for BERLIN BLACK. Their set is simply sensational, and why this lot aren't headlining every festival in the land is beyond me. Because they have it all, with plenty to spare. Their music is a heady rush of post-punk and glam, early MANIC STREET PREACHERS if fronted by Richie. And in frontman Chris Tuke, they have a bona fide star. Like a young John Lydon or Adam Ant, he pouts, sneers, windmills, cavorts and generally fills the stage with an impressive presence. It's impossible not to watch him. And if that wasn't enough, he has a superb voice, rightly put high up in the mix. This is proper singing, and these are proper songs.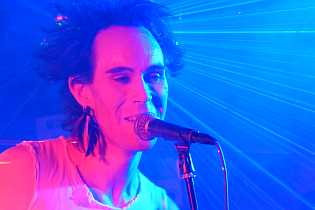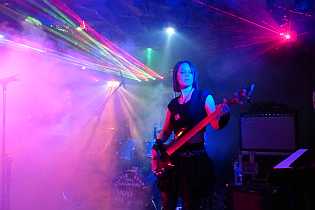 We've even got note perfect harmonies thrown in for good measure, and a refreshing swagger about the whole band, that's sexy and confident and perfectly mesmerising. By 'Burn It Down', Mr Tuke has long since realised this stage can't contain him, and he's off, gallivanting through the audience and making a mischief of himself. The final song of this exhilarating set is 'The Only Ones', and what a rabble-rousing finale this is. There's even Bowie and Ronson getting it on together during the guitar solo, some THE WHO style theatricals and an almighty squall of feedback to end with, Chris Tuke having long departed his arena, strutting proudly back to the dressing room. It may not be totally original, but no-one else is doing this anymore. It's trashy, punky, cheeky and absolutely rock 'n roll. Time for a lie-down. // https://www.facebook.com/berlinblackofficial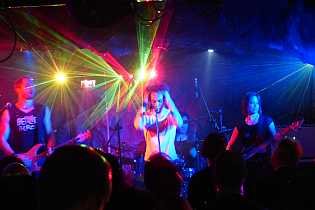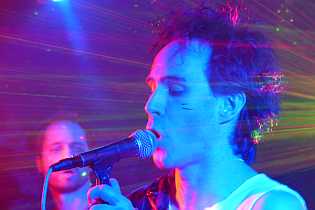 The Mekano Set

Described as a collective, if three people can make a collective, THE MEKANO SET take to the stage in a swirl of hipster glasses, hairstyles and a hoodie (surely a bit warm for that, young man). Their brief states they have a love of heavily distorted guitar and unconventional song-structures, and it's clear to see this from the start, two guitars and a synth battling it out with programmed beats. Male and female vocals trade places, and there's dry ice. Lots of dry ice. But something is wrong. Perhaps those unconventional song-structures are actually poorly-written songs in disguise. The vocals are certainly terrible, droning, flat and empty at times. One song thinks it's 'Blue Monday', but it isn't, another seems to last an eternity. It's too downbeat in comparison to the bands before and the audience has halved by this point, one comedian overheard saying "Even Robert Smith would get depressed at this". There are some saving graces, an occasional meaty beat and a swathe of celestial guitar can be heard, and they hit their stride once or twice but the weedy vocals of Martin Taylor soon sink things back into mediocrity. There's a rather have-they or haven't-they-finished ending, and then they are off, presumably back to wherever it is the hipsters like to go. // https://www.facebook.com/TheMekanoSet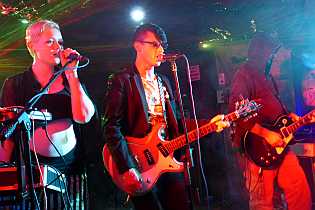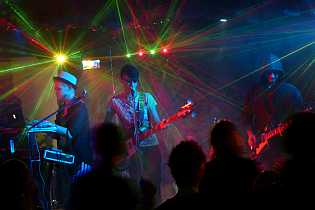 Rhombus

Huddersfield get a second look-in at Dark Waters, as respected band RHOMBUS take to the stage. Five microphones set to an alarming variation of heights suggest things are going to get cramped, and as the set unfolds, additional female vocalists keep appearing from the smoke and find space between the instruments. Now THIS is a collective. Cursed with the age old rock band problem of a van breaking down en route to the venue, the band's luck continues to nosedive as technical problems mar the beginning. It takes the gritty Northern humour of singer Edward Grassby to pull it all together, and finally things get going and RHOMBUS begin to power through their distinct yet traditional blend of classic Goth Rock. The venue has filled again, and it's clear there's a lot of affection for this band. Huge song 'Open The Sky' is a real belter, and there is plenty of variation in the songs as Mr Grassby shares vocal duties with Mya. 'Staying Under' and 'Leave You To Burn' both good, solid songs, prop up the mid-set admirably.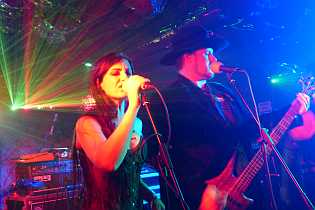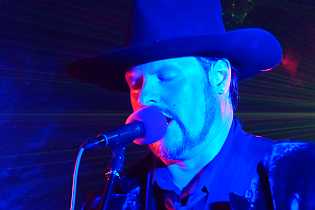 A drum machine gripe has to be mentioned, as live drums would definitely give an edginess here that is occasionally lacking, the predictability of programmed beats just holding them back at times. Also the vocals were slightly too low in the mix. With two good vocalist, let's hear 'em! There are epic moments, 'Lifeline' off the new album a MARCH VIOLETS stomp through the past, and there's some impressive throbbing bass going on throughout. The additional female backing singers are fine when nestled comfortably between the impressive hats on display, but once their arms begin to flail it's like having BANANARAMA back from the dead. And at times, especially during the storming set closer 'Timeless and Elegant', that it feels like an Eighties disco, but when the crowd are going mad for it, what is there to criticise. RHOMBUS feel safe and steady, but never boring, and it's a shame they were beset by so many difficulties when clearly this is a well-liked and hard-working unit that deserve a break. Here's hoping the van got them back in one piece. // https://www.facebook.com/rhombus.uk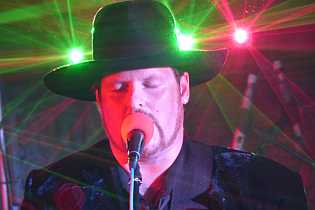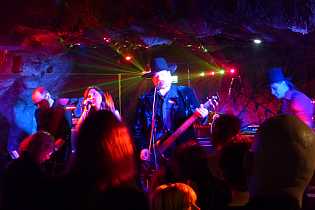 Skeletal Family

Fronted by Anne-Marie Hurst, once of Ghost Dance and recently recording and touring under her own name, the reformed SKELETAL FAMILY sees original members Stan and Trotwood back in the fold with their original singer. And with such a musical seam to mine, this promises to be an exciting and varied set. The huge, pounding drumming of 'So Sure' puts a smile on faces who remember The Skellies from way back in the early eighties, when that driving, tribal beat was a trademark. Anne-Marie belts it out, ably assisted by Stan on backing vocals, and the energy from all the band onstage is palpable. It may be well after midnight, but this is a pumped up performance and one everyone seems to be enjoying. 'Set Me Free' and 'Lost In Munich', recent songs from the 'Day Of All Days' album, sit comfortably with GHOST DANCE era songs 'Cinder Road' and 'A Deeper Blue'.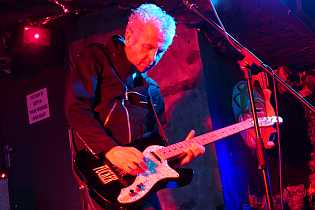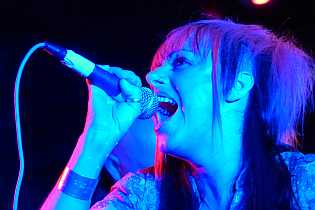 Indeed, the former has taken on the status as something of a classic. Its tear-jerking opening bars, passionately sung by Anne-Marie, eyes closed, emotion high, gives way to some furious guitar that propels the rest of the song up and out from the cavernous stage. It rightly gets an impressive response. 'Last Train' and 'When I Call' keep the audience moving, and the vocals are spot-on. Earlier struggles with the monitors had resulted in some strained singing, dismissed good naturedly with a shrugged "I can't hear anything" from Anne-Marie, and a comparison of her voice to a docker smoking 60 Woodbine. It was never THAT bad, believe me. And after the punky thrash of 'Hands On The Clock' someone gifts her what looks like a brandy, to which she winks "This could get messy".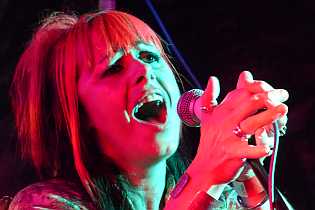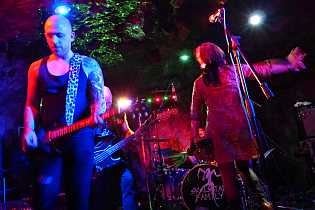 SKELETAL FAMILY favourite 'When The Wind Blows' rounds off the set, more furious drumming and the banshee screams of the finale whipping the crowd into frenzy. There's no way this lot are getting away without an encore. And sure enough, they return to power through another five. Now that's impressive. Hit single and YouTube regular 'Promised Land' threatens to trip itself up at various points but is still a mighty tune, and a cover of GOLDEN EARRING's 'Radar Love' gives bounce to a tiring crowd. 'Down To The Wire' and its accompanying 'Hey Heys!' is a perfect ending to an energetic, at times gnarly, but always hugely enjoyable set. And for a Saturday night headline act they really couldn't have been better. Cheers! // https://www.facebook.com/official.skeletal.family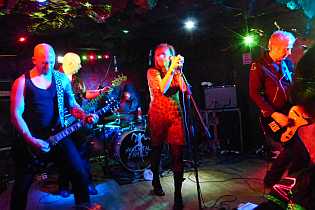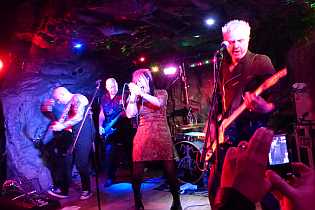 A second day, then, of music and mayhem, and the feeling of a well-run and cohesive festival is now well established. A good crowd, and a fantastic headline act round everything off. One day to go.

Photography by Stephen Kennedy and Stefanie



See also (all categories):