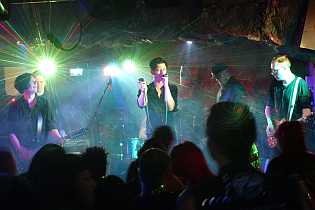 Britannia Boat Club, Nottingham, England
21st to 23rd June 2013
Dark Waters Festival Day 1: Bad Pollyanna, Momento Mori, Naked Lunch, Red Sun Revival, Golden Apes

Nudging the banks of the river Trent in Nottingham, and in the shadow of the football stadium, the Britannia Boat Club seems an unlikely setting for a festival celebrating all things dark. Indeed, as you walk towards it, the majority of people on show are glistening and tanned, carrying boats to and from the river, more concerned with the bulky man shouting instructions through a megaphone than the scattering of the Black-Clad beginning to arrive. But once in the venue it all becomes clear. Apart from the bar area facing the river, the place is one large, man-made cave, complete with dark alcoves and surely one of the most bizarre stage areas in existence. A perfect place, then, to showcase some fifteen bands over three nights, and as the place begins to fill up, it becomes clear that people have travelled from far and wide to be here.



Bad Pollyanna

A slight delay to the start of the festival, and then first band BAD POLLYANNA take their places on the slightly cramped, cavernous stage. Lack of space, however, does little to contain the dynamic performance of singer Olivia Hyde, who seems to be enjoying every minute bounding around and belting out the bands own brand of theatrical rock. Definitely an equal effort though, wild drumming by the Nik Fiend lookalike especially watchable, and actually, for an opening act, there is a sizeable crowd. They romp through a delirious version of 'Personal Jesus' (Depeche Mode), and the sound is excellent. Good strong vocals and some lively between-song banter, it all adds up to a fine set. The "pissed-off angry song" throbs like a bastard, and there's some RED HOT CHILI PEPPER bass funk going on, plus some movement from the crowd - and not towards the bar – which is always a good thing. Success, then, for Huddersfield based BAD POLLYANNA and their plucky power-pop. It's an enjoyable and entertaining start. // https://www.facebook.com/badpollyanna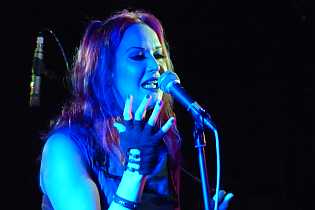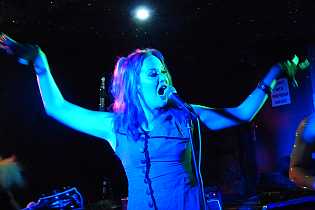 Momento Mori

A frustrating gap opens up before the next band take to the stage, which slightly dulls the excitement generated by BAD POLLYANNA. Most people have stayed near the stage area though, so second band MOMENTO MORI get a reasonably energetic greeting. Alarmingly, the singer resembles a toothy Paul Gascoigne forced unreasonably into a pair of leather trousers, sunglasses perched atop cropped hair, and a LAST CRY football shirt completing the unlikely ensemble. But things do not improve. He struggles valiantly to reach his own notes, a painful yelp at times that thankfully gets lost in the din. A good sense of humour exists, "Don't clap, you'd think we'd know that one by now" at least showing some awareness, and musically, at times, there's a harsh, industrial edge to it all, plus some nicely layered Goth-guitar. But it gets gruesome far too often, a barely located tune swiftly getting lost again and there are some truly hideous 'Woo-hoos' bandied around the stage, a chorus of tuneless owls trapped in a cloth bag. The audience response is surprisingly good, proof that some people really will dance to anything. For me the bands' name is most apt, translating as a reminder that you will die. It felt that way at times, the phrase Make It Stop frequently popping up in my head. Next! // http://www.myspace.com/momentomoriuk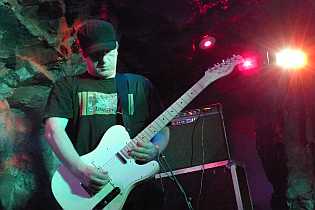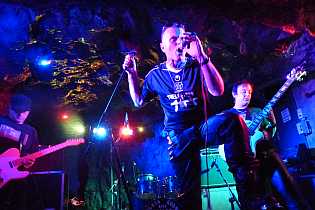 Naked Lunch

Serious professionalism returns in the form of NAKED LUNCH. Formed in 1979, and one of the first British bands to pioneer and play live electronic music, there's an easiness about them, grizzled but graceful, the look and feel of a band who know their worth. The steely eye of singer Tony Mayo seems to challenge any detractors, and his aside of "We played the Batcave back in the 80's" cements their credibility as obvious choices for any Dark Festival. At times, it's fast and furious electro-rock, assured and cool. At others, the sound of an emerging NEW ORDER can be heard, all held together by some seriously hypnotic live drumming over the programmed beats. Occasionally playing with their backs to the audience, even reading lyrics from scraps of paper, there's something anarchic and satisfying about this strange, jerky performance.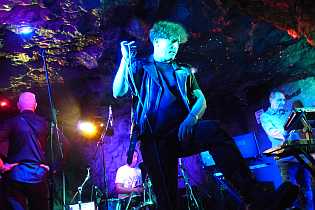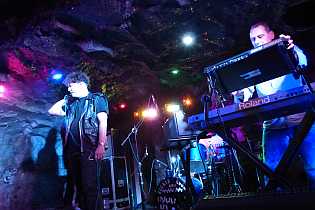 Highlight in the set is the furious 'Weekend Behaviour' which sounds like the SEX PISTOLS covering DEVO. It fills the venue with its otherworldly whoosh and then ends as suddenly as it started. Disappointingly, the audience has halved by now, and less people are dancing. Surprising, since the roots of all Goth-loving dance music can be heard here, and it's a rare treat to see a full band playing electronic music that not only sounds relevant today, but puts to shame those acts who merely tweak a few buttons during a performance. And watching the drummer ambling off stage at the end carrying his Aldi carrier bag just made me smile. They don't make them like that anymore y'know. Good stuff, and things are back on track now. // https://www.facebook.com/NKDLUNCH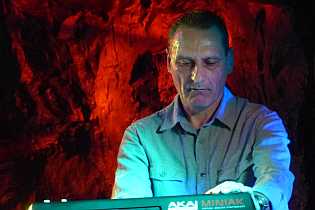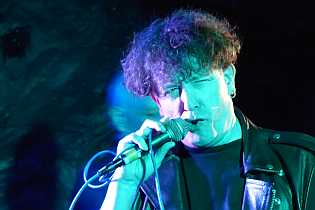 Red Sun Revival

The band take the stage promptly, and approach a few minor technical problems at the start with good humour. The venue has filled nicely again by now, as RED SUN REVIVAL, fresh from supporting THE EDEN HOUSE in London, and shortly on the bill with NFD, also in London, have created quite a buzz. They certainly seem to be one of the hardest working bands around right now. They're a striking bunch, gothic but not in a retrospective way, Victorian but not contrived or Steampunk, and their sound is refreshingly forward thinking, despite being rooted firmly in traditional Gothic-Rock. Singer Rob Leydon has an intriguing vocal style, he can do the deep croak of Carl McCoy or the measured baritone of Nick Cave before launching into some higher register, almost operatic chorus, all in one song, and he's an arresting figure on stage.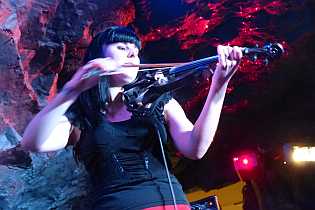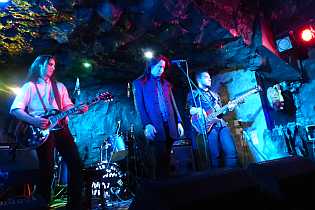 Equally striking is violinist Christina Emery, and the inclusion and prominence of the violin in many of the songs is inspired, giving them an edge more straightforward rock bands lack. My only grumble, as it is with many bands, is the lack of a live drummer. It looks and feels like a live band should, no problem, but lacks that solid backbone, and the slight dangerous edge, that comes with having a real backbeat pushing everything forward. The sound quality was excellent throughout the set, as was the lighting. A strategically placed fan kept Robs hair billowing, and his gentle and polite manner between songs was endearing. 'My Child', recent single and a seriously huge tune, is buried in the middle of the set, a good move really, proving there is no reliance on one moment here.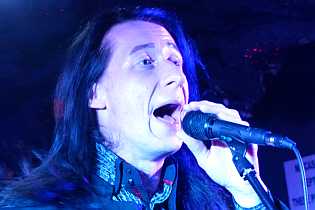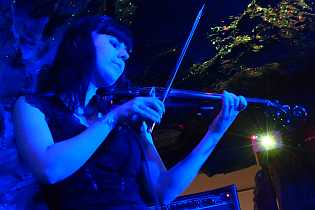 The songs are excellent throughout, the performance consistent, and RED SUN REVIVAL feel like a well-rehearsed and ambitious band, fast finding their on-stage feet. Final song 'Last Chance' is a fitting closer, sparse jangly guitar, hushed vocals and a skittish bass joining wonderfully for the swell of chorus. There's even one of those rare things, an interesting guitar solo, thrown in before the final push. It's a slow-burner and maybe not an obvious choice to end a set, but as the violin strokes the last few notes from the song, there seems little doubt in the crowd that this was a complete and impressive set. Ones to watch, without any doubt. // https://www.facebook.com/RedSunRevival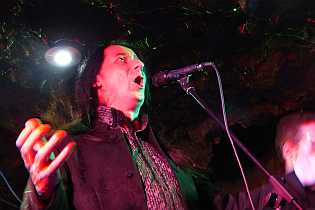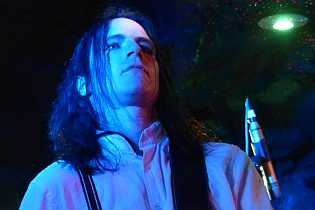 Golden Apes

Berliners GOLDEN APES headlined the Friday night, an effortlessly cool band turning in a raw and powerful set to a sadly less than full venue. Taking to the stage considerably after midnight will have been the contributing factor there, and the fact they mustered the energy and enthusiasm they did at such a late hour is a credit to them. Singer Peer Lebrecht is a highly watchable frontman, dashing, studiously serious, and throwing all the right shapes, his voice strong and sonorous, cracking at times as though fighting his own demons, but always in control of the song.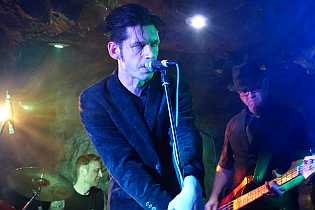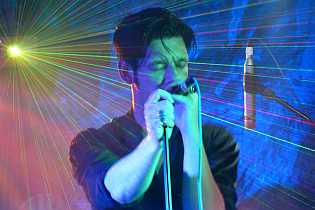 The rest of GOLDEN APES, five-strong and filling the crowded stage with professional ease, play good, solid, edgy rock, at times hard to categorise, but easily recognisable as their own. 'Prudence' has the crowd dancing, the small drum-kit seemingly unable to contain the drummer, and some inventive percussion gets 'White Days' off to an excellent start. That songs' big, blustery waltz of a chorus has everyone swaying in time, and it's as though every ounce of emotion is squeezed from this one. A sincere " Thank you so much" always goes down well between songs, and with 'Lithium' and then 'Ferryman' the band have the crowd totally in their spell, the bitter-enders now determined to dance the rest of the night away.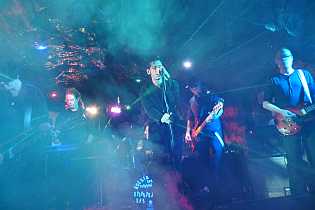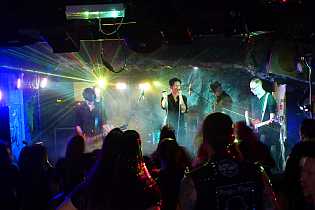 The sound is well mixed and balanced, considering the plethora of instruments in full force at any one time, and the band never look like flagging. When it gets to final song 'Riot', off the last album of the same name, it is 1.20am. A vast, portentous opening to this makes it feel extra special, as though the synth-washes and building drama are letting us into a secret society, the spectre of Ian Curtis present at times in the almost overwhelming emotion Peer puts into every last word. It's a stunning end to an exciting set. // https://www.facebook.com/GoldenApes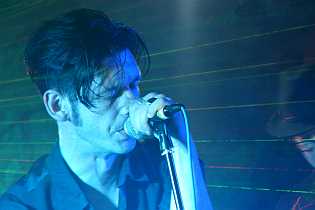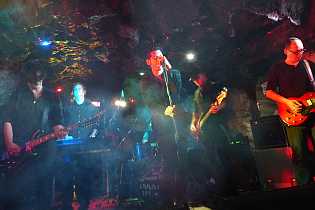 Despite the over-running of set-times, day one of the Dark Waters Festival was a resounding success, with an eclectic mix of music, styles and bands, and an easy-going and enthusiastic crowd. So far, so good.

Photography by Stephen Kennedy and Stefanie



See also (all categories):