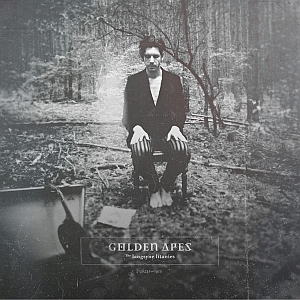 Artist: Golden Apes
Title: The Langsyne Litanies
Genre: Dark Rock/ Gothic Rock
Release Date: 31st October 2014
Label: afmusic / Danse Macabre
Album Review

It must have been four years ago when I stumbled upon GOLDEN APES whilst reviewing a compilation and the band definitely stood out from most of the other bands and their showcase songs. GOLDEN APES have been around for over 20 years and have been called "German Nick Cave" by some, however, before the aforementioned time my radar hasn't set on them. After reviewing and hearing gazillions albums since they are still in my memory so I was sure not to be disappointed when their latest release 'The Langsyne Litanies' landed in for a review.
This album comprises of five songs, which have been handpicked from personal favourites out of previous releases, inspired by their acoustic tour the musicians decided to use mostly acoustic instruments such as classical guitar, percussions, a cello, flutes and even a tuba to change the songs from their former sonic dress. There are also three new songs following in this fashion. The comparison with NICK CAVE does seem to resonate – intelligent lyrics with depth and complexity, particularly underlined by Peer Lebrecht's interest in philosophy and mysticism, delivered in a way that compliments as literary, music that accompanies these qualities with sensitivity and which is evoking the context thoughtfully and subtly.
The acoustic renderings emphasise especially the pensive, reflective character and it feels like the breeze that gently blows the intensity like beautiful passing clouds over late summer sky rather than encroaching storm that threatens to swallow you in, that is, there's a tender dynamic to it. This album is wonderful, beautiful and from which I won't pick up personal favourites because I loved them all. Definitely a keeper, especially for quiet, introspective moods.
Tracklist

01. Devil
02. Rosary
03. Blind Eyed Boy
04. Ferryman
05. The Archers
06. Digging Towers
07. White Days
08. That Infinity Called Man
Line-up

Peer Lebrecht – Vocals, keyboard, lyrics
Gunter Buechau - keyboards
Christian Lebrecht – Bass
Dirk Wildenhues – Guitar
Aris Zarakis – guitars
Websites

http://www.goldenapes.com/
/
https://www.facebook.com/GoldenApes
/
https://plus.google.com/114248836403178073763/posts
Cover Picture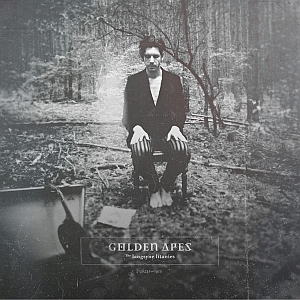 Rating

Music: 8.5
Sound: 8.5
Total: 8.5 / 10
See also (all categories):