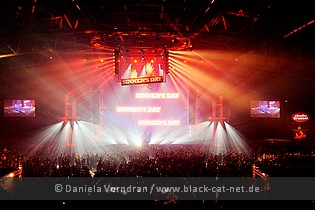 Ethias Arena, Hasselt, Belgium
31st October 2010
Sinner's Day 2010 The Club: The Psychedelic Furs, The Selecter, The Fall, The Kids, The Young Gods, Jah Wobble, Department S, Red Lorry Yellow Lorry

Contrary to last year's edition of the Sinner's day festival, this year's had two stages to offer, the second one being the smaller club stage. The program here would start with no one less than RED LORRY YELLOW LORRY…



Red Lorry Yellow Lorry

The band was formed by guitarist/songwriter Chris Reed and vocalist Mark Sweeney, along with bassist Steve Smith and drummer Mick Brown (who would later join THE MISSION). Sweeney left the band in late 1981 and Reed permanently took over as vocalist, with Martin Fagan joining as a second guitarist. After numerous single releases, the band had its album debut in 1985 with 'Talk about the Weather' and received overall positive feedbacks, just like the single 'Hollow Eyes'. The album 'Paint Your Wagon' on the legendary "Red Rhino" label, whose founder Tony K sadly passed by this year, was to follow in 1986 and stayed on the trail of success by hitting #3 of the NME independent chart, followed by the single 'Cut Down' and the EP 'Crawling Mantra' under the name THE LORRIES. The band signed to Situation Two, a subsidiary label of the Major Company Beggars Blanquet and released the two albums 'Nothing Wrong' (1988) and 'Blow' (1989). Neither of the two albums came near a mainstream pop chart causing the label dropping the band. In 1991, the band released 'Blast off' on a tiny indie label but it became a major disappointment and Reed broke up with the rest of the band to revive the name in 2003 and release four new songs via download only. No further material has been released to this date. http://www.red-lorry-yellow-lorry.com / http://www.myspace.com/redlorryyellowlorry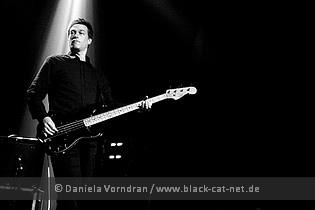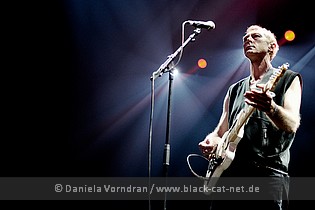 Music & Performance
Well, that was quite a thing to have RED LORRY YELLOW LORRY opening this stage. The last time I remember them performing was at 2008's M'era Luna festival in Germany. An event like that drew already a lot of people to the club stage and already at this early hour you could sense it would become much fun to get back to the exit through the audience later. As soon as the first sounds were leaving the instruments, the mood was up high for it was 'Beating My Head' making the opening. With the staccato rhythms beating and the sonorous vocals soaring the temperatures in the club were raised considerably already. Even though the group never rose to fame as much as for instance THE MISSION did, they had a considerable number of loyal fans here at the stage, who partied with them all the time and who screamed when another tune came up, as happened with 'Save My Soul', beating a more powerful drum. With 'Nothing Wrong' the scenery took on a gloomy appearance and Reed's rather subdued vocals seemed to drown inside the song. Also the following 'Talk About The Weather' kept it calm and melancholic before 'Hollow Eyes' brought back something to twitch to. Great show!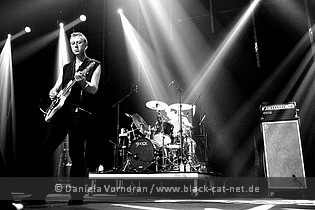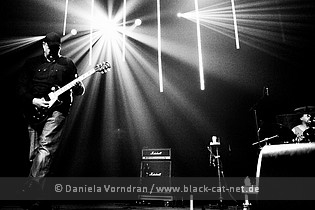 Rating
Music: 8
Performance: 8
Sound: 7
Light: 7
Total: 7.7 / 10


Department S

British DEPARTMENT S formed in 1980 and took the inspiration for their name of a TV series of the same title. Subsequently to making their live debut, the first single 'Is Vic There?' came out in 1980. Around the same month of releasing that single, the band recorded one of the famous sessions for deceased John Peel. The second single 'Going Left Right' didn't reach the success of its predecessor. Differences led to them being dropped by their label. The debut album done by the time called 'Sub-Stance' didn't come out before 20 years had passed in 2003. Sadly, vocalist Vaughan Toulouse wouldn't be there anymore to witness the release. He passed away already in 1991 due to AIDS-related causes. In 2007, they recorded their first new single in decades, followed up by a second one called 'Wonderful Day', which is the newest one to date. http://www.myspace.com/departments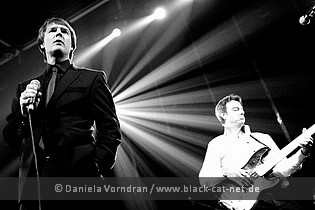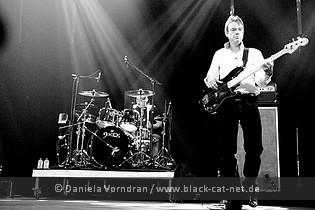 Music & Performance
DEPARMENT S were bringing elegance to the club stage, all being more or less dressed in suits and already the first song's title was an order, rather than a simple name. 'Clap Now' it was called and also by its tempo gave you more than one chance to do so. Actually, you would expect somebody to move along to something like that instantly, but that's exactly what singer Eddie Roxy didn't do. He was just standing there, hands in his pockets and tapping to the beats a little upon bringing on the vocals. To me that looked a little unmotivated, but it might as well be that it's his uncommon way of performing.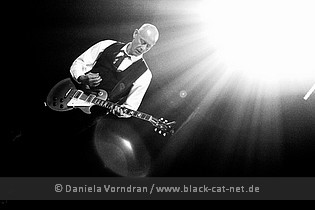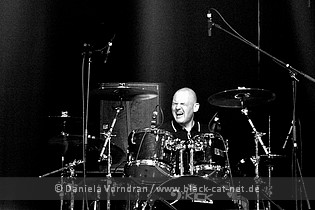 'Monte Carlo Or Bust' came with an increasing tempo and with more power in the vocal department as well, while his movements still remained quite calm, contrary to the other band members. Following the next one 'Age Concern' was the announcement that now a PINK FLOYD cover version would be played with 'Lucifer Sam' and one needed a much more sophisticated way of playing which was easily delivered by the band and rewarded with the audience applauding. A new song came up with 'Wonderful Day' before close to the end the band classic 'Is Vic There?' was played and roused excitement. I for one could not find so much pleasure in it.

Setlist
01. Clap Now
02. Monte Carlo Or Bust
03. Age Concern
04. Lucifer Sam
05. Going Left Right
06. Slave
07. Wonderful Day
08. Ode To Koln
09. Is Vic There?
10. I Want

Rating
Music: 6
Performance: 6
Sound: 7
Light: 7
Total: 6.3 / 10


Jah Wobble

JAH WOBBLE is British musician John Joseph Wardle who started with being the bass player of post-punk band PUBLIC IMAGE LTD. whom he worked with for about two years before venturing into collaboration with Holger Czukay and Jaki Liebezeit, giving birth to a plethora of influential releases. After resolving personal issues and a time he kept away from music industry he returned to his profession in 1986. The live album 'Without Judgement' revived his career. Ever since that happened he's more busy and prolific than ever before. He worked together with a variety of musicians, explored the depths of world music and meanwhile runs his own record label 30 Hertz Records. http://www.30hertzrecords.com/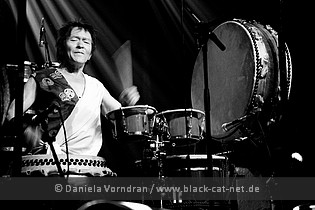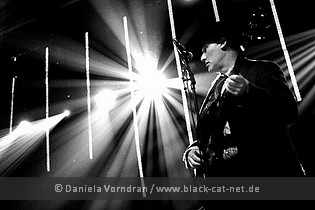 Music & Performance
Quite a lot of people had come to the club stage to see JAH WOBBLE and so the air got a little thick already around there. A broad spectrum of instruments had been installed on stage already and you could wonder what sound they were going to create with such a set. Well, the best way to describe this probably is Far-Eastern…sort of. The first one we'd get to hear was 'Taiko Dub' and yeah I can say I've never heard someone doing the dub with the help of powerful taiko drums, also FAITH & THE MUSE used on their recent album if that band is familiar.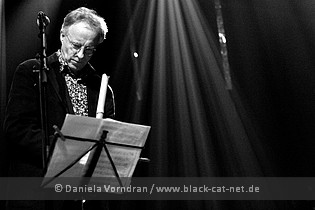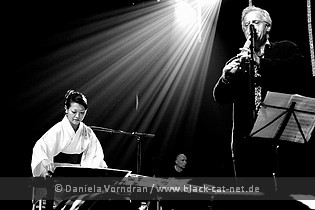 'The 'Cherry Blossom Dub' incorporated more of a rock-based structure with that Far-Eastern influence I was mentioning earlier. While that was a fascinating thing to watch, admittedly, it was equally hard for me to get into if I'm honest. Within the next songs, a wealth of other influences became audible with Japanese vocals, a more traditional approach to the music, as well as the inclusion of Reggae and Soul, especially with the track 'I'm Still In Love With You' which I thought was a much too long effort with too many repetitive elements. Musically flawless but not my cup of tea.

Setlist
01. Taiko Dub
02. Cherry Blossom Dub
03. Koririko
04. Hackai Bon Uta
05. Java
06. I'm Still In Love With You
07. Visions
08. How Much Are They?
09. Invaders
10. 7 Beat

Rating
Music: 7
Performance: 7
Sound: 8
Light: 7
Total: 7.2 / 10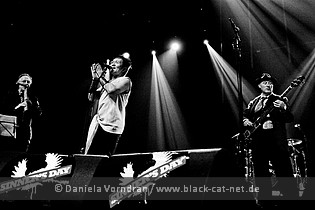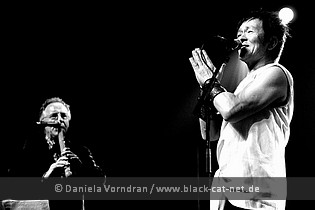 The Young Gods

The post-industrial formation THE YOUNG GODS has been given birth to in 1985. The SWANS song 'Young God' has been cited to be influencing the choice of name for the band. Ever since the debut album 'The Young Gods' was released back in 1987, the band has added the considerable amount of twelve further records to their discography until today. 'Knock On Wood' is their latest achievement, released in 2008 with the band recording the acoustic way after several shows raised excitement and had the audience asking for more of that. The album is said to have "the faculty of transporting listeners to another world." THE YOUNG GODS are Franz Treichler (vocals), Al Comet (sampling) and Bernard Trontin (drums). http://www.younggods.com/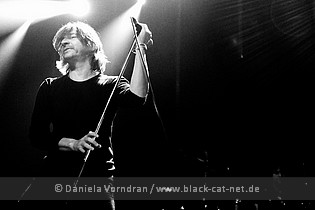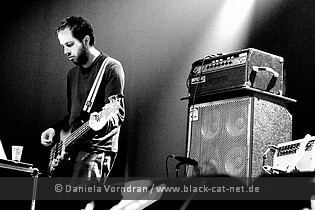 Music & Performance
As was the case with many of the bands playing this festival; I had never encountered the works of THE YOUNG GODS before. Sometimes, it's not a major loss; other times you're beginning to wonder why you've not heard of them earlier. THE YOUNG GODS started with 'The Color Code' and right away impressed with the kind of improvisational character of their drum section, like free jazz, the freaky effects and the adrenaline steeped performance of Franz Treichler. The following 'Freeze' kept the same powerful vibe and you got the feeling Treichler's performance had become even wilder at the time. He nearly flew over the little stage. Third one 'El Magnifico' featured a rather drum'n'bass' drum section of a ritual style. On 'Supersonic', which also came up with sustained layers of atmospheres, Treichler grabbed a spot light and let its thick beam of light run over the audience's heads. I felt completely intrigued by the music and astonished by the high level of complexity harboured within. It's been a highlight no one getting a chance should miss out on.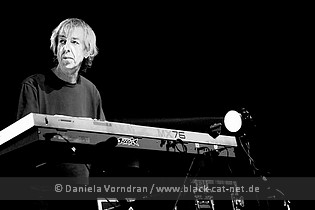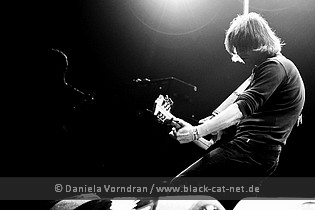 Setlist
01. The Color Code
02. Freeze
03. El Magnifico
04. Supersonic
05. About Time
06. Kissing The Sun
07. Everythere
08. I'm The Drug
09. Super Ready

Rating
Music: 8
Performance: 8
Sound: 8
Light: 7
Total: 7.8 / 10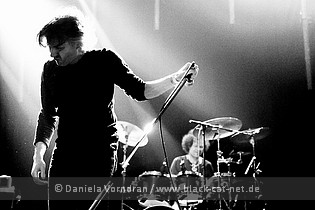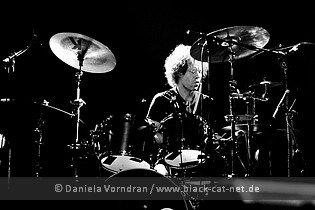 The Kids

THE KIDS have been founded in 1976. Just two years later, their eponymous debut album was released and another member joined their ranks. The second album 'Naughty Kids' came out in 1979, followed by them playing concerts in their native, as well as in Germany or France. The next album 'Black-Out' saw its release in 1981. In 1986, and after a few more releases the band decided to quit, but eventually came back together again in 1996 and celebrated it with a reunion tour. Ever since they got back, they are stronger than ever and by now are counting over 30 years of existence. http://www.myspace.com/thekidspunkbelgium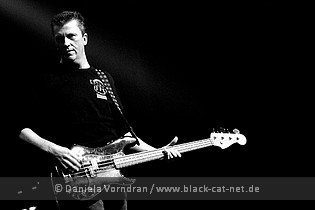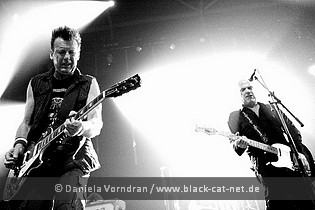 Music & Performance
With Belgian THE KIDS taking position on stage as the next act, we reverted back to celebrate with good-old Punk Rock, a dirty, raw Punk Rock that soon took shape in the room in the form of the first composition 'No Work'. The audience' mood turned to downright party-willing right away. As with a loud shout 'Bloody Belgium' was announced, the people could not hold their excitement back and as soon as the tracks rhythms began to speed through the rows, people hit by it began dancing wildly. 'Do You Wanna Know' with its melodic features even pulled the rest by their collars who had stood still up to this point. The band barely moved away from their microphones but it would be a lie to say they didn't move a limb while they were there. In fact, they shook everything they got to the tunes, just a little more moving around would've been cool.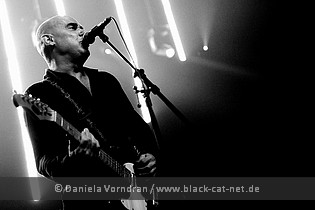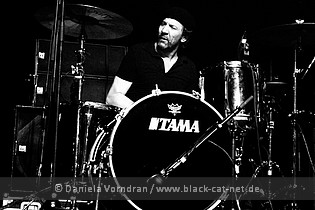 'Don't Wanna Be A Fat Boy' turned out the perfect training to rid of all the needless fat we all tend to gather these days. Remember this tune after Christmas. When the 'Naughty Boys' came into town, they were welcomed with open arms and invited for a round of head shaking. The chorus of 'There Will Be No Next Time' was unashamedly catchy and the track itself must've been familiar to quite a few, singing it all along. Could as well be they quickly learned it, because it was just one line. Whatever it might be, THE KIDS catered for some fun with it as with their entire set. If you get a chance attend a show.

Setlist
01. No Work
02. Bloody Belgium
03. Do You Wanna Know
04. For The Fret
05. Don't Wanna Be A Fat Boy
06. Naughty Boys
07. No Monarchy
08. I'll Get You
09. 12 XU
10. There Will Be No Next Time
11. Freedom Liberty Democracy
12. Baby That's Allright
13. Fascist Cops
14. Razorblades For Sale
15. This Is Rock'n'Roll
16. Do You Love The Nazis
17. If The Kids Are United

Rating
Music: 8
Performance: 8
Sound: 8
Light: 8
Total: 8 / 10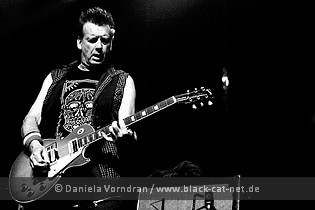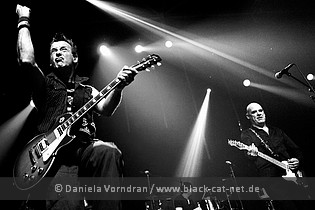 The Fall

THE FALL founded in 1976 in Manchester, named after a novel called 'La Chute'. By the time the group's debut EP 'Bingo-Master's Break-Out!' was released, the line-up had undergone several changes already. The EP came out in 1978. The debut album 'Live at the Witch Trials' followed in January of 1979. 'Dragnet', the band's second album, was recorded in the same year with a stripped down line-up. It's been just the second of a line of full-length albums that are counting up meanwhile to 28. It is hardly imaginable there are many other bands on this planet to have released such a prolific catalogue of songs in their career. If you add the countless singles and live albums it's hard to overview anymore. Within their career, spanning 34 years by now, the band managed to gather a loyal following around them. Their newest album goes by the name of 'Your Future Our Clutter' and was released this year. THE FALL is Mark E.Smith (vocals), Elena Poulou Smith (keyboards/vocals), Dave "The Eagle" Spurr (bass), Peter Greenway (guitar) and Keiron Melling (drums). http://www.visi.com/fall/ / http://www.myspace.com/fallthe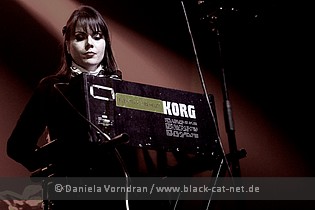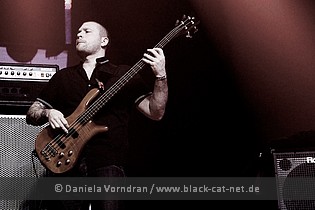 Music & Performance
After what I've been reading about this band prior to the festival, I felt quite curious how their performance would turn out, that is, if there would be any element of avant-garde to it or something. When the performance began with the band walking in and starting with their first track, it became obvious they were rather choosing for a show reduced to the traditional. Nevertheless, there's been an element that set them apart from the other post-punk influenced bands we had seen on this day already, and that was the lyrical component embodied by singer and sole original member Mark E.Smith. I knew before these lyrics would be hard to decode, but that hard? Well, I like challenges and those were definitely one, also composing of a surreal component.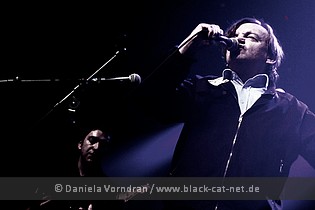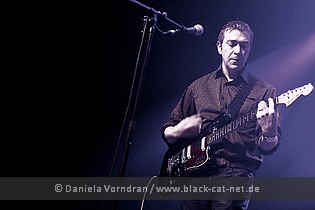 I'd even go as far as to call it strange not to be confused with ridiculous. These lyrics performed to tunes that were melodic and monotonous, sometimes dry were being delivered in a style akin to spoken word, pretty cold-sounding actually. It was just a pity you' wouldn't be able to catch all of the phrases because the sound wasn't at an optimum in my opinion. Anyway, the performance was interesting.

Rating
Music: 8
Performance: 7
Sound: 6
Light: 7
Total: 7.3 / 10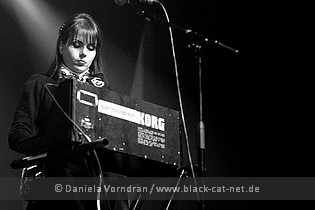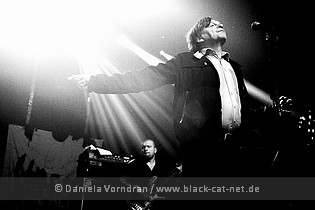 The Selecter

THE SELECTOR, which is a Jamaican term for disc jockey, came to life in mid-1979. Their debut release was an instrumental track, featured on a release called 'Gangsters vs. The Selecter', released in the same year. After vocalist Paulene Black joined the line-up, the band released three more singles, culminating up in the publication of the debut album 'Too Much Pressure' in 1980. Another one named 'Celebrate The Bullet' would follow in 1981 before the band disbanded. Almost ten years later in 1991, THE SELECTER was reformed. Ever since that happened, the band released several albums and toured successfully around the globe. The latest one is called 'Real To Reel' and was put out in 2003. THE SELECTER is Pauline Black (vocals), Neol Davies (guitar), Arthur 'Gaps' Hendrickson (vocals), Martin Stewart (keyboards), Nicky Welsh (bass) and Perry Melius (drums). http://www.theselecter.net/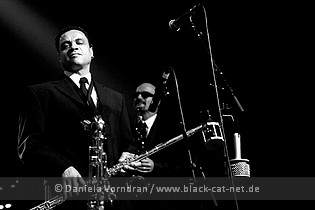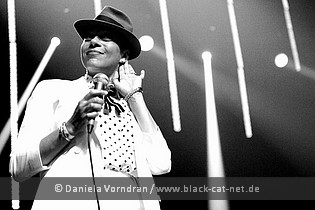 Music & Performance
Considering how much I "love" anything that is ska, I wasn't convinced the following performance would be to my liking at all. A little introduction announced the band's appearance on stage, and sooner than we knew it, the sounds of 'Three Minute Hero' would flood the room and the happy movement on and off stage commenced. Pauline Black, who's been sharing vocal duties with Arthur Hendrickson on songs, became some kind of a preacher between the songs, telling little stories to make the transition to the next songs. On the next song then, 'Time Hard', I felt like listening to a church service to be honest with the faithful dancing passionately. 'They Make Me Mad' kept a similar vibe and everyone was widely enjoying themselves.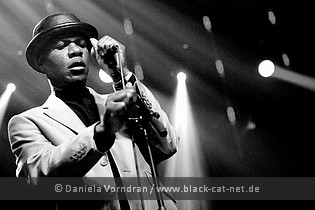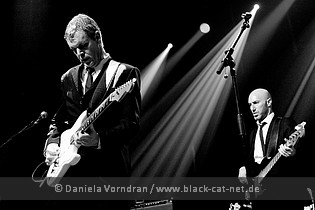 'Missing Words' has been dedicated by Pauline to all the root girls in the audience and those actually gave a loud sign they were there. Along the way, I've learned that a collie doesn't equal a dog in every case on 'My Collie (Not A Dog)' and afterwards we were riding the 'Train To Skaville' before the grooving 'Murder' arrived. At this point I quit, because even though they did a candid performance up there I was, simply put, bored. This music really isn't something for me. Nevertheless, it wasn't a mistake to bring them to the festival since they made sure their audience had a good time. Well, most of them.

Setlist
01. The Selecter (instrumental)
02. Three Minute Hero
03. Time Hard (Everyday)
04. They Make Me Mad
05. Missing Words
06. Danger
07. Street Feeling
08. My Collie (Not A Dog)
09. Train To Skaville
10. Murder
11. Out On The Streets Again
12. Carry Go Bring Come
13. Black & Blue
14. James Bond
15. On My Radio
16. Too Much Pressure

Rating
Music: 5
Performance: 8
Sound: 8
Light: 7
Total: 6.6 / 10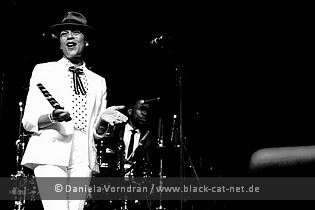 The Psychedelic Furs

THE PSYCHEDELIC FURS formed under the name of RKO in 1977 and a few more would follow before the final name was settled. With their then-completely new stylistic mixture and their self-titled debut album, released in 1980, they entered the top 20 charts in their native. The second album 'Talk Talk Talk' spawned two singles, the second one of which 'Pretty In Pink' became popular being the inspiration for the eponymous movie. Following their relocation to New York and line-up changes, the band started working on the next album 'Forever Now'. The fourth album 'Mirror Moves' included one of the most successful songs 'Heaven'. When the band broke up in 1991, they had released 7 albums. They, however, reunited, in 2000 but no new albums have been released since. http://www.thepsychedelicfurs.com/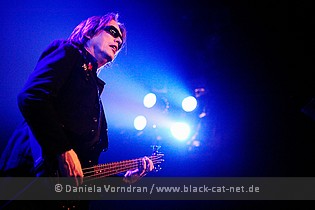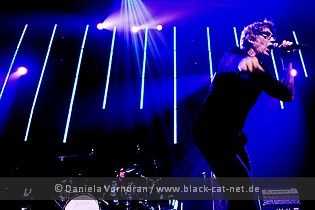 Music & Performance
We've come to the final act on the club stage here and since it was THE PSYCHEDELIC FURS soon entering here, the audience count reached a high level. In course of the show even its maximum, so no one would get in there anymore. The band entered the stage to an excited audience, opened their set with the slow-rocking 'Dumb Waiters', and met with excitement all over the place. The melody had hardly been played to the end and everyone knew the cloud now struck 'Pretty in Pink'; an invitation to dance and to reminisce of that movie. With 'Sister Europe', a subdued and at the same time lightly oppressing melancholy took hold. Maybe it was the deep drones of the bass that stirred this feeling. By the way, the saxophone play on the track was brilliant. Next up was something to raise the hand and clap with 'Heartbeat', though the cheers were far greater on the upcoming 'Love My Way', which was just the beginning of a journey, leading more and more into melancholy realms.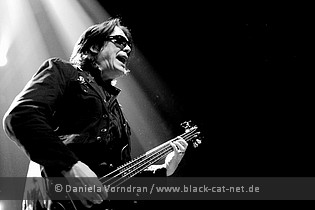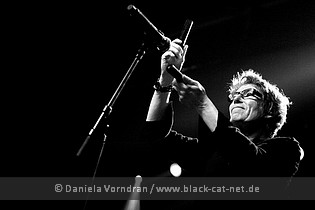 Frankly spoken, I thought the show started a bit lame, but with time passing the overall atmosphere got better and also the band seemed to enjoy themselves more than in the beginning. The audience was all theirs and now they made sure they would not even leave for a drink with delivering the next gem 'The Ghost In You', followed by the wonderful 'In My Head' whose poignancy was injected directly with the heartfelt performance, especially singer Richard Butler impressed me a lot here. With the last song, the furs were guiding their crowd to 'Heaven, as if they were not already there after that show. One more time, you could let yourself fall into the melodies and rhythms. Before the show somebody told me they were a great live band and he was absolutely right. Great performance and perfect to end the program on the club stage!

Setlist
01. Dumb Waiters
02. Pretty In Pink
03. Sister Europe
04. Heartbeat
05. Love My Way
06. The Ghost In You
07. In My Head
08. Highwire Days
09. Heaven

Rating
Music: 8
Performance: 9
Sound: 8
Light: 8
Total: 8.3 / 10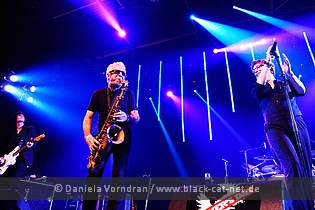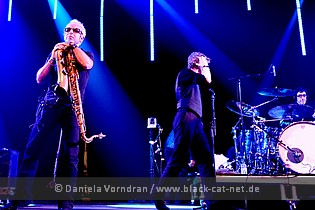 The two of us have been attending the festival for the first time this year and we can only say we did enjoy the day a lot, even though we didn't get much sleep the night before. There was a rich supply with food and drinks; no one would have to fear not to find anything for themselves. The security staff did a great job and if you were approaching them absolutely friendly. Any critics? Yeah there might be one thing. I think it would be a good idea to set up a special way for the press people to get from one stage to the other, especially for the photographers with all the expensive equipment it would be much easier not being forced to make their way through rows and rows to get from the club to the main stage. That said, we got only thumbs up left.

All pictures by Daniela Vorndran (http://www.vorndranphotography.com/ / http://www.black-cat-net.de/ / www.myspace.com/vorndranphotography)
{jos_sb_discuss:17}