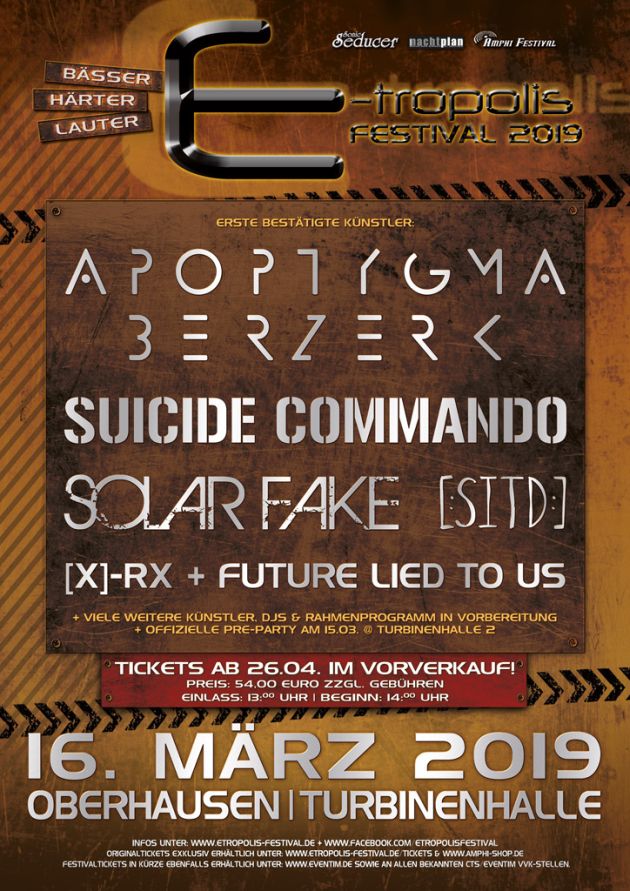 Waiting on with the finest in EBM, electropop and industrial, the E-tropolis Festival marks a mandatory date for the dark-electro scene. Sold out for the first time in 2018, we are looking back at the most successful E-tropolis Festival so far while at the sametime forward to setting-off another cracking celebration á la maison in 2019. "Better - Harder - Louder" - on 16. March at Turbinenhalle Oberhausen as well as 15. March at Turbinenhalle 2 with the official pre-party.
The upbeat to the new festival line-up deliver: APOPTYGMA BERZERK + SUICIDE COMMANDO + SOLAR FAKE + [:SITD:] + [X]-RX + FUTURE LIED TO US
Of course many other artist will follow soon!
TICKETS
Original E-tropolis tickets are exclusively available now at www.amphi-shop.de (or www.etropolis-festival.de/tickets ), including 5+1 group tickets. Further E-tropolis tickets are available at all nationwide CTS/EVENTIM box offices, online at
EVENTIM
, www.oeticket.at, www.ticketcorner.ch and as PRINT@HOME edition. The festival ticket includes admission to the official pre-party on 15. March.
More info at: www.etropolis-festival.de | www.facebook.com/etropolisfestival
Source: Press Release