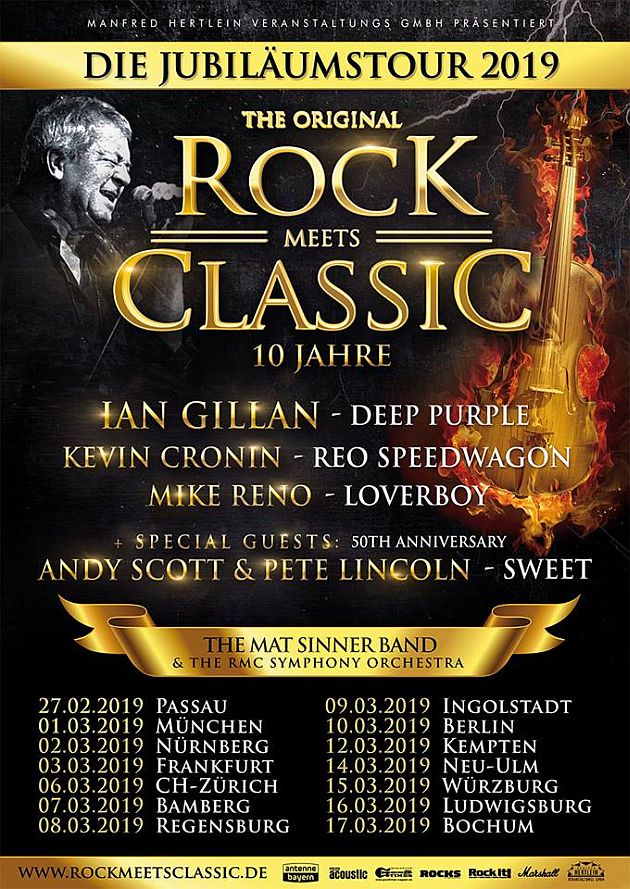 Rock Meets Classic celebrates its 10th anniversary in 2019 and also fans in North Rhine-Westphalia can celebrate this great anniversary as well! RMC organiser Manfred Hertlein announced: "We will be at the RuhrCongress Bochum on March 17, 2019! We really wanted to go back to North Rhine-Westphalia because many RMC fans have been waiting for us for a long time. Now the time has come, because we have finally found exactly the right partner with Continental Concerts. Rock Meets Classic is looking forward to Bochum!"
Inhabitants of Germany's most densely populated region can look forward to brilliant artists and bands like Ian Gillan (Deep Purple), Kevin Cronin (REO Speedwagon), Mike Reno (Loverboy) and other special guests - including the legendary glam rockers THE SWEET, currently celebrating their annual stage anniversary! Fans of the Rock Meets Classic Shows 2019 will be thrilled with fantastic songs such as 'Ballroom Blitz', 'Fox On The Run' or 'Hell Raiser', all of which helped to write music history.
Mat Sinner, RMC's Musical Director, said: "We are delighted to present THE SWEET on our anniversary. Andy Scott and singer Peter Lincoln already created a sensational atmosphere every evening during the RMC Tour in 2016. This will not change in 2019."
And since, as everybody knows, all good things come in threes, there is more great news for fans of Rock Meets Classic: it was announced today that on March 7, 2019, the city of Bamberg is once again in the RMC tour calendar. Tickets for the new shows in Bochum and Bamberg as well as for all other twelve RMC tour cities 2019 are now available at www.ticketmaster.de and www.eventim.de, as well as at all known ticket outlets and at www.tourneen.com.
Source: Press Release