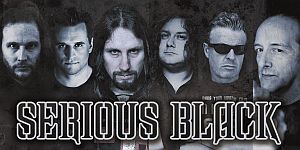 A rising star shines bright on the metal sky, a band, that is about to take the masses by storm: SERIOUS BLACK! The members, some of whom are long-standing veterans in the scene, such as Roland Grapow (Guitar/ Masterplan, Ex-Helloween) and Thomen Stauch (Drums/ Savage Circus, Ex-Blind Guardian) bring a lot of experience to the table. Mario Lochert (Bass/ Emergency Gate), Jan Vacik (Keyboards/ Ex-Dreamscape) and Dominik Sebastian (Guitar/ Edenbridge) are no rookies to the metal scene either. Together with their sixth member, Urban breed (Vocals/ Ex-Tad Morose), these musical masterminds conjoin their diverse musical backgrounds to create a powerful piece of melodic metal.
Metal fans can now expect an album in a class of its own, along with an abundance of live shows on the upcoming Hammerfall tour and various festivals already confirmed for 2015. Videotrailer:
https://www.youtube.com/watch?v=7SBxu6SAXHQ
.
www.serious-black.com
/
www.facebook.com/seriousblackofficial
Source: Press Release