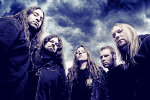 German Thrashers DEW-SCENTED have a bunch of good news to spread including more festival appearances.

"Hey Thrashers! The summer season and all its festival madness is getting started over here now, so we thought it would be good timing to check in with some short news. Things are still rather quiet on the DEW-SCENTED front and that has to do with us working on new song material in the background. The first ideas for the next album are being written as I type this, so hopefully it will be a good flow and entertaining creative process in the coming months! Nevertheless, we have recently confirmed two more summer festival shows, making it a total of 4 live shows coming up for 2011. Make sure to catch/meet us at

Ragnarock Open Air / Germany (http://www.roa-festival.de) on Friday, July 15th
http://www.youtube.com/watch?v=MMKNcQcKHYs (album trailer)
Additionally, we would like to inform you that the new issue of Germany's leading alternative rock magazine Visions (http://www.visions.de) doesn't only come with a "Big 4" cover-story, but it also includes a promotional compilation CD dubbed "Metal Massacre 2011", featuring the new breed of current Thrash Metal bands like Legion Of The Damned, Warbringer, Municipal Waste, Evile or also Suicidal Angels. DEW-SCENTED are featured on there as well with the Slayer cover-version of "War Ensemble". We originally recorded this about 10 years ago as Japanese bonus track for the "Inwards" album release and are obviously happy to have been selected for such cool tribute release and for a new audience! Go grab your copy of the magazine in stores NOW!

OK guys, guess that's all for now, but see you on some sunny field of/for Metal sometime soon!"

Cheers,
DEW-SCENTED"
Source: Newsletter