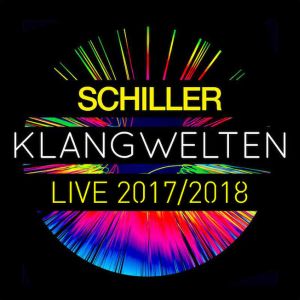 The journey continues: Following the acclaimed 2017 "Klangwelten" tour,
SCHILLER
will continue its new record-breaking concert tour through Germany, Austria and Poland in January 2018: "Klangwelten Live 2018 - Elektronik Pur". Germany's number one electronic musician plays his dreamlike instrumental sounds among others in Dresden's Kulturpalast, the Konzerthaus in Dortmund and the Tonhalle in Düsseldorf. Intoxicating sounds, spectacular sequences and magical melodies in award-winning surround sound!
SCHILLER:
"I'm really looking forward to this new "Klangwelten" tour! Together with my musical colleagues, I would like to take you on an intoxicating journey of sounds and images. There are many new things to discover!"
"Klangwelten" live - that's electronic instrumental classics from 18 years of SCHILLER, pulsating rhythms and artfully arranged spherical sounds.
Dates

14.01.18 Braunschweig, Stadthalle
15.01.18 Marburg, Erwin-Piscator-Haus
16.01.18 Dortmund, Konzerthaus
17.01.18 Aachen, Eurogress
18.01.18 Siegburg, Rhein-Sieg-Halle
19.01.18 Trier, Europahalle
21.01.18 Füssen, Ludwigs Festspielhaus
26.01.18 Baden-Baden, Festspielhaus
27.01.18 Ulm, Maritim Hotel/Congress Centrum
28.01.18 Düsseldorf, Tonhalle
29.01.18 Koblenz, Rhein-Mosel-Halle
30.01.18 Lübeck, Musik- und Kongresshalle
31.01.18 Schwerin, Sport- und Kongresshalle
01.02.18 Bergheim, Medio.Rhein.Erft
02.02.18 Neuruppin, Kulturkirche
03.02.18 Luckenwalde, Stadttheater
04.02.18 Bielefeld, Rudolf-Oetker-Halle
05.02.18 Hannover, Theater am Aegi
06.02.18 Rostock, StadtHalle
07.02.18 Bremerhaven, Stadthalle
08.02.18 Aschaffenburg, Stadthalle am Schloss - Kirchner Saal
09.02.18 Wiesbaden, Kurhaus Wiesbaden - Friedrich vom Thiersch Saal
10.02.18 Wittenberg, Phönix Theaterwelt
11.02.18 Neuenhagen (bei Berlin), Bürgerhaus Neuenhagen
12.02.18 Frankfurt/Oder, Kleist Forum
13.02.18 PL-Warschau, Progresja
14.02.18 AT-Wien, Simm City Festsaal Zentrum Simmering
15.02.18 Dresden, Konzertsaal im Kulturpalast
Website: http://www.schillermusic.com / https://www.facebook.com/schillermusic
Tickets:
Eventim
/
Ticketmaster
Source: Press Release