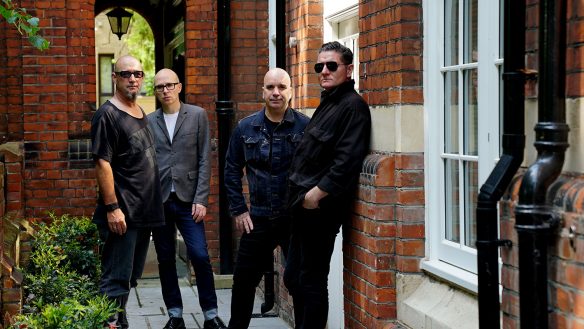 "Once overlooked, recent years have seen dancefloors from Hull to Berlin's Berghain shake to 'Join in the Chant' and 'Murderous' as the likes of Helena Hauff, Objekt, Perc and Optimo's JD Twitch have used the brutal functionality of the Essex group's pop to juddering effect."
– Luke Turner, The Guardian
NITZER EBB, named one of the "most influential artists in music today" by the Guardian earlier this year, have announced a return to live performances with the original line up of Bon Harris, Douglas McCarthy, David Gooday and Simon Granger. NITZER EBB will play two very special shows in December: the first, at London's Elektrowerks, on 1 December and the second, at Berlin's Berghain on 13 December. The dates follow recent announcements of December performances in Sweden and European dates in 2019, full details below.
NITZER EBB began in Chelmsford, Essex in 1982, caught the ear of PWL producer Phil Harding in 1985, and soon after recorded two killer tracks: 'Let Your Body Learn' and 'Warsaw Ghetto'. They came to the attention of Daniel Miller and recorded the classic proto-balearic-techno album 'That Total Age' (Mute, 1987), featuring classic tracks 'Murderous', 'Join In The Chant' and 'Let Your Body Learn'. The album was followed by four more towering sonic and design classics 'Belief', 'Showtime', 'Ebbhead' and 'Big Hit'.
NITZER EBB went on to sell over 100,000 records in the States alone, tour with DEPECHE MODE and influence pioneering DJs and producers such as Richie Hawtin, Darren Emerson, Sven Väth, Helena Hauff, Objekt, DJ Hell, Tom Stephan, Danny Tenaglia as well as bands such as SMASHING PUMPKINS and NINE INCH NAILS. They split in 1995, performing rarely after that date, and in 2010 released the album 'Industrial Complex'. In January 2019 Mute will release the compilation 'Body Of Work' on vinyl for the first time, starting a re-release campaign of the band's catalogue on vinyl and CD that will cover the world outside North America.
Nitzer Ebb Live Dates

1 Dec – London, Elektrowerkz (UK) – NEW DATE
7 Dec – Stockholm, Kraken (SE) – SOLD OUT
9 Dec – Gothenburg, Pustervik (SE)
13 Dec – Berlin, Berghain (DE) – NEW DATE
20 July – Cologne, Tanzbrunnen – Amphi Festival (DE)
3 Aug – Thale, Harzer Bergtheater – Bergfest (DE)
17 Aug – Amougies, Open Air Ground Amougies – W-Fest (BE)
25 August – Bradford, University Student Union – INFEST (UK)
Source: Mute Records